I have lazed on beaches in Antalya and dodged backpackers in Istanbul, but Turkey's capital, Ankara, has a different feel to them both. Less touristic and far more historic.
Located in the Central Anatolia Region, the city's long 7,023-year history is embedded in its stone Roman walls and Ottoman architecture. It's an appealing blend that is deep-set in earthy tones.
This ancient city remains untouched by modern vagaries; no McDonald's neighbouring a one-thousand-year-old monument. Patterned rugs are still sold on street corners, and the palpable smell of colourful spices and dried fruits meanders down narrow alleyways, while good-natured locals go about their trades.
This year the Anatolian city celebrated its hundredth birthday with a week-long Cultural Route Festival. Everything from art, music, food, and fashion was included.
It's a route worth following as it uncovers the interesting unfolding of this vibrant Turkish capital.
Here's what you can do in three days.
Day 1: Cultural Route Festival
Ethnography Museum of Ankara
The Ethnography Museum of Ankara, which was built in 1928, conserves and displays artefacts dedicated to the Turkic civilisations and explains how Ankara became the place that we know today.
You can find; Folk clothing, Anatolian metalwork, mosaic tiles, wooden slippers, Ottoman period glasswork, a mock Ottoman dwelling, examples of Turkish calligraphy, and the first style of rugs.
Most importantly, the museum has been home to the sarcophagus of Mustafa Kemal Ataturk, the former President and founder of the Republic of Turkey. In 1953 he was moved to Anוtkabir, his final resting place and the final landmark I visited.
Ankara Art and Sculpture Museum
Right next door to the Ethnography Museum is the Ankara Art and Sculpture Museum. It houses Turkish fine arts from the late 19th century to the present day. Paintings take up most of the wall space, while small sculptures can be found too.
During Atatürk's reforms to modernise the country, he wanted to create a new national identity through the arts. He emphasised that culture should be the foundation of the Turkish Republic by promoting the fine arts, which before Atatürk, were scarcely practised due to the Islamic tradition of avoiding idolatry.
Fun Fact: Atatürk ordered numerous museums and universities to be built as he believed that these two institutes would help the city rise.
CerModern
The CerModern is an old railway factory showcasing photography, sculptures and art installations.
The exhibitions are changed regularly. During my visit I experienced contemporary art of the Dolomites, called 'Where Once There Was the Sea'. To put it simply, the artwork represented climate change, focusing on the effects this has on our waters.
It was hard hitting but I was in awe of the unique and powerful installations put on display.
The hall is large enough to allow each piece plenty of space, so I had time to wander and focus on the individual works. Original poles and exposed beams from the 1920's add to the rustic, yet contemporary feel of the old factory, which was reconstructed in 2010.
It also has a museum shop, conference rooms, studios, a lounge, a library, a cafe and an outdoor sculpture park.
Day 2:
Roman Baths and Open Air Museum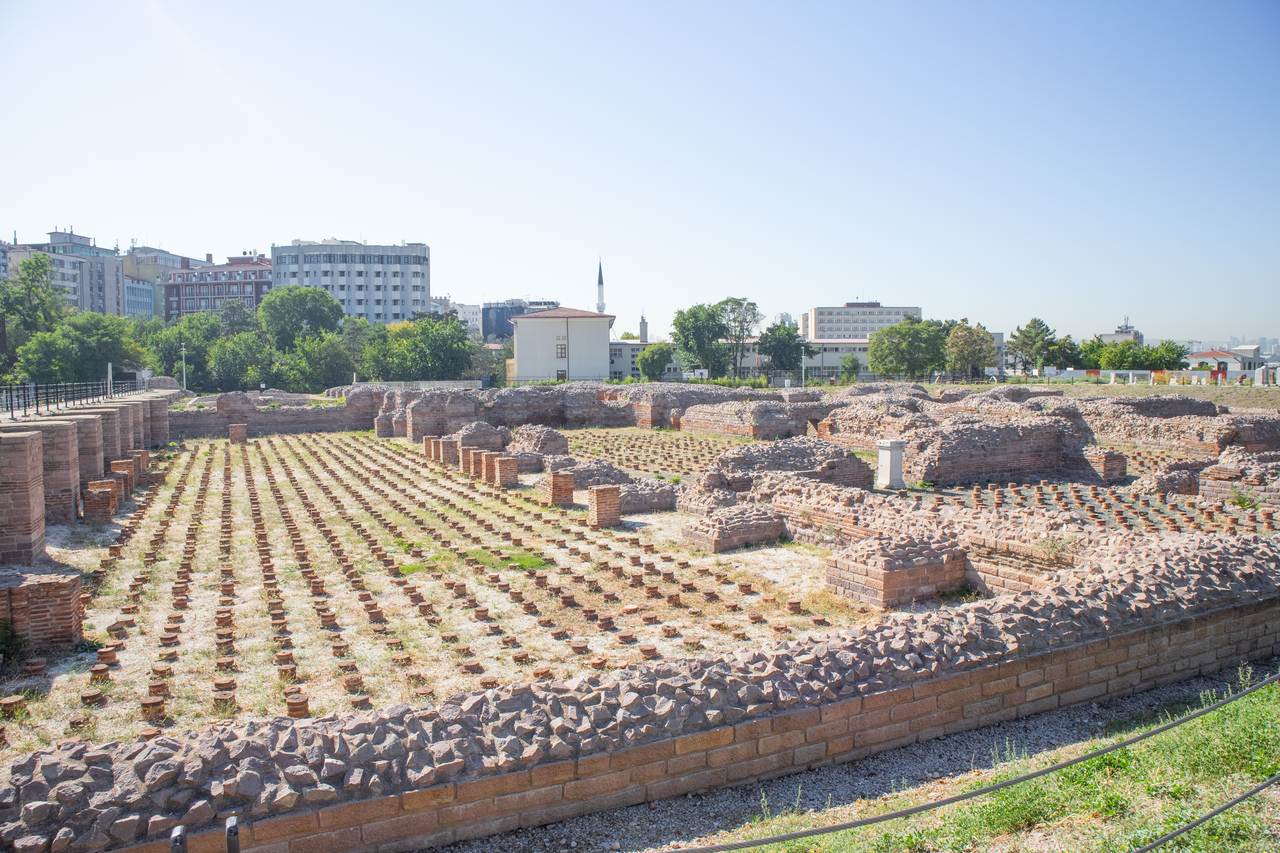 Between 1937 and 1944 excavations uncovered the ancient Roman baths in Ankara and now it is an open air museum. These communal baths (or hammams) were built during the Roman Empire between 212-217 and used for 500 years as there wasn't enough water for each home.
More than 1,000 stones, statues, columns and marble work from the Roman period have also been placed on the complex, so there's more than ruined baths to see. The site is 2.5 metres above street level in Çankırı Caddesi, near Ulus and offers panoramic views of the city.
It was surreal standing on the ground, where Romans used to bathe and imagining the activities that used to take place there. Little did they know that their mundane tasks for hygiene would become an exciting tourist attraction and a huge part of Turkish culture.
Museum of the War of Independence
The Museum of the War of Independence held the first Turkish Grand National Assembly. Inside I explored all the rooms including the office that Atatürk worked and studied in. Original furniture, old photographs and important documents are on display too.
During the War of Independence, citizens, especially those living around the castle, longed for freedom so much that they helped open the building by donating the tiles from their homes.
In 1920 thousands gathered in Ulus Square for its opening to witness the creation of the Turkish constitution, the Turkish National Anthem, and naming Ankara as the Capital City of the Turkish Republic.
Republic Museum (The Second Parliament Building)
The Republic Museum is home to the women's rights movement and where women received the right to vote and stand in elections. In 1934, when the latter law was passed, just under twenty women applied.
The assembly hall, with its large pink balcony where voters sat, and grand chandeliers, is striking.
CSO Ada and Symphonic Concert Hall
To end a history-dense day, I enjoyed unwinding to the sounds of classical music produced by a symphony orchestra. There were wind, string, brass, and percussion, I was especially struck by the wizardry of the accordion player and the sensational voice lead female singer.
The show I watched was in the old orchestra building (Historical CSO), but the most impressive building is the triangular, glass, CSO Main Hall that was built in 2021. Even if you don't plan on attending a concert, you must enter the foyer and take a look around. The architecture inside and out is incredibly unique.
On the musical campus there is also a CSO museum, a 500-seat Blue Hall and an open-air concert space with a capacity of 10,000.
Tip: Make sure you're on time otherwise you may not be allowed in.
Day 3:
Museum of Anatolian Civilizations
Said to be the most important museum in Ankara, or even Türkiye; the Museum of Anatolian Civilizations (or the Castle Museum) walks you through the country and its people's lifespan, from 5,000 BC to the present day.
It's split into three sections: Homosapiens, Stone Artefacts Hall and Ankara Classical. In 1921 Atatürk ordered Hittite artefacts to be collected from all over the country and brought to the centre. It's one of the few museums in the world where artefacts are separated chronologically and display such unique pieces.
Ankara Castle
Right around the corner from the Museum of Anatolian Civilizations is the Ankara castle, which is situated on the highest hill in the city. The 360 degree views from the castle walls are exceptional and you can spot all the landmarks previously mentioned.
Entering the castle complex is not how I imagined though. It is a vibrant bazaar, with souvenir stalls, street food stands, and restaurants; feeling like a small town. It's only when I started climbing the steps of the castle walls that I could sense the rich history and truly connect.
Tip: While you're in the area, wander around Kale town and go inside Aslanhane Mosque, which was built in the 13th century with no iron or nails, just wood.
Anıtkabir, Mausoleum of Atatürk
Atatürk died in Istanbul on the 10th of November 1938. Nine days later he was carried to Ankara via train, ship and gun cart. He was kept in the Ethnography Museum until the Anıtkabir constructions were completed in 1953. Now he lays underground, beneath the room in which his symbolic coffin has been placed.
On weekends Anıtkabir is crowded as people, from all over the country, come to greet Atatürk. Get there on a weekday so you can admire Atatürk's personal items, such as his boat and Cadillac, without hundreds of people blocking your view.
The architecture is said to be simple but impressive, like Atatürk's character. Every single constructional decision was planned to have meaning.
The first twenty-six steps you take up to the mausoleum represent the 26th of August 1922, when the 'big attack' (Battle of Dumlupınar) began and the forty-three steps to Atatürk's grave, is the age at which he built the Republic. The Lion's Road, leading to the ceremonial plaza, was designed using asymmetrical tiles with grass in between, to make getting to Atatürk's tomb a slow and uncomfortable walk. I tripped over, so clearly it works!
Closing your trip in Atatürk's final resting place is a fitting end to reflect on his life and the impact he made on Türkiye.
Tip: Anıtkabir is an army base so your bags will be checked on entry, whether you leave it in a vehicle or not.
FACT FILE:
Fly to Ankara:
I took a flight from London Stansted to Istanbul and finally, Ankara. It is common to transit in Istanbul and if you're able to, I would recommend giving yourself time to explore Istanbul, since you're stopping there anyway! However, direct flights are also available and take around four hours.
From Ankara Esenboga airport it's only a thirty-minute taxi ride to the city centre and forty minutes to Lugal Hotel.
Stay in Ankara:
In Ankara, stay at Lugal, A Luxury Collection Hotel, which is part of the Marriott international chain. It's located in Kavaklidere, close to shopping streets and Kuğulu Park (Swan Park).
The rooms are spacious, with a seating area, desk, mini bar, coffee machine and some have floor-to-ceiling windows that offer spectacular city views. There's also a large indoor swimming pool, a spa area with a sauna, steam room and jacuzzi, a gym with a running track, squash courts, a virtual golf room and a decked area for sunbathing. You won't want to leave the hotel.