When holidaying in a destination whose awesome natural, verdant scenery is so beautiful that it leaves you overwhelmed and speechless, it's only natural to want to capture the view and the experience for prosperity.
So, enter our competition for the chance to win a fabulous Panasonic Lumix Bridge camera and accessories kit worth £319.99 and follow our guide below to learn how to unleash your inner travel photographer.
We have got together with Inntravel, specialists in slow holidays that take you on the lesser-taken path for a truly individual holiday experience in several picturesque destinations. We have chosen to snap the awe-inspiring beauty of the Swiss Alps where it's no surprise that travellers arrive year on year to marvel at the likes of the Matterhorn and Eiger, both of which tower over 4,000 metres into the sky.
People make the picture
Incorporating people into a photo can express emotion and capture the essence of the view. Not only will this add personality but it can also add a sense of scale. A shot of the mountain tops can tell a story but with a person showing how enormous those mountains really are it can give the image an extra perspective.
Wherever you are travelling there will be an abundance of culture with a whole host of individuals that will illustrate your experience in that part of the world. Just remember to be friendly, learn a couple of phrases and always ask before you snap a shot, you'll be surprised at how many toothy grins you'll get when you do.
Create a dynamic foreground
Setting your camera on top of a reflective surface, such as a car roof, can create a beautiful foreground for your image with the reflection of the sky. Getting as close as possible to the waters edge can also create this same foreground effect, just remember to insure your equipment. Other surfaces such as rocks and grass can also give the foreground more prominence.
Get low
Getting as low to the ground as you can enables you to get a truly unique perspective and again provides more visual interest for the foreground of the shot. If shooting in portrait you can also get a longer image that will enable you to include more into the shot and any objects will seem elevated.
Take advantage of the weather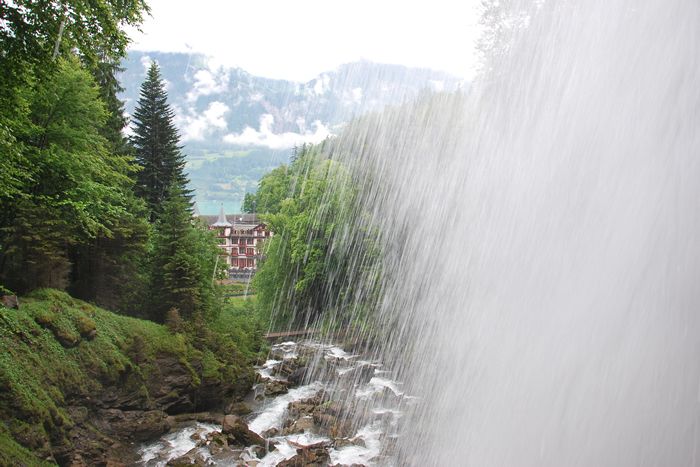 Yes, you want everyone to be jealous of the beautiful sunshine that bathed the majority of your holiday but don't worry if the weather turns. Rain, hail and snow can be great for capturing a truly unique shot. If shooting at night turn the flash on and use a slow shutter speed to enhance the rain as it streaks across the image. Rain bouncing off the floor and hail hitting an object can add a new aspect to the shot and even on an overcast day interesting cloud patterns can form and transform a dull backdrop. Ultimately don't shy away from the bad weather, embrace it.
Use the right camera
The best type of camera to bring is one that will be able to capture stunning views, as well as being able to zoom in and get the details. If you have a DSLR, a wide angle lens will be able to get you those gorgeous panoramic views. However, if you also want to take pictures of nature close up, it can be a bit of a hassle to bring a different lens to facilitate that. That's why cameras such as the Panasonic Lumix Bridge work well for travellers as they encompass both traits without the hassle of changing lenses.
Competition
Luckily enough, The Travel Magazine and Inntravel are giving one reader the chance to win a Panasonic Lumix Bridge camera and accessories kit worth £319.99 to help you capture the view on your travels this summer. To be in with a chance of winning simply answer the question below:
How many holidays do Inntravel offer to Switzerland (visit Inntravel website to find out – link opens in new window)?
A) 16
B) 24
C) 39
This competition is now closed. Sign up to our Newsletter to be informed of future competitions and prize draws.
---
Disclaimer: this article was sponsored by Inntravel