Getting About
Dubrovnik, or the pearl of the Adriatic, is a city located in Eastern Europe on the southern coast of Croatia. Famous for its historic Old Town and its well preserved ancient architecture – tourism has boomed in the past ten years.
You are able to fly into Dubrovnik's international airport, which is only 9 miles from the city centre. The best way to move around the city is through the extensive bus network that connects all parts of the city.
Eating Out
Meals along the Dalmatian coast are heavily influenced by their Italian ancestry, often beginning with a hearty plate of pasta, black risotto or spaghetti in squid ink sauce. The cuisine relies heavily on fresh fish and seafood caught offshore – usually grilled, served with local olive oil, garlic and a squeeze of zesty lemon.
History & Culture
Dubrovnik has a spectacular and well preserved history. The distinctive Old Town is encircled with monumental white-stone walls that were originally completed in the 16th century, and a walk on top of them is sure to be the highlight of your trip. A former city-state, Dubrovnik thrived on the wealth of merchants and ship builders, and has developed a rich culture. Historic buildings range from baroque St. Blaise Church to Renaissance Sponza Palace and Gothic Rectors Palace, which is now a history museum.
Entertainment
Heading out of the town centre is highly advised for visitors, as the beautiful natural surroundings are a sight not to be missed – the island of Mljet offers you spectacular views at the Mljet National Park.
Other than the food to whet your appetite of an evening, there is lots of Croatian wine on offer in small bars like D'Vino, or even more spectacular views whilst you drink at Buza.
Wildcard
From season two onwards, Dubrovnik's ancient landscape provides the perfect backdrop for the filming of King's Landing, a fictional city in Game of Thrones. For any fans, the city will provide a great sense of déjà vu as you notice the large city walls, as well as the narrow streets of the old town where several scenes happen during the course of the episodes.
Where to Sleep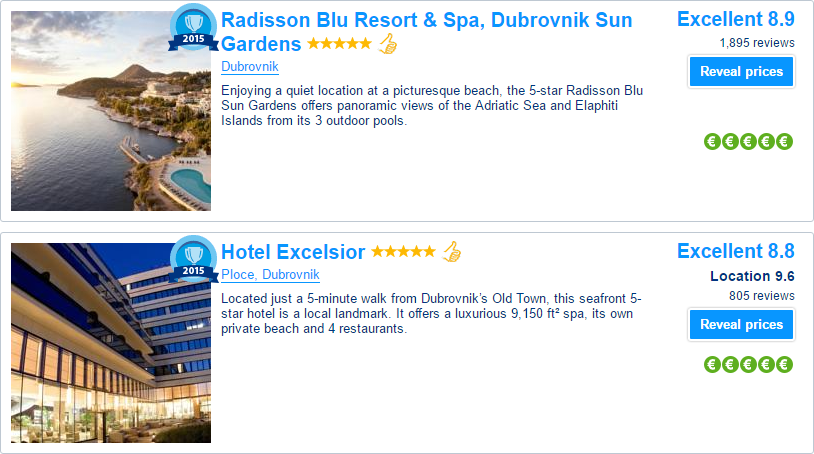 Recommended tours in Dubrovnik

⇒ More Dubrovnik tours and activities
Watch the Two Minute Travel Guide to Dubrovnik video