Set for cinema release on September 27, the film Austenland, starring Keri Russel and JJ Field, focuses on 30-something singleton, Jane Hayes. Her fixation with Jane Austen's Pride and Prejudice — and in particular, with Mr Darcy — is wreaking havoc with her love life, so she heads for an English Austen-themed resort in search of a soul mate.
In the real world, Austen fans can find her footprints throughout England and, as we mark 200 years since the publication of her most famous novel, this is a good time to tour the locations that featured in the lives of the author and her characters.
Born in the Hampshire village of Steventon in 1775, Jane was, like her character Elizabeth Bennett, a lover of walking. She often made the journey to Popham Lane in North Walton, where the family collected their letters from the Wheatsheaf Inn.
When Jane was 12, she was sent to Oxford with her sister Cassandra to be taught by a Mrs Cawley. St John's College and the Bodleian Library, open to visitors, possess some original Jane Austen manuscripts. The sisters also studied in Southampton and Reading, but had to leave when family coffers ran dry. Jane returned to the family home at Steventon Rectory and discovered her passion for writing.
Aged 26, Jane moved with her family to Bath. The Jane Austen Centre here explores how the city influenced her writing and organises tours at weekends, taking in the houses where she lived and the settings for the novels Northanger Abbey and Persuasion. Admission costs £9 per person.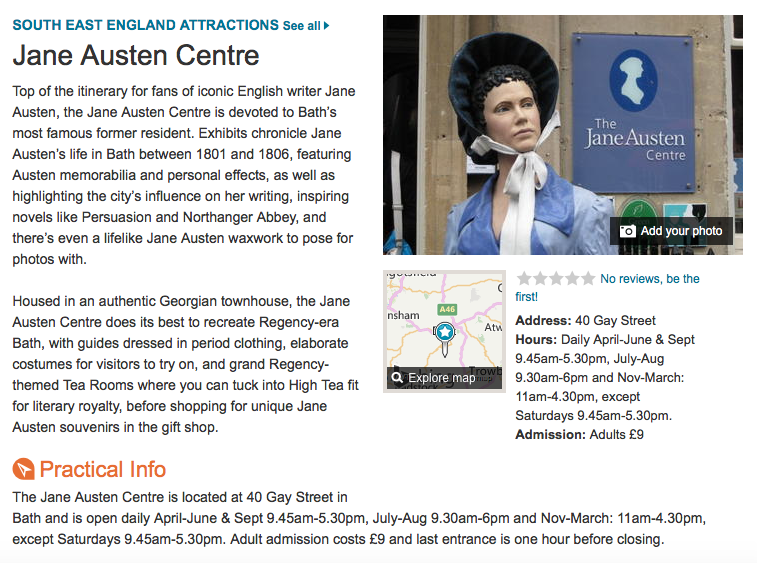 When her father died in 1809, Jane returned to Hampshire, to live at Chawton House Estate, which her brother Edward had inherited. She published her first novel, Sense and Sensibility, in 1811, under the pseudonym "A Lady".
Today, the house is a museum and contains her belongings, furniture and some original letters and manuscripts. For the anniversary of Pride and Prejudice, the museum is hosting She Had Dressed With More Than Usual Care, an exhibition of the costumes worn in the 1995 BBC adaptation. Admission costs £8 per person.
Jane became ill and travelled to Winchester in May 1817 to be near her doctor. She stayed in a house on College Street, close to Winchester Cathedral, until she died on July 18, aged just 41. The cathedral, where she was laid to rest, has an illustrated biographical exhibition running throughout the year.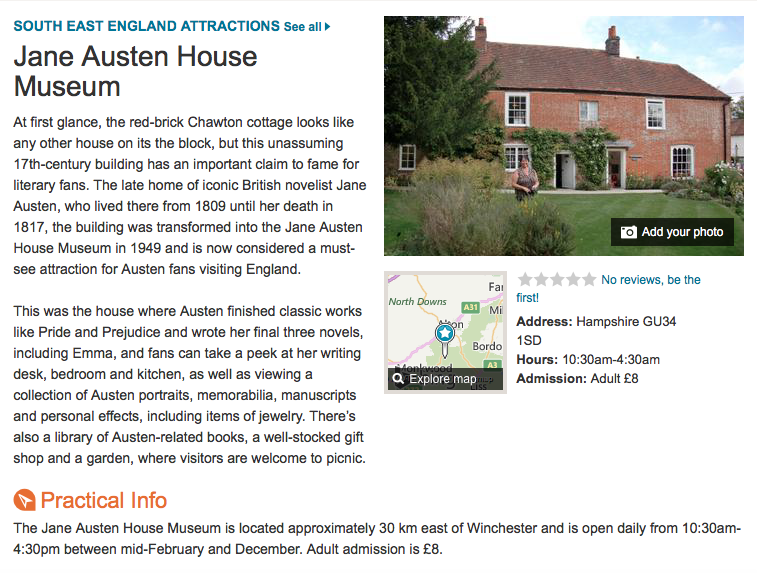 Many scenes in Austen's novels were based on real locations. The Derbyshire town of Bakewell is considered to be the inspiration for Lambton, one of the villages in Pride and Prejudice. It is believed that Jane Austen once stayed in room 2 at The Rutland Arms and revised the final chapters of the novel.
Pemberley, Mr Darcy's grand home, was based on Chatsworth House, which Jane Austen visited while staying in Derbyshire. In the novel, Chatsworth is one the estates Elizabeth Bennett visits before arriving at Pemberley. The 300-room ancestral home of the Duke of Devonshire, Chatsworth stands in gardens landscaped by Lancelot "Capability" Brown and it played the role of Darcy's home in the 2005 big-screen adaptation of Pride and Prejudice, starring Keira Knightley and Matthew Macfadyen. The Painted Hall and Sculpture Gallery both featured in the production, as well as Chatsworth's façade. Entry is £18 per adult; £12 per child.
Basildon Park in Berkshire featured in the same film, as Netherfield Park, the location for Darcy and Elizabeth's first meeting. This house is also the setting for the film's sumptuous ballroom scenes, which take place in the dining room. Entry is £10 per adult; £5 per child.
Perhaps the most important location is that of Longbourn, residence of the Bennett family. The film used Groombridge Place in Kent, which will host a literary weekend from September 21 to 22, with costumed performers in the gardens and forest. Entry is free.
---
Read also: Jane Austen Festival in Bath