Gone are the days when festivals goers have to pile into a field and endure meagre facilities for the chance of enjoying the buzz and the music of festival. You can banish that thought things have changed.
More often it's a wallet-friendly trip to a different European country and combine the music with local culture, nightlife, sightseeing and gastronomic delights. Check out the list below and choose between partying in a 17th century Balkan fortress or an Icelandic glacier, to pool parties, beach raves or lakeside gigs.
Sea Star Festival
Where: Croatia
Why: Superstar DJs and Mediterranean pool parties. Acts Announced: Sven Vath, Nina Kraviz, Illario Alicante
When: May 24-25 2019. Opening party on May 23 and closing party on May 26. seastarfestival.com
Sea Star is a coastal dance extravaganza brought to you by the people behind EXIT, so it's no surprise that it's been nominated in the Best Medium Sized Festival category in this year's European Festival Awards. Sea Star returns to the idyllic Stella Maris lagoon in Umag, Croatia with special opening and closing parties on the 23rd and 26th.
There will be over 70 artists on six stages, from local Balkan heroes to international superstars in a stunning Mediterranean paradise.  And if you need a time-out from dancing, Umag's historical Baroque and Renaissance buildings and winding streets are a hive of quaint bars and restaurants. Still, it won't be long before you're drawn back to the lagoon.
Secret Solstice
Where: Reykjavik, Iceland
Why: Glacier raves and surreal midnight sunshine in Iceland. Martin Garrix, Rita Ora, Morcheeba, Pussy Riot, Boy Pablo, Nitin are confirmed acts
When: June 21-23 | Secret Solstice
The sun won't set for the entire 96 hours which means you can splash around the pool at midnight, and party into the wee hours but in bright sunshine. The line-up includes acts from the US, European and local acts. The carbon-neutral festival is happening in Iceland's stunning natural spaces and rugged landscape as a backdrop – while the main stage hosts many of the blockbuster acts, you can literally have an underground vibe, at exclusive raves in a glacier and a 5,000-year-old lava tunnel. Back above ground, catch DJ sets in naturally heated lagoons or at boat parties in the midnight sunshine – and marvel at glistening waterfalls, black sand beaches, caves and vast volcanic fields on special day trips. Secret Solstice is celebrating its fifth anniversary, and 2019 is set to be its biggest edition yet.
Exit Festival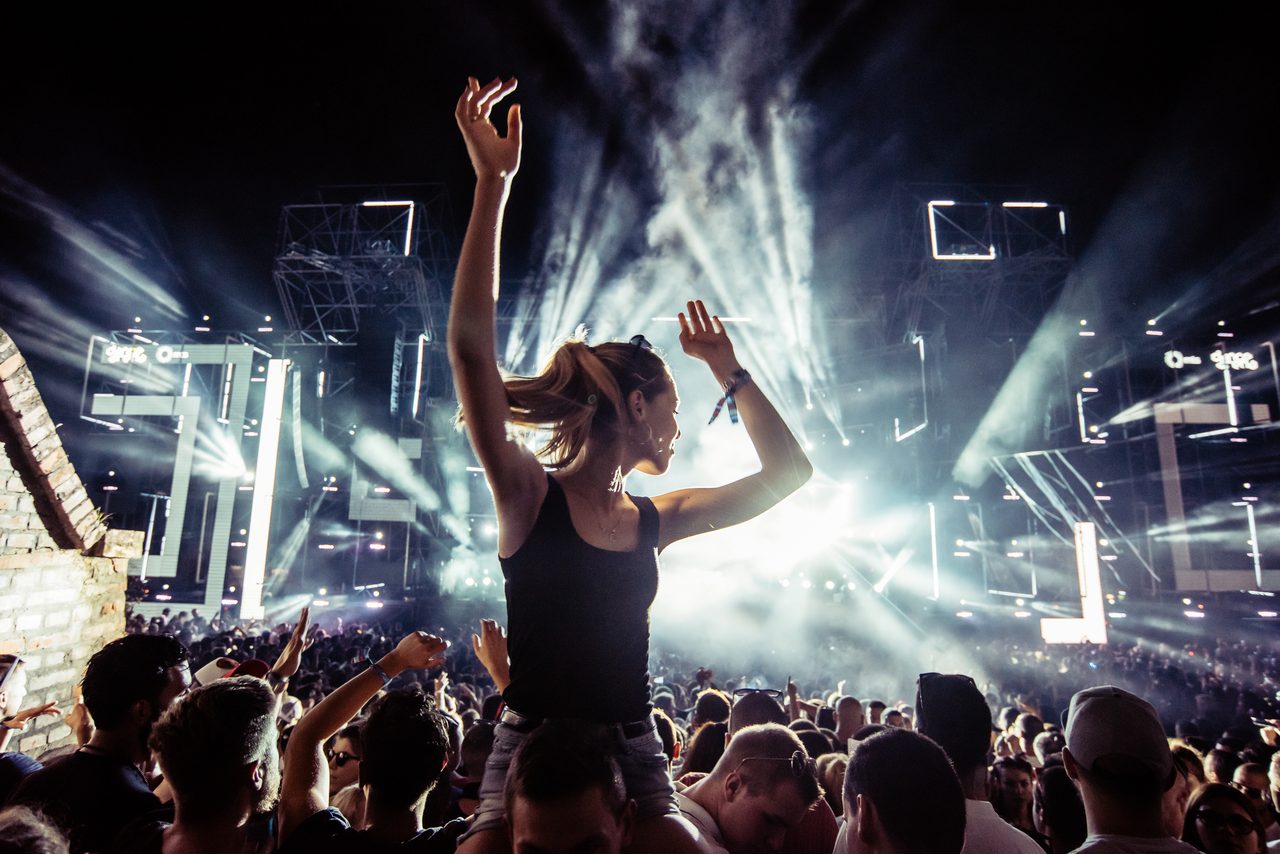 Where: Novi Sad, Serbia
Why: To party in a 17th century fortress overlooking the Danube while enjoying The Cure,  Carl Cox, Dimitri Vegas & Like Mike, Greta Van Fleet, Sofi Tukker
When: July 4-7 | exitfest.org
For four days every summer, the 17th century Petrovaradin Fortress opens its gates for the EXIT – the award-winning music festival. EXIT began in 2000 as a student protest fighting for political change, and over the years it's grown into one of Europe's biggest festivals, with thousands partying in the stunning citadel perched high on a cliff overlooking the River Danube. The positive activism remains in the air, and each year has a specific theme (it was 'Freedom' in 2018). EXIT has possibly the most diverse line-up of any European festival, with 20 outdoor stages that feature everything from death metal to pop, indie, reggae and techno – among cobbled paths, courtyards, grass verges, ramparts and underground tunnels. The Dance Arena is the festival's energetic hub, with 20,000 raving in the fortress moat waiting for the awe-inspiring moment when the sun rises above the ancient walls. Many DJs say the Dance Arena is the greatest place in the world to play, and after Nina Kraviz closed EXIT 2018 with an extended set until 9am, she called it "one of the most special places on Earth".
Off Festival
Where: Katowice, Poland
Why: A boutique festival of experimentation and diversity. Daughters, The Gaslamp Killer, Perfect Son, Lebanon Hannover, Boogarins, The Comet is Coming, Bamba Pana & Makaveli have been confirmed.
When: August 2-4 | off-festival.pl
OFF started in 2006. It takes place in 'Valley of Three Ponds', Katowice – a beautiful green hideaway in the industrial Silesia region. There is plenty of diversity where a black metal band can play next to a techno DJ, a post-punk act, avant-garde noise-rock, hip-hop, or jazz band. There's plenty of  bars, restaurants and cultural centres to explore in the nearby city.
Lowlands
Where: Biddinghuizen, Netherlands
Why: A mix of music, art and culture clash at the Dutch camping paradise
When: August 16-18 | lowlands.nl
Lowlands Paradise described by Nile Rodgers as  "Lowlands was fire! This was an amazing f-ing crowd! Truly insane, and that's how we like it!" is the Netherlands' most prestigious music festival that's been a rite of passage for the Dutch since 1993. It takes place in rural Biddinghuizen – only an hour away from Amsterdam, so you could stop off there for a night or two. It's idea for a weekend of music, arts and culture featuring the world's biggest headliners on the circuit, as well as theatre, comedy, film, debates and even science workshops.
Each of the uniquely designed stages are covered so you can party rain or shine, and the iconic 'Armadillo' area is the festival's power station, quirky bars, DJ booths and artisan restaurant areas that surpass regular festival food stalls. Lowlands is a bit of a smooth operator, from the intuitive layout to the lack of queues for bars, food and bathrooms – with the best campsite facilities of all the big European festivals. There's no such thing as day tickets so it's full on from Thursday until Sunday.
Sea Dance Festival
Where: Montenegro
Why: Party on the stunning Adriatic coast
When: August tbc | seadancefestival.me
Sea Dance in Montenegro is an extension of the EXIT family and voted Best Medium Sized Festival at the European Festival Awards after its first edition in 2014. The festival bottles some of the magic of EXIT's dance stages and transports it to the alluring golden sand beach of Budva on the Adriatic coast, with narrow medieval streets just a short walk away. EXIT's famous No Sleep Novi Sad stage is repackaged for Sea Dance, with over 100 performers shared around numerous other stages. And if you want to check out the areas you'll find the mountain Montenegro offers plenty of eye candy.
Amsterdam Dance Event
Where: Amsterdam
Why: Immerse yourself in electronic music culture
When: 16 – 20 October | amsterdam-dance-event.nl
Everyone know that Amsterdam is great for nightlife and every October it becomes the centre of the electronic music universe for five days during the Amsterdam Dance Event (ADE).  Some 400,000 people hit the Dutch capital every year hosting more than 2,500 international artists performing in over 100 of Amsterdam's most iconic venues including Melkweg, Gashouder, Claire, Shelter, Paradiso, the NDSM Docklands and De School. But it's not just a five-day rave – ADE offers an inspirational conference programme that covers all aspects of dance music culture and the industry. By day, the five main districts, host are dozens of seminars, workshops, exhibitions, artist interviews, feature and documentary screenings, DJ showcases and tech classes.