There are rumours that travellers who have had the Covid vaccine could have a stamp in their passport to enable them to travel freely.
Qantas Airlines, the flag carrier of Australia, has already said international travellers will have to prove they have been inoculated to fly with them.
Read: Qantas say international flyers must have a covid-19 vaccine
The move has prompted at least one tour operator to pull all flights with Qantas in protest. Tradewinds tour operator tweeted their concerns:
We are not anti-vaccination but we are pro-choice. There is a huge difference between coercion and making a free choice.
There may be more to come with Korean Air and Air New Zealand also hinting that they are considering putting into place the same measures.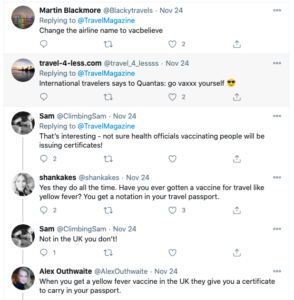 The no jab, no fly stipulation has had a mixed reception amongst travellers – some have taken to Twitter to vent their anger about the Qantas measure while others see it as a necessary measure similar to the required Yellow Fever vaccine when travelling to Angola or the Congo.
The Government's own Scientific Advisory Group for Emergencies (Sage) are debating the issue. Janet Lord, professor of immune cell biology at the University of Birmingham, said: "a vaccine passport does make sense, at least initially".
"It is tantamount to making the vaccine compulsory, which no other vaccine is."
However, Ian Jones, professor of virology at the University of Reading said: "It is tantamount to making the vaccine compulsory, which no other vaccine is."
Last week Tory MP James Sunderland brought up the issue of passport stamps as proof of being vaccinated, He asked Prime Minister Boris Johnson whether he had considered "the utility of having vaccination stamps in passports, or an equivalent scheme, to get our plans off the ground".
Johnson said that Transport Secretary Grant Shapps was "looking at all such schemes" and could offer an assurance that he had heard the call "loud and clear".