What
Architecture for Dogs, the internationally renowned travelling exhibition, has just opened in London at Japan House, its first time in Europe. It first launched in Miami in 2012, and has travelled the world to destinations including Shanghai and Brazil.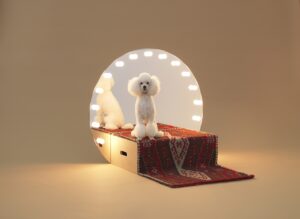 The free exhibition showcases designs by world-class architects such as Ban Shigeru, Kuma Kengo and Itō Toyō, which are created with a specific dog breed in mind. Each breed is treated like a "client" and the fun and interactive designs are designed to cater to their size and tastes.
It is even possible to bring your (small) dog to the exhibition, although they'll need to be well behaved and kept on a lead.
Covid-19 note: Japan House London has received Visit Britain's 'We're Good To Go' Standard, to reassure guests that they can visit the exhibition safely, with clear processes in place that adhere to Government and public health guidance.
Where
The exhibition is hosted in the gallery of Japan House on Kensington High Street. It is just a two-minute walk from High Street Kensington Station.
Address: 101-111 Kensington High Street, London W8 5SA.
When
19 September 2020 – 10 January 2021
Opening hours:
Monday to Thursday: 11:00 to 18:00
Friday & Saturday: 11:00 to 19:00
Sunday & Bank Holidays: 12:00 to 18:00
How Much
Admission is free but you'll need to book in advance. Exhibition tickets include general entry to Japan House London's Ground Floor displays, The Shop and The Stand.
CLICK HERE to book your tickets
What's On
The inspiration for Architecture for Dogs was to look at architecture in a different scale. Each of the 16 pieces is designed with a particular breed or type of dog in mind, from pugs to miniature poodles. The hope was illicit different behaviours in the dogs as a sort of thought experiment, with some hilarious results.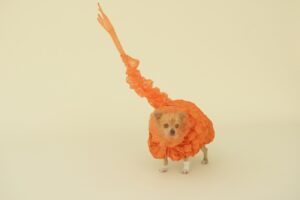 The exhibits range from the humorous– a selection of rugs designed for Labradors that look like steaks – to conceptual wackiness. 'Chihuahua Cloud' by Reiser + Umemoto comes to mind: a bright orange floofy mesh coat with a protruding glove. You need to see it to believe it!
The London exhibition features a brand new piece titled 'I See You' by eminent UK architect, Asif Khan. Asif's team took several hundred hours to design and produce the piece, which was entirely hand-made using sheep's wool. The piece is designed for dogs with black fur and was created to make the dog the centre of attention.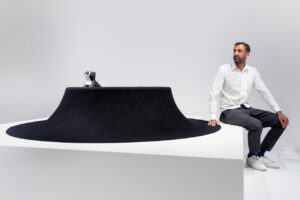 The exhibition encourages guests to become designers and makers with blueprints available for download and opportunities to design one's own architecture for dogs.
A series of virtual experiences are also on offer, including a 3D Tour (available later in the autumn), online talks and 'live' guided tours.
Ther's a separate space with number of the designs for dogs to interact with. There are plans to take these designs on their own roadshow.
---
All images courtesy of Japan House London