Pop Up Campsites provide short term campsites in beautiful rural settings and has several sites in Somerset, Sussex and Hampshire. The creators Jonny Townsend and Jay Varcoe, began running pop up hotels in 2011 which have been regularly featured at Glastonbury. Jay designs and makes exclusive luxury tents that have been used for celebrity weddings and private glamping.
The site in Somerset is the only "glamping" site featured by this co-operative and it was here I had my first experience of a luxury tent.
What is Pop Up Camping?
Natural England has granted Pop Up Campsites a certificate that allows organisations such as them to camp on land without needing a site licence or planning permission. Although they have the freedom to arrange and supervise their site facilities as they see fit but they are subject to a minimum period (42 consecutive days) during which the campsite can operate.
Not only do these sites offer their visitors the chance to explore different places in the English countryside they also bring an economic benefit to the local community as guests will be encouraged to eat out locally and to shop locally. It gives them an opportunity to try some of the delicious produce available from small, individual suppliers in the area.
Glamping accommodation at Somerset
Pop Up Somerset is in a stunning, rural setting near South Cheriton in Somerset. It occupies two corners of a huge wildflower meadow ringed by trees. One area of the site caters for individuals, couples and families and the other is available for groups that features the popular Tent House.
I stayed in a Safari Suite tent and it features all the facilities I would hope to find in a luxury tent. Carpets and rugs lie on a wooden base making the large interior feel very snug.
Apart from a large double bed, the furniture includes a sofa, two armchairs, a dressing table, and bedside tables. But best of all, it has en suite facilities, a proper toilet and a shower cubicle with a rain forest shower head. Any doubts I might have had about glamping (and I must admit to a few) vanished as I explored my lovely accommodation.
Had I wished to do some cooking I could have used my separate kitchen tent (cooking utensils, crockery, glassware, and cutlery provided) to prepare a meal on my personal fire pit, with a grill and cooking equipment.
But I was invited to a barbecue meal in the Circus Tent – a sitting room and dining area. This large open-sided tent provides a comfy space for guests to socialise and eat together. It was a very enjoyable evening in the fresh air enjoying barbecued food and drinking the local cider.
How much?
The main site offers a wide variety of camping opportunities from pitch-your-own tent to the luxurious Safari Suite tent. These are all featured in detail on their website so guests can make an informed choice when booking their stay.
Prices start from £100 for a self-pitched tent for a 2-night weekend in July rising to £960 for a luxury glamping experience sleeping 8.
What's Nearby?
I took advantage of my proximity to Feltham's Farm, a cheese-making farm, to have a tour of the farm and learn how they produce their award-winning soft cheeses. I started our tour by meeting the Oxford Sandy and Black pigs who are very partial to a trough full of whey which would otherwise be wasted when the cheese is made. After walking through the newly planted orchard and learning about the plants in the herb garden we went into the small cheese-making unit.
After pulling on some protective clothing Marcus walked me through the cheese-making process. After the tour I tasted two of the three soft cheeses produced here. La Fresca Margarita and Renegade Monk have both won awards. I enjoyed both of them but I was particularly impressed by the Renegade Monk, a blue soft cheese, with a beer washed rind.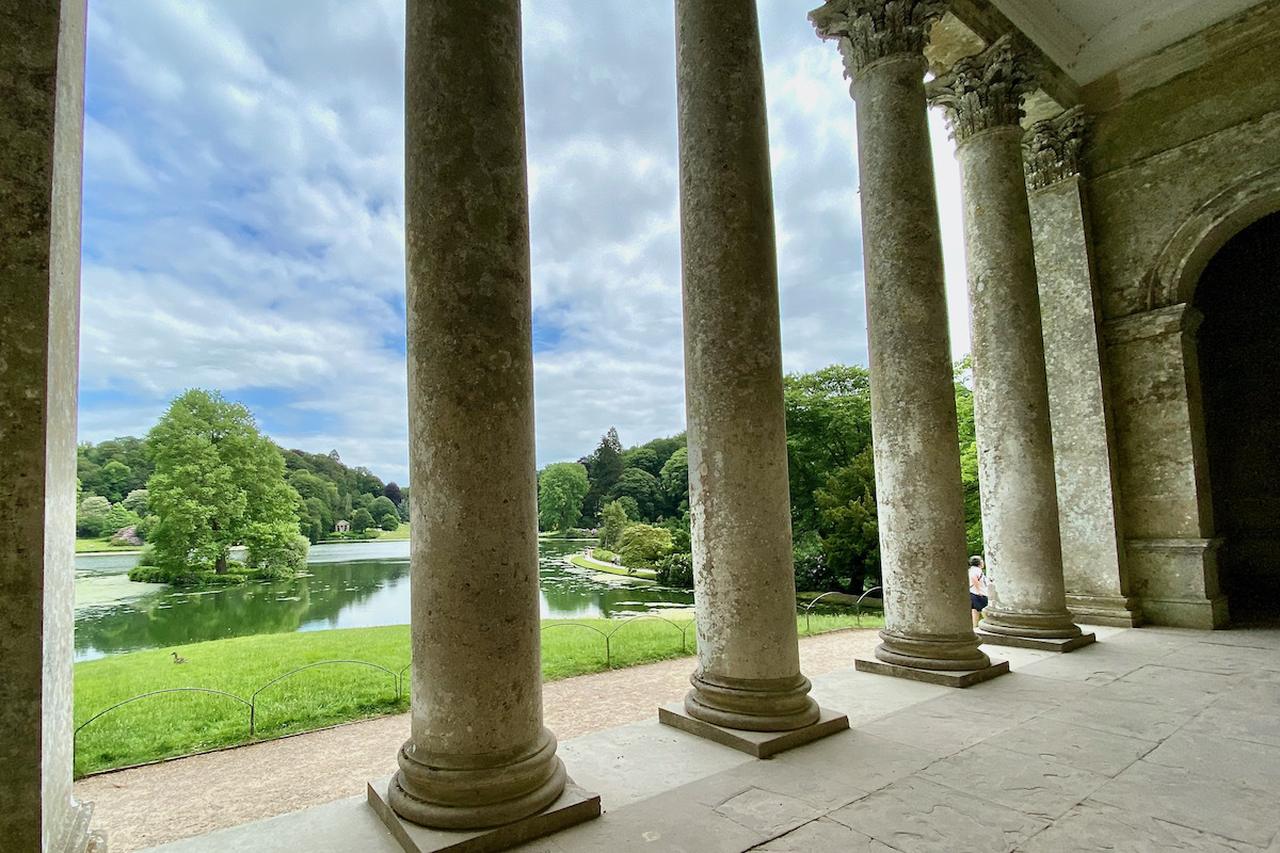 I also visited Stourhead House and Gardens, a National Trust property 11 miles from the campsite. This impressive Palladian house is surrounded by formal gardens and parkland encircling a large lake. I followed the path around the lake stopping to look at various monuments on the way. I was particularly impressed by the Pantheon and enjoyed the climb up to the Temple of Apollo.
The area also offers walking, riding, golf, swimming, days out at Stourhead and Sherborne, with its famous abbey and The Fleet Air Arm or Haynes motor museums. There are two good country pubs within walking distance and two more within a ten-minute drive.
Getting there
Pop Up Somerset is an easy drive from London or the Midlands. The site is at South Cheriton, between Wincanton and Templecombe and the postcode for a sat nav is BA8 0BJ.