Heathrow Express have partnered with award winning paper sculptor Rebecca Sutherland to produce a striking series of images that highlight how the company is reducing waste on its shuttle trains.
The images that line the walls leading to the baggage hall at Terminal Two, have been made entirely from rubbish left behind by passengers.
The award-winning illustrator hand-crafted them out of everything from newspapers to discarded cups and bottle tops that were found on the floors and seats of the trains.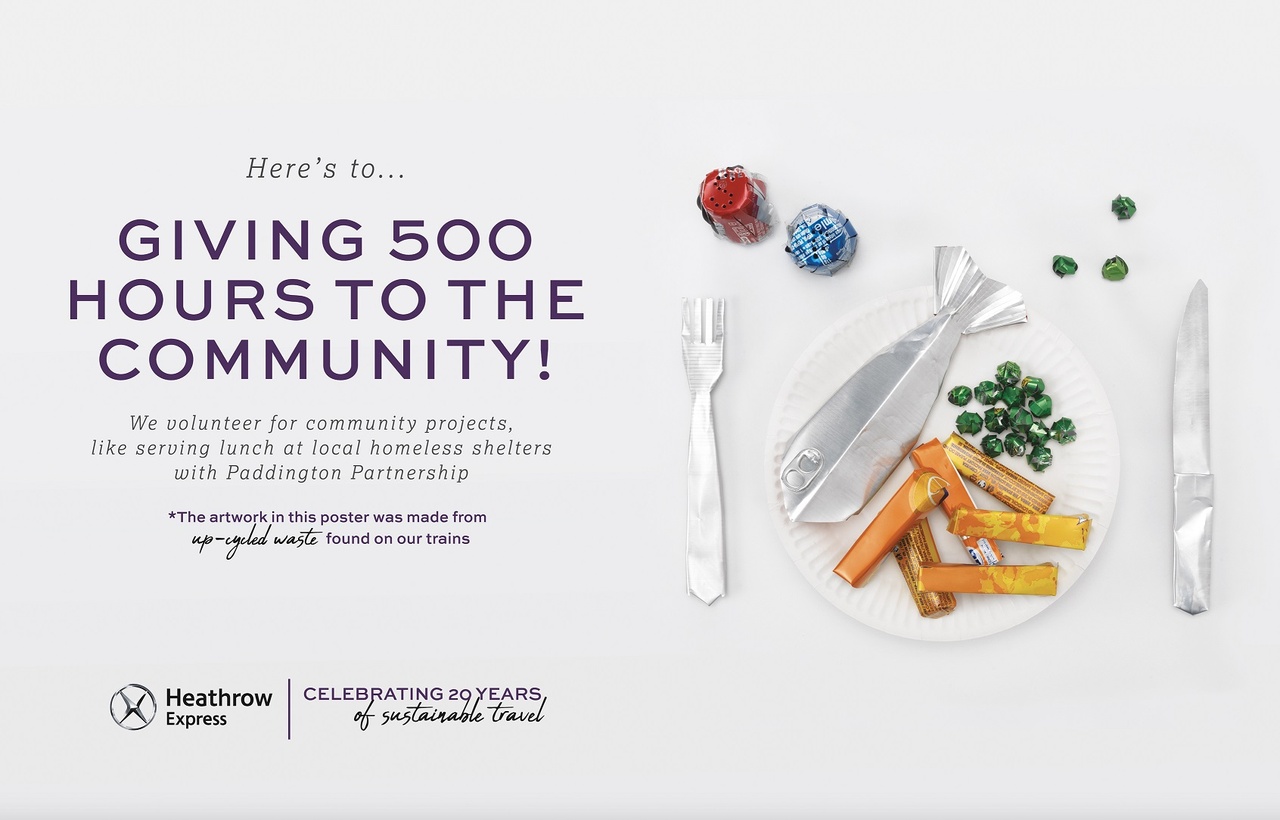 The sculptures, which range from figurines dancing and playing instruments to typography, patterns and even a replica plate of fish-and-chips, depict the train line's impressive sustainability achievements, which include, all-electric trains, the large numbers of women drivers – and, importantly, the fact that they recycle 100 percent of their waste.
They images will be seen by hundreds of thousands of travellers using the Heathrow-Paddington service.
Matt Wright, Associate Creative Director of Given London who created the artwork, said:
We wanted the posters to have impact at whatever point travellers noticed them.

Imagine you're a guest listening to a speech at a birthday party. If you arrived late and heard just one of the toasts you'd still understand it and be able to celebrate it. But if you heard the whole speech it would be even better. That's how we wanted to think about these posters.
Sutherland, whose previous clients have included Virgin Atlantic, is known for her innovative use of paper and raw materials in creating art. She immediately understood the strength of giving rubbish a value in the way that supermarkets use the carrier bag tax to make people think about throwing them away. She said:
My thinking was to create things that touched that sweet spot between being seen as refuse and a visually stunning image. We worked hard on getting that right. Just enough change so we can still see what it is.

It's strange to say, but when I was clearing up from the project, I had around 15 cups left over. It seemed wrong to throw them in the bin because they had been a resource all week. They had been as valuable as my pencil or my scissors.
The campaign is part of a wider Heathrow 2.0 strategy for sustainability and reflects the growing importance of sustainable travel amongst consumers – a reality increasingly recognised by travel providers.
Hotel booking platform Booking.com's 2017 Sustainable Travel Report found that 67 percent of travellers would be willing to spend more on travel options which were more sustainable and TUI has found that its sustainability certified hotels result in better client experiences.