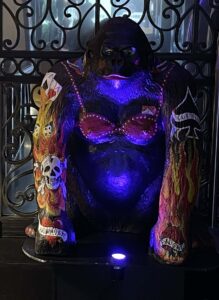 Tucked away in Warwick Street in London's famous Soho region is the Karma Sanctum Hotel. The building has been created out of two Georgeon townhouses and turned into a funky place to stay.
A buxom gorilla meets you at reception along with vast images of Jimmy Hendrix that seem to ooze out of brooding colours.
The Karma Sanctum Hotel is the brainchild of Mark Fuller, a nightclub owner and restaurateur, who opened the hotel with Andy Talor manager of Fleetwood Mac and Rod Smallwood, who looks after Iron Maiden. They wanted a place they could meet and have a snifter out of hours alongside their members and residents.
So Karma Sanctum has all the credentials of being a rock n' hotel at its core and in case there is any doubt there are several artworks dotted around of rock stars you are bound to recognise.
Bizarrely on the second floor, there is a full-size Dalek of Dr Who fame.
Who for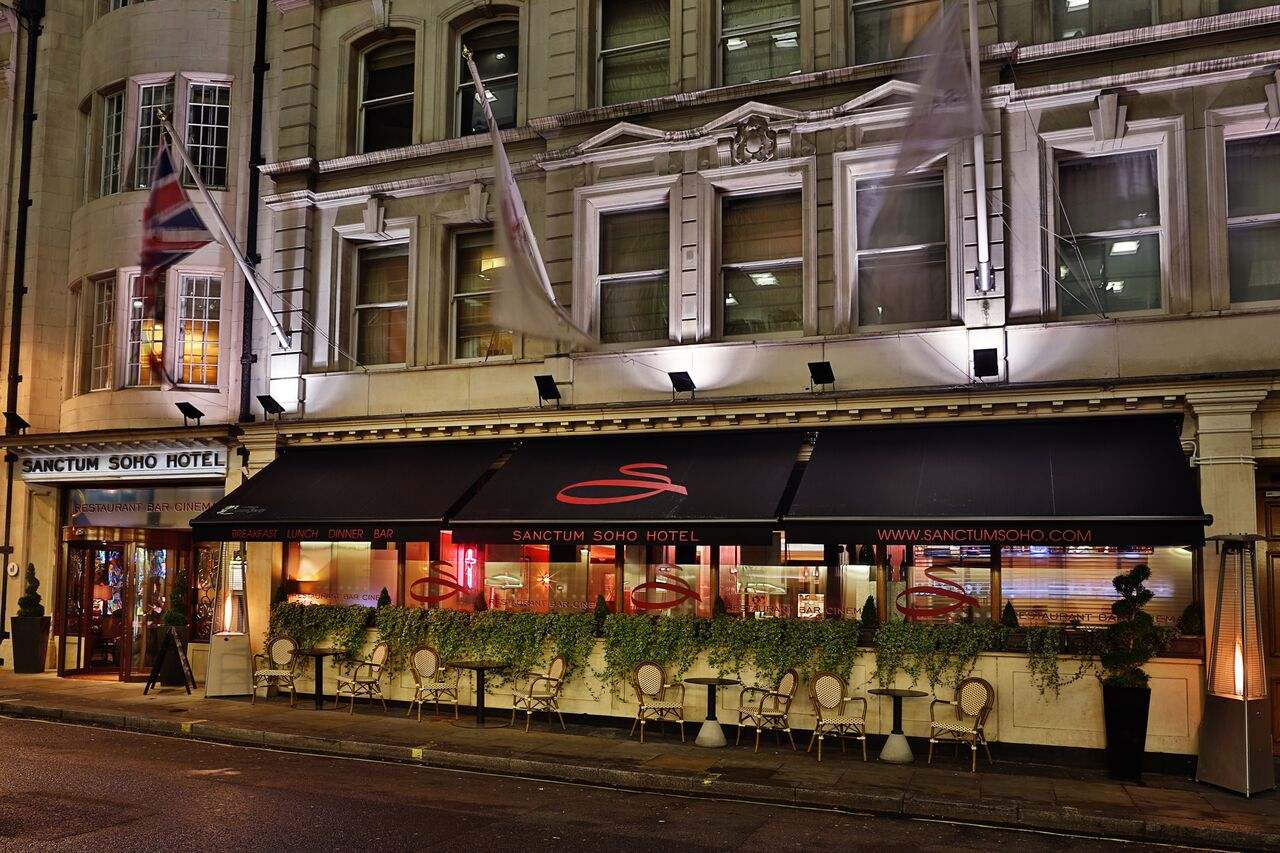 Based in Soho, the clientelle is bound to be an eclectic one. A love of good design, rock and roll music and an easy vibe helps.
Accommodation
There are 30 rooms over four floors whose door handles are encrusted with diamante. Room range from Compact to large Delux Loft.
Ours was a Superior Compact room 205 which though one of the smaller rooms still has wardrobes and comes with king size bed with Egyptian cotton sheets, bathrobes, slippers, a huge tv and Temple spa toiletries in the spacious, clean white wet room.
There's a mini bar, complimentary still water, a Nespresso machine and also plenty of phone charger ports and plug sockets.
Food & Drink
Hotelier Mark Fuller and Michelin-starred chef Garry Hollihead have inked a new partnership to open a new restaurant at Karma Soho Hotel in London; Wild Heart Bar & Shokudo. The style is a casual Japanese-inspired sharing concept for breakfast, lunch, and dinner.
There's also an afternoon tea with chicken katsu sliders, steamed vegetable gyozas, and sweet treats including matcha panna-cotta with freeze-dried raspberries and mini yuzu and red fruit tarts.
Unfortunately, we didn't get to dine there but if three-times Michellin-starred Garry Hollihead is at the helm you can be sure of the finest dining.
On the 5th floor, there's a roof terrace, both inside and al fresco (lorded over by the gorilla) for cocktails or wine and snacks supplied by the Michelin restaurant. There is another party place called the Inner Sanctum in the basement.
How much
Rooms at Karma Sanctum Hotel start from £399 per night.
What's Nearby?
Karma Sanctum Hotel is extremely well-placed for a fun night out. The splendid Carnaby Street is just around the corner, the eateries of Kingly Court, the Liberty store, Regent Street and the flamboyant China Town is five minutes away.
Karma Sanctum Hotel is situated in the heart of Soho between Regent Street and Carnaby Street. Piccadilly Circus and Oxford Circus underground stations are within five minutes' walking distance.
---
VERDICT: Karma Sanctum Hotel offers a funky place to stay in an undeniably funky area of London. Eat, sleep, drink and enjoy the Carnaby area nearby.