Galvin at Windows is located on the 28th floor of the London Hilton in Park Lane – probably the most stylish Hilton I have so far visited. With floor-to-ceiling windows you get 360-degree views over London's Hyde Park, Buckingham Palace Gardens, the Shard and the Eye.
Launched in May 2006 by Chef Patron Chris Galvin as the second restaurant from the Galvin Brothers. Though Galvin at Windows has been around for a couple of decades the restaurant has recently had a multi-million-pound refurb and looks shiny and new.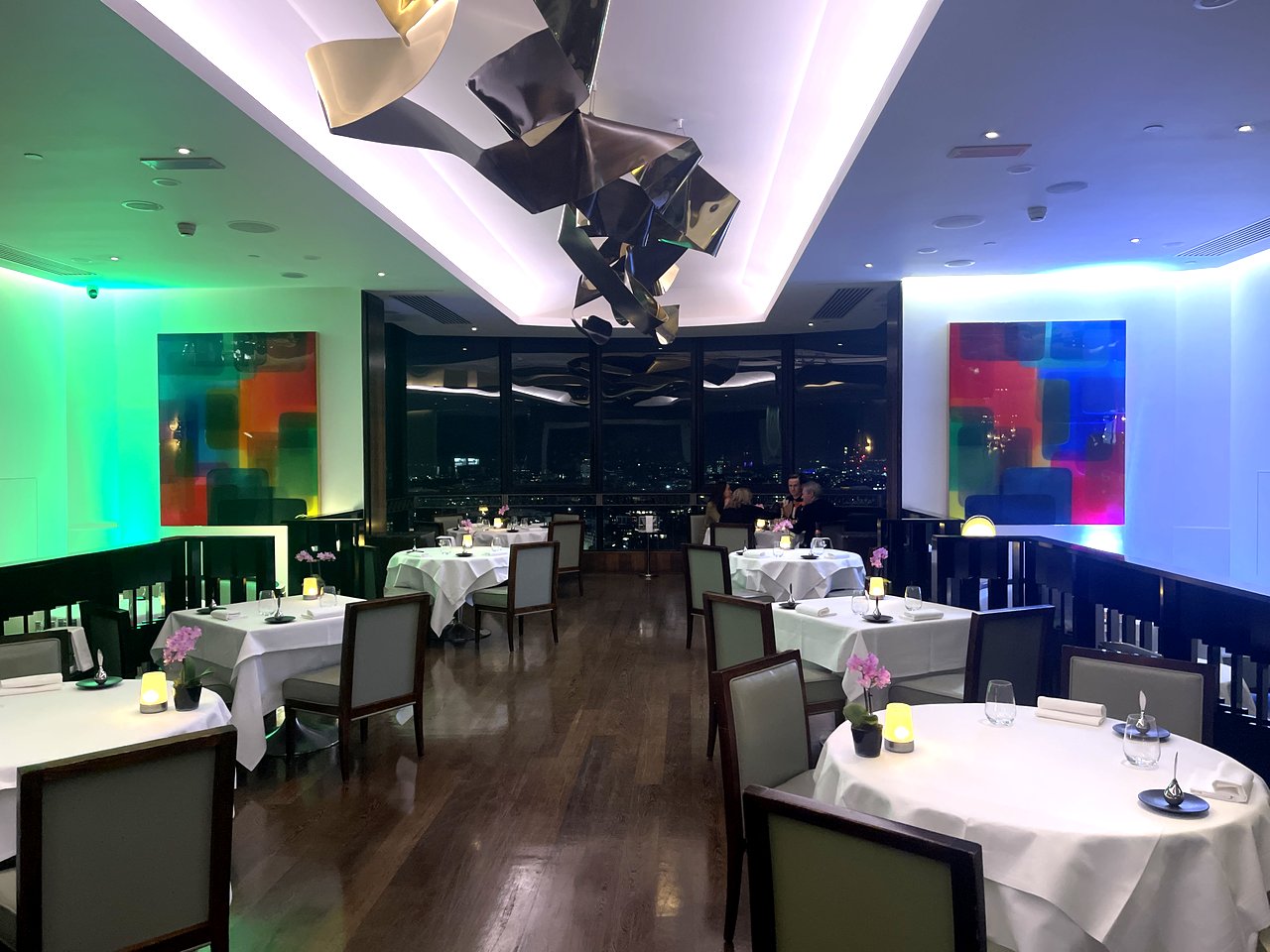 The space looks elegant with brown wood floors, white walls and an impressive brass ribbonesque sculpture that stretches across the length of the ceiling, colourful lighting makes this space relaxed and calm.
And then, there's the view.
Ambience
When the lift doors opened we were greeted by a host of smiles, coats taken and were shown to our seats. It was hard to concentrate while distracted by those spectacular views. While still gawping a glass of champagne appeared in our hands.
We were there after dark wearing our glad rags – smart casual is the dress code – and the lights across the expansive city blinked erratically and shone brightly into the infinite indigo sky. The scene of calm, easy relaxation amid elegant service and decor was set. All this and sipping our bubbly was a fine way to start a grown-up gourmet evening.
Food & Wine
The food, courtesy of head chef Marc Hardiman (formerly of The Ritz) offers the classics on a short, but well-put-together menu. These are full-flavoured dishes that came with the chef's own idiosyncratic twists.
Welcome drinks in hand, nibbling on toasted brioche with piccalilli and beef butter we relaxed into our seats while our gourmet dinner was being prepared.
I love artichoke, and on this night I had the opportunity to experience it for the first time in aerated form. This was a dish of woodland mushrooms, aerated artichoke, miso and barley stew – the artichoke came as light foam topped and mixed with the other ingredients. On the palate, this was a wonderful mix of creaminess and sometimes crispy textures.
We also enjoyed the Duck liver parfait with Port, honey, figs and pistachio. This was a delightfully smooth foie gras with elevated fig flavours.
Guiseppe, the sommelier, was on hand to offer his food and wine pairing suggestions. The artichoke was paired with an unoaked, minerally William Fevre Chablis 2021 and the duck parfait with the Galvin Rasteau Grenache 2019, aged in oak barrel – a sensational sup.
For mains, I ordered Label Rouge guinea fowl with slow-cooked egg and tarragon sauce. This guinea fowl was appealingly pink-hued and superbly cooked with crispy skin. Its mild gamey flavour went well with the egg and tarragon sauce. This was paired with a very smokey Galvin Puilly Fume 2022 that tempered the flavours well.
The other mains were the very juicy and succulent Scottish highlands venison wellington, red cabbage, chestnut and Hermitage sauce. The juicy venison was hemmed by pastry and the red cabbage and chestnut flavours were sublime.
We added on sides of pomme puree (posh mashed potato) and winter greens chilli and sesame. This dish was paired stylish Chateau Tayac Margaux 2015 – a blend of Cabernet Sauvignon, fleshed out with Merlot, and with a splash of Petit Verdot.
Then there was dessert. I shouldn't but always do. Apple Tarte Tatin in Calavados caramel and served with Tahitian vanilla ice cream was sumptuous. And yet another pairing, this was Monbazillac, L'Abbaye, Dom. de L'Ancienne Cure 2019 from South West France.
The wonderfully delicious black currant soufflé, creme de cassise, and cheesecake ice cream was paired with Moscato D'Asti Pio Cesare 2022. A great duet.
VERDICT: Galvin at Windows offers elegant dining. It's a little pricey but with those views and that relaxed ambience, this makes for a great place to dress for dinner and enjoy grown-up dining.
You can check out Galvin at Windows menu here.
Address: 22 Park Lane, London W1K 1BE