A new kid is on the Mallorcan block, in the shape of the voguish art deco-styled Kimpton Aysla Mallorca hotel.
The Kimpton brand has 53 hotels in its portfolio, but the Kimpton Aysla is the group's first in Europe and uniquely offers a different type of retreat to the island.
The hotel, designed by architect Guillermo Reynés, opened in October, a time when the tourist season dies down on this Balearic hot spot. However, unlike other hotels, Kimpton Aysla Mallorca stays open throughout the winter and indeed the year.
The reason, and I speculate, is that this is not a beach resort. It is located in the high-end area of Santa Ponsa, around 14km from Palma and at least 10 minutes away from the nearest beaches and noisy eateries. This is a wellness resort based on "design, wellness and gastronomy". Think of a stay here as an opportunity for time out.
The hotel has a distinctive design, and certainly, I experienced a huge dollop of wow factor thanks to the sensational artwork behind the reception desk. Created by Gimenez Regina Gimenez, probably the most famous Catalan artist today, it is called the "door to light" and is made of satins, silks, cotton and linen that create depth towards the light.
There's art eye-candy everywhere, including a designated Instagram area with a backdrop of a myriad of vases next to the reception. Elsewhere a substantial Contemporary Art Collection commissioned by ABA ART LAB, showcases 700 pieces by local artists dotted across the hotel. These are chosen for their Mediterranean, pure, timeless and cosmopolitan aspects and add to the overall aesthetic.
Not dependent on the sun and sand brigade, it has a Californian vibe, the type that exudes the outdoors. You could enjoy Yoga and meditation on the rooftop terrace, a round on the golf course, take advantage of the tennis courts and swimming pools, bag a bike (free) to follow cycling roots or explore the mountain surroundings.
It's worth exploring the grounds. I found several hide-away spots with sumptuous seating – for nabbing some silent time – dotted around the greenery and pomegranate trees and admired the Transmontana mountains just beyond.
Incidentally, IHG members can collect/use points at the Kimpton Aysla Mallorca.
Who for:
Couples looking for a quiet, luxury getaway with an eye for design and another on wellness, yet not too far from the beach and the heady nightlife of the marina at Puerto Portals.
Accommodation
There are 79 rooms over two blocks of buildings. Each building is arranged around a courtyard, one a botanical and the other a maze. Rooms are very spacious (a generous 33sq m) with double beds and a fabulous balcony. A large ensuite comes with a deep bath and a wet room shower and Codage toiletries, and a large round mirror with the words "come as you are". Natural tones are used throughout with attractive 60's and 70's styled furniture.
The bedroom is separated by a wooden wall containing various artworks, including vases and a sculpture, and behind that is a dressing area with ample wardrobes.
Above the headboard is a watercolour artwork made with salt from Salinas to represent local nature, created by Emma Todd. There are terracotta vases, the big one would once have been used to water local orange trees and the smaller one, with its open front, offered a safe place to grow seeds.
There's a Nespresso machine with plenty of pods, a large TV, fluffy towels and dressing gowns and rattan seating on the balcony.
Food & Drink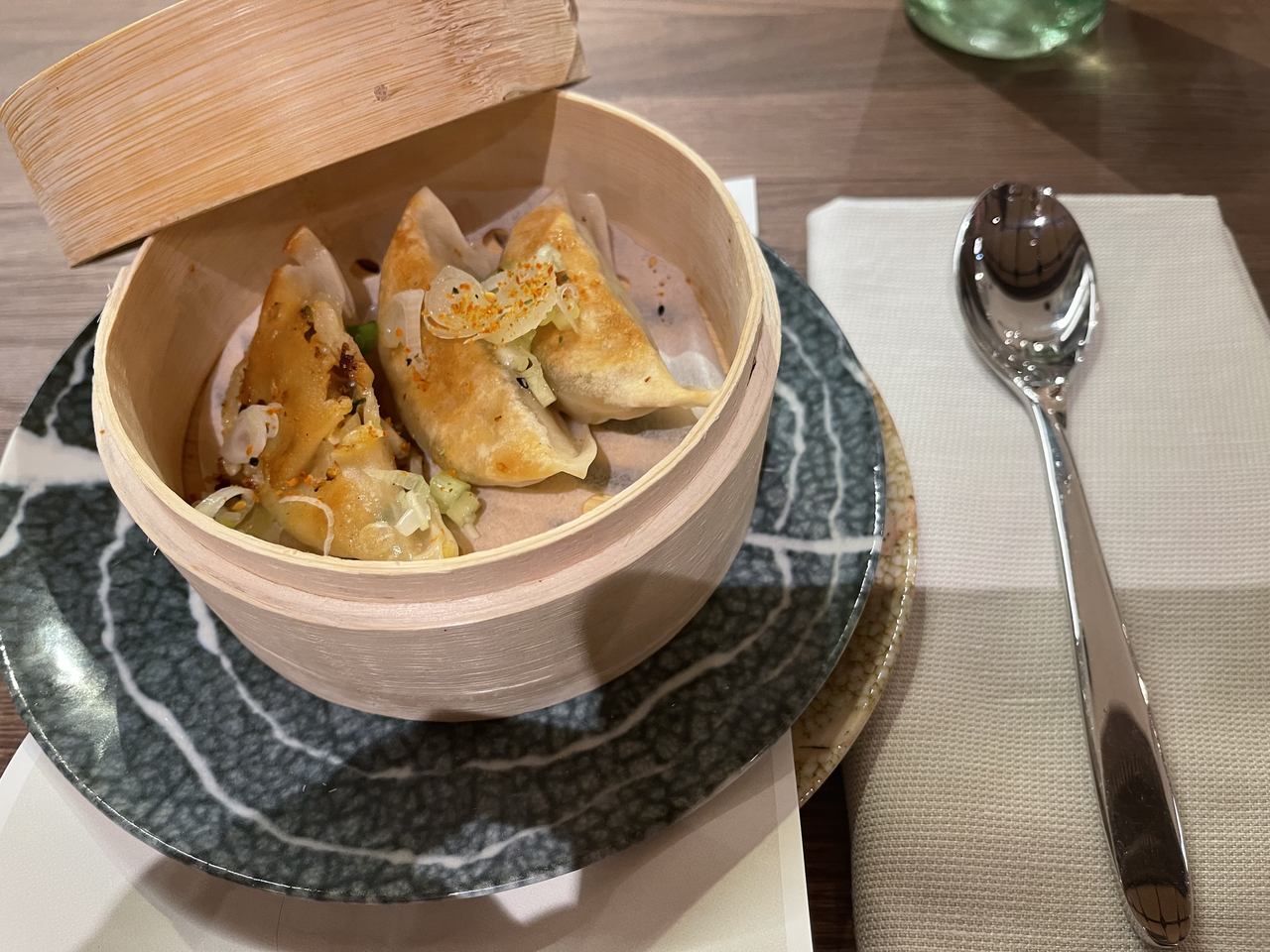 Food is top notch with the alfresco Zayt restaurant located between swimming pools, a terrace bar, and the star of the show, Saba pan Asian restaurant and bar.
Saba restaurant has a wide open kitchen where you can watch your dinner being created. It is also where a buffet (and cooked eggs as you like them) is served.
One evening I enjoyed tasting the Saba Omakase 5 menu with Kimchi & Banchan, Korean fermented sides, Doenjang Dubu, which is filed tofu in a miso soup, followed by Korean vegetable dumplings and veg tempura and a Bibimbap – a dish of rice mixed, veg chilli paste and sesame. Imagine the flavours.
Another evening it was all about Sushi. It's doubtful you can get bored with their cuisine.
Facilities
Kimpton Aysla has four impressive swimming pools, including a vitality pool with jets and an indoor pool that is the largest in Mallorca. On offer is a high-end Spa by Maison Codage, which offers a salt room, a mud bath and a sauna.
There are seven treatment rooms where you can get everything from full-body scrubs to back and leg massages to peeling treatments and facials. I tried the 60-minute Pro-Age facial, and three peels later, my skin did look visibly younger.
There are workshops such as perfume making with Vitivinci , working with ceramics and yoga – there is a yoga mat in the bedroom. Off-site, they can arrange in a trip to the Carmina workshop that produces bespoke, handcrafted luxury artisanal shoes (don't judge me for liberating a pair) and a trip to a newly born local winery Sta Catarina.
Bikes are free to use and a huge state-of-the-art gym with plenty of free fitness classes. If you want to be outside, you can play tennis or golf or go hiking in the surrounding mountainous region.
How much
Room rates: Winter season starting from €350 p/n, Summer season starting from €600 p/n
What's Nearby?
Explore the surrounding scenery, or take a walk onto Santa Ponsa town. You can get to Puerto Portals and its lovely marina, restaurants and marina in around 10 minutes, to Palma in around 20 minutes by car and to the airport in 45 minutes.
---
Verdict: Kimpton Aysla Mallorca is brimming with alternatives in design and opportunities to experience a host of wellness treats or enjoy something new. Well worth a visit any time of year to return home fed, watered and revitalised.