The Artagonist Art Hotel is a curious creature; just one in a long line of attractive old buildings in Vilnius' well preserved Old Town, you'd probably walk straight by if you didn't know it was there. But step through the door beneath the Art Deco sign, and everything changes. A garish graffiti art portrait of an undeniably handsome man stares down at you, and everywhere you go the art and imaginative use of space is intended to surprise.
Who For?
Vilnius is a quirky, offbeat location where medieval buildings stand cheek by jowel with those from the Soviet period. Artagonist appeals to those visitors who want a well located, trendy base from which to explore the city, who perhaps want to make a good impression on a weekend away but without having to max out the credit card.
Facilities
With so much to see and do in Vilnius you're unlikely to spend too much time at the hotel other than when you're sleeping. If you do retreat here one evening to relax, however, there's a large open seating area-cum-bar, and a more intimate lounge, both of which have engaging sculptures on the walls. Sit back with a glass of wine.
Accommodation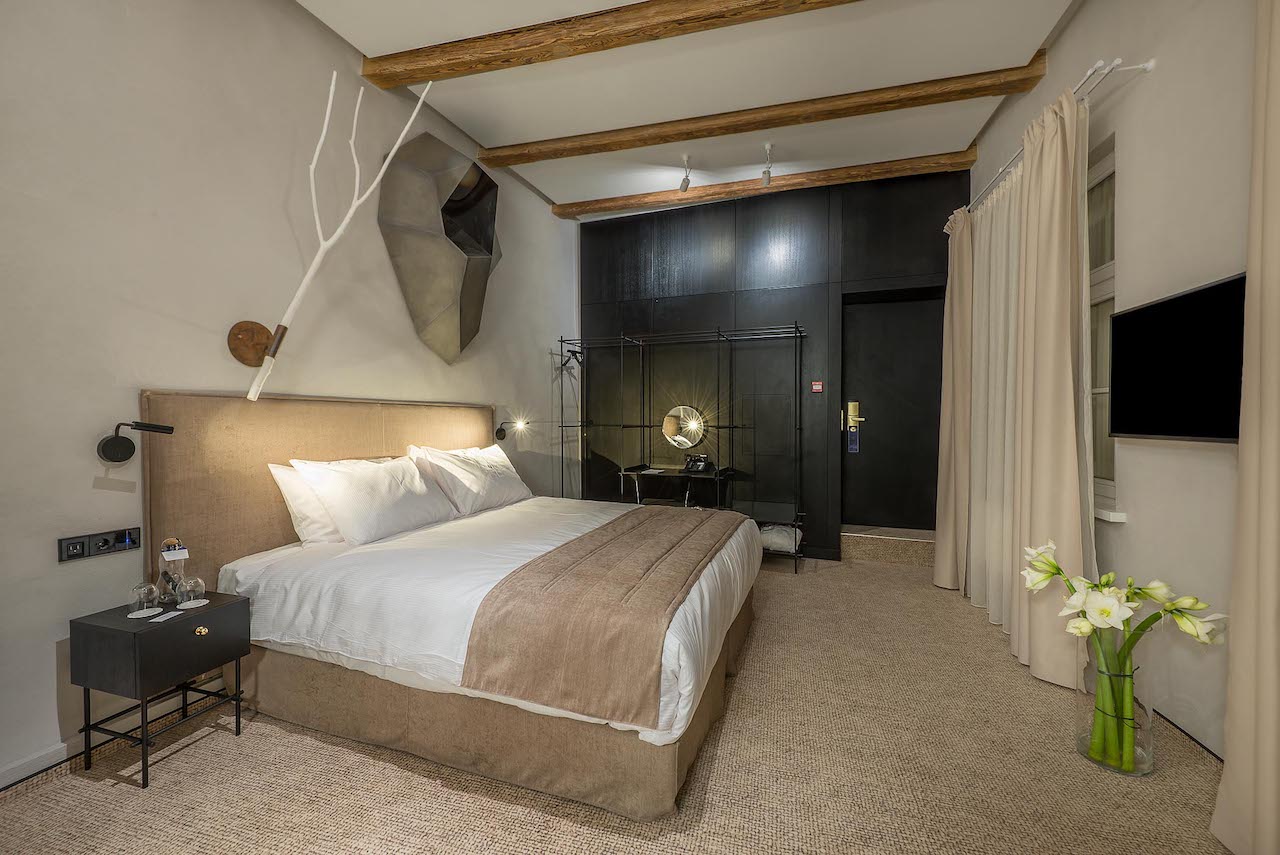 The rooms at Artagonist come in two categories: Standard and Superior. Both of them are a showcase for the works of contemporary Lithuanian artists and designers, who seem to confidently mix minimalism with fairytales, street art with nature inspired sculptures. In one room, the head and paw of a giant teddy bear seem to break through the wall above the bed; in another a vibrantly coloured graffiti reindeer dominates the space.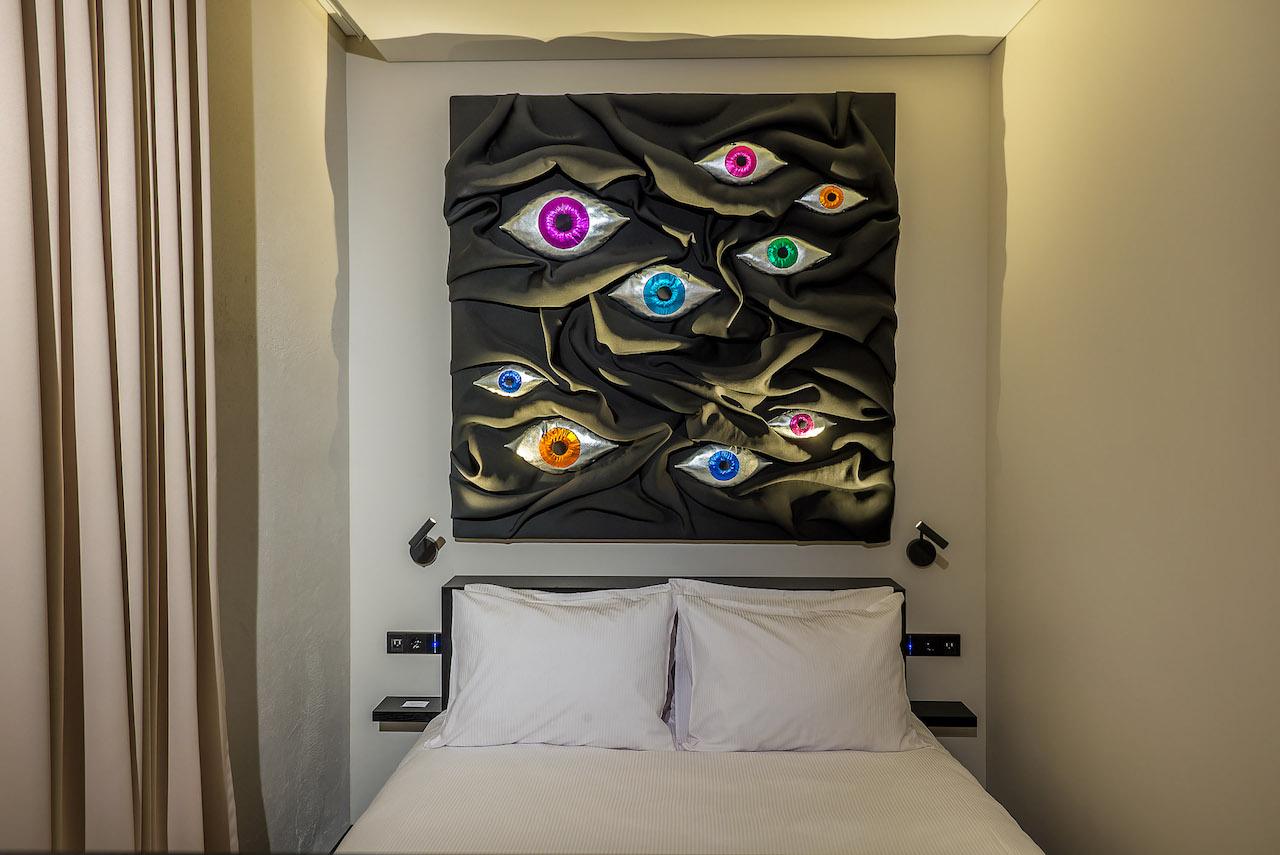 Each room is unique, reflecting the original architecture of the building as well as the artists' vision for it. The decor and furnishings — excluding the art — are monochrome, contemporary and tasteful, especially if you like Scandinavian design. The modern bathrooms are immaculately tiled with strong chrome accents and high quality, locally produced toiletries.
Food and Drink
Artagonist doesn't have a restaurant per se, but the staff lay on a huge spread of breakfast delights every morning in the atmospheric vaulted basements, the oldest part of the building. The breakfast is buffet style, with plenty of cold meats, salads, and cheeses, plus hot options, so you can fill up handsomely before a day exploring.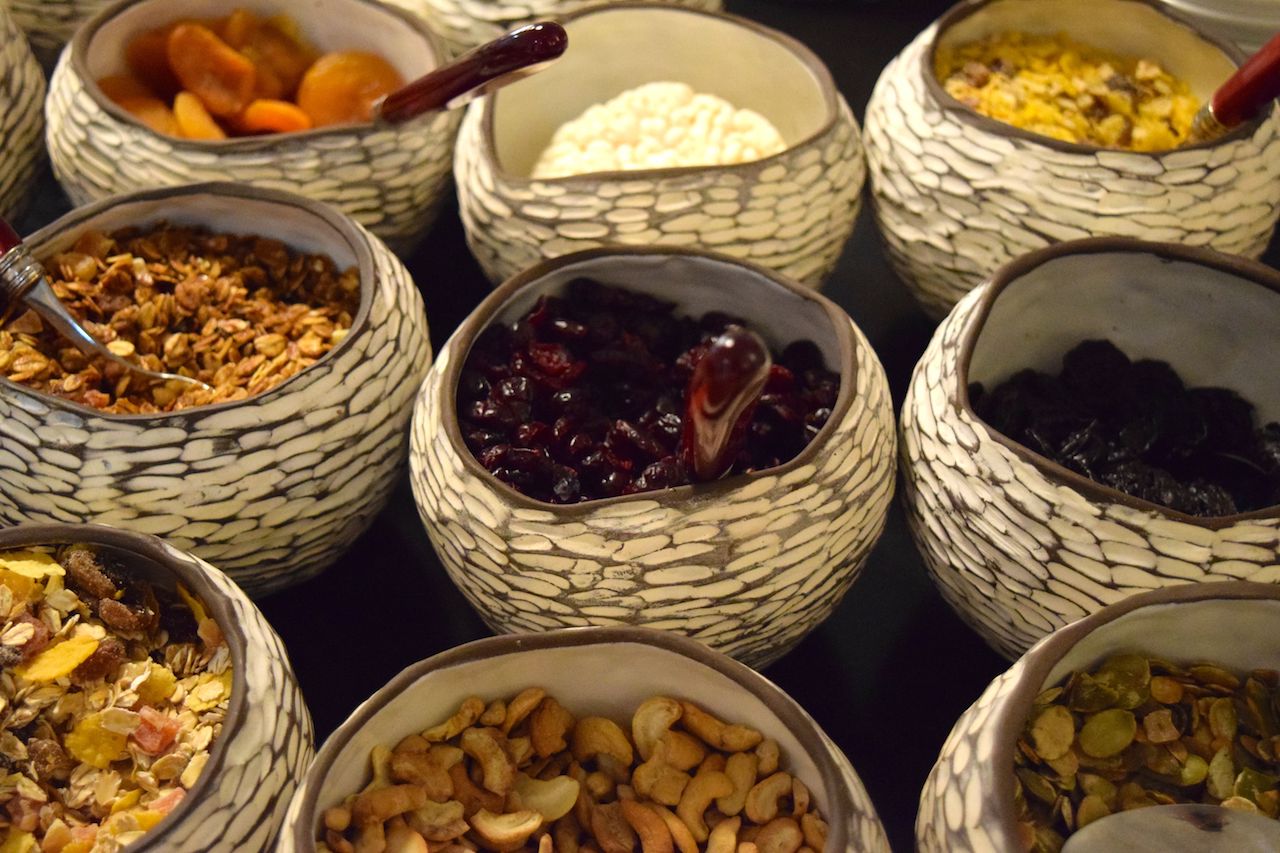 When it comes to dinner time, Vilnius' best restaurants are all around you. It is well worth walking into Uzupis, however, as Sweet Root has the best menu in town.
Wi-Fi?
Wi-Fiis available throughout the hotel and is free for guests.
How much?
A standard double room costs from £95 per night when booked online. Breakfast is included.
What's nearby?
Artagonist is in the heart of Vilnius' Old Town. Be sure to take a walking tour into weird and wonderful Uzupis, the self-declared independent country within the city, and to visit the Cathedral Basilica and the Palace of the Grand Dukes of Lithuania, both of which are a few minutes' walk from the hotel. For a slightly longer stretch of your legs, follow the old city walls which were built in the medieval period to defend Vilnius from attack.
READ ALSO: Travel Guide to Vilnius, Lithuania
Getting there
Fly direct from London Luton to Vilnius from £41 return with Ryanair. A ticket on the shuttle train linking the airport with Vilnius Railway Station in the centre of the city costs €0.70 and the journey takes seven minutes.