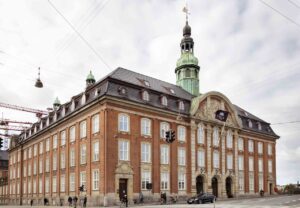 The Villa Copenhagen hotel was built in grand Neo-Baroque style in 1912, opened its doors in 2020 in the heart of the Danish capital and was once the city's Central Post & Telegraph Head Office. One of the city's most ambitious projects, it has been transformed into an elegant, modern eco-friendly hotel that combines sophistication and sustainability.
Conscious luxury is how the hotel describes its approach which emphasises luxurious design and facilities while using renewable energy, recycled materials and local suppliers. Part of the Preferred Hotels & Resorts group, Villa Copenhagen is stunning and surprising, from the vast courtyard atrium with a huge glass ceiling that welcomes guests as they arrive, to the rooftop heated swimming pool with adjoining sauna and terrace bar.
In a city known for its clean air, culture and Scandi chic, Villa Copenhagen looks set to be the jewel in its crown.
Scandinavian hotelier Petter Stordalen was the brains behind Villa Copenhagen which has a priceless modern art collection throughout. Danish fine jewellery brand Shamballa Jewels was involved in the hotel design, an influence visible in the lights which hang like precious pearl bracelets from the courtyard ceiling. London-based Universal Design Studio oversaw the creation of 381 guest rooms, a penthouse suite and public spaces. The Earth Suite was designed by Danish architect Eva Harlou and is composed entirely of recycled materials and textiles.
Staff are thoughtful and attentive, dealing promptly with my need for an iPhone charger and helping with restaurant recommendations.
Who for
Keen to benefit the local community as much as international travellers, Villa Copenhagen's doors are open to all. Expect to see workers enjoying after office drinks as well as families on city breaks, couples and business travellers. There are a number of impressive meeting and event spaces and a wedding party was there when I visited.
Accommodation
There are 390 bedrooms. Mine was one of the top floor rooms which have beams. Those on the lower floors have high ceilings, reflecting the layout of the original Post Office building. While the term 'hygge' may be overused, my room was unfussy but beautifully comfortable and had an air of calm and well-being. Simply furnished with a huge sumptuous bed and stylish Scandinavian design touches, there is a coffee machine, mini bar, armchair and small table for working and free Wi-Fi. The black and chrome bathroom is chic and there is a robe to wear, but in keeping with their sustainable approach unnecessary plastic is kept to a minimum. I had a wonderful night's sleep in the calm, relaxing environment.
Food & Drink
The brasserie Kontrast on the ground floor uses local sustainable ingredients, many from the hotel's own secret garden on the rooftop, to create European and North African dishes. The atmosphere is simple without being clinical with great fish dishes including oysters and turbot. Light meals are also served in the airy Courtyard where there is a well-stocked bar and the delightful T37 cocktail bar is a cosy space with brightly coloured walls and some elements of the old Post Office that was once here.
Breakfast is served in the bright former sorting room of the Post & Telegraph Office on the lower ground floor. Here you find a grand breakfast buffet and delicious freshly baked bread and pastries from the hotel's own bakery, Rug
Facilities
Villa Coppenhagen's crowning glory is that lovely 25-metre rooftop swimming pool, heated by the excess heat from the hotel's cooling systems. There is also a sauna and bar here. In keeping with the hotel's sustainable policy, you can buy a pair of sustainable slippers made from recycled rubber.
There is also a fully-equipped fitness room available for guests
How Much
Rates at Villa Copenhagen, a member of Preferred Hotels & Resorts, start from £260 a night on a B&B basis
What's nearby
The hotel is in a great position for exploring the city. The famous Tivoli gardens are just over the road, and most of Copenhagen's attractions are within a walk or cycle ride away. The edgy Meatpacking district with its bars, restaurants and design spaces is just around the corner.
The hotel is a short five-minute walk from Grand Central station which runs a regular direct 16-minute service to Copenhagen airport, with flights from most UK airports.
Verdict:
A beautiful hotel with impressive sustainability credentials and luxurious details. A great addition to Copenhagen's chic hotel scene.