With its pretty cobbled streets, cosy bistros and excellent museums, Paris is a joy to visit in winter. We list some of our favourite seasonal activities.
All activities listed in this article are recommendations from the brand new DK Eyewitness guide to Paris, which launched on September 27, 2018.
Check out DK's travel guide to Paris and get inspired
The walks
Adopt the spirit of the Flaneur, a Parisian word for "aimless wanderer", and take a stroll along the River Seine. There are car-free paths on both sides of the river, which flows 13km (8 miles) though Paris from east to west.
Wrap up well and head to the Berges de Seine, a former roadway that was converted into a promenade in 2013. The scenic walkway takes you 2.3 km (1.3 miles) along the left bank, passing lovely views of the Louvre, Jardin des Tuileries and Petit Palais. The promenade has an urban-chic feel, with renovated shipping crates and a creative playground for kids.
Once you have taken in the beautiful sights, warm up in the waterfront restaurant Rosa Bonheur and enjoy a glass of wine and some delicious tapas.
The architecture
The panoramic views of Paris from the top of the Eiffel Tower are very impressive, but there's also beauty to be found underground. The 18th century Catacombes de Paris were originally set up as a dumping ground for millions of skulls and bones from the unsanitary city cemetery in Les Halles. However in the early 19th century the bones were used to adorn the walls in decorative patters, creating a maze of morbid beauty. Visits here have become very popular so reserving an advanced ticket is strongly advised.
Other architectural marvels include the imposing medieval cathedral of Notre Dame and the Panthéon, a neoclassical mausoleum that houses the remains of distinguished French citizens including Victor Hugo and Marie Curie. Walking amongst these incredible buildings feels all the more dramatic when they are covered in a layer of crisp, white snow.
The wine
Between seven and eight million bottles of wine are produced in France every year, so it's safe to say its citizens know a thing or two about wine. If you're dining out and not sure what to order, trust your server to recommend a suitable pairing. If you're keen to learn more about wine, why not book an official wine tasting? At O Chateau in Les Halles, English-speaking specialists offer tastings and multi-course meals served in one of their vaulted dinning rooms. The sommelier pairs each dish with wine, offering fascinating insights into every glass.
During the winter months, there are several wine festivals to really get you into the spirit of the grape. Beaujolais Nouveau (November 15, 2018) is a nationwide event marking the arrival of two-month-old Beaujolais Nouveau red wine. Bars and restaurants throughout Paris celebrate with live music, parties and plenty of the red stuff.
Alternatively, check out the Salon des Vins des Vignerons Indépendants (November 29 to December 03, 2018) where more than 1000 wine makers exhibit and offer tastings of their best vintages.
The shopping
Paris is the fashion capital of the world and home to Chanel, Dior and Jean-Paul Gaultier. The city's most prestigious designer boutiques line Avenue Montaigne, where beautiful window displays entice fashionistas. If you decide to enter the boutiques, make sure you are dressed to impress – trainers and shorts are frowned upon.
For a more rustic shopping experience, take a stroll through one of the weekly flea markets. Marché aux Puces de la Porte de Vanves in the 14th arrondissement is open every weekend throughout the year and is free to enter. Here you'll find a vast selection of glassware, furniture, artwork and curios, with genuine bargains to be had. In 1989 the first ever portrait shot by "father of photography" Louis Daguerre was sold for the equivalent of €500 – a tiny sum for such a significant piece of history.
The art scene
The winter months are the ideal time to explore Paris' fabulous art scene, which goes far beyond what's on offer in the Louvre. For example the Fondation Louis Vuitton, located in a picturesque central park, showcases a fantastic selection of modern artwork. If you prefer impressionist paintings try Musée d'Orsay, a former train station located on the left bank of the Seine. Must-see paintings include Olympia by Edouard Manet and The Cardplayers by Paul Cézanne.
Paris is also a haven for street artists who ply their work on buildings and walls around the city. Some of the best works can be viewed around the Canal St-Martin or along Rue Denoyez in Belleville. If you're not sure where to start, book a tour with Street Art Tour Paris.
Love the sound of Paris in winter?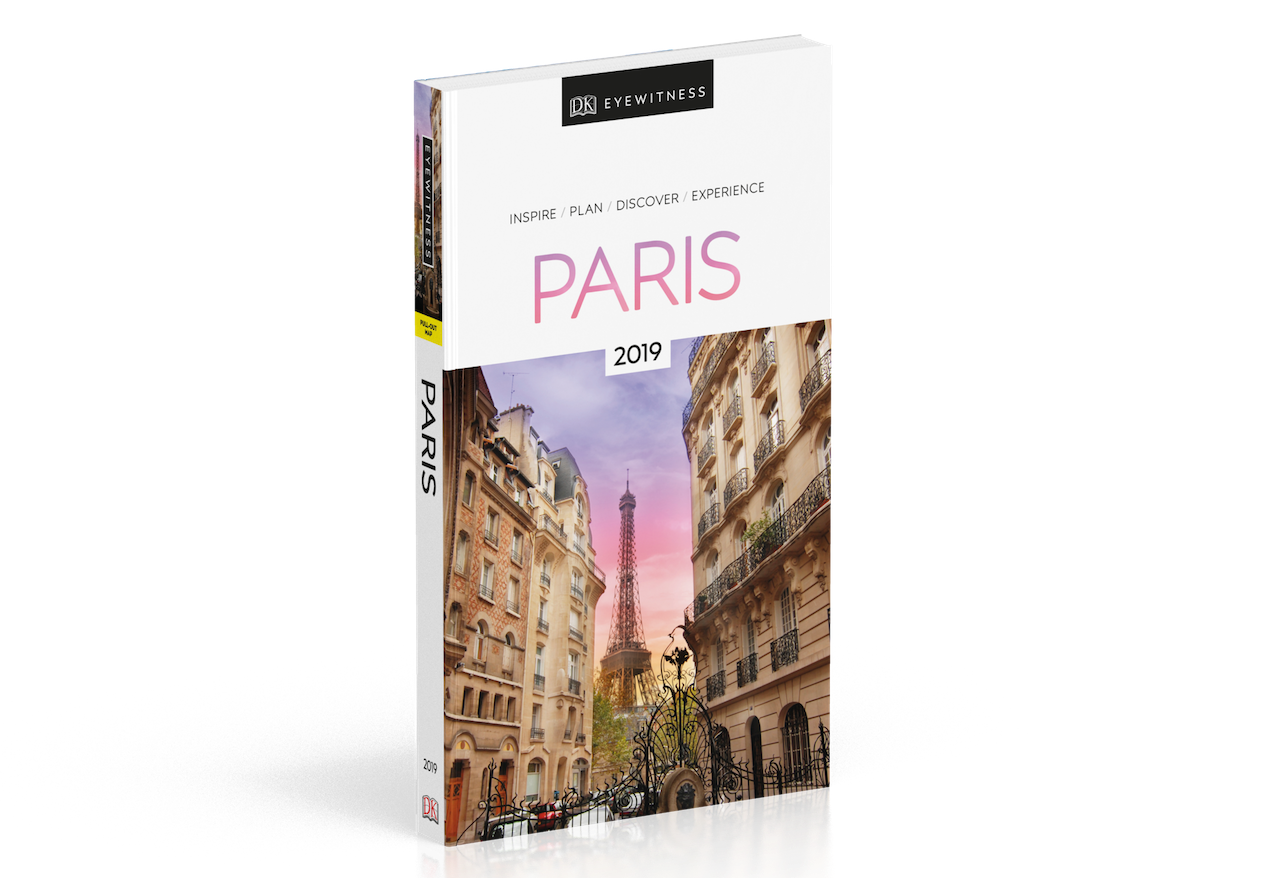 The brand new DK Eyewitness guide to Paris guide is now smaller, lighter and features hundreds of beautiful illustrations. As well as listing the classic "bucket list" activities, the guide promotes authentic travel experiences, which can be found in their inspirational spreads at the beginning of the book. These focus on everything from art and wine to family activities and music festivals.
Check out DK's travel guide to Paris and get inspired
As well as the Paris guide, the new range features nine other classic destinations (with more planned for 2019): Italy, London, New York City, Amsterdam, Berlin, Ireland, Prague, Rome and Washington DC.
If you'd like to find out more about the guides, check out our recent feature on improving your travel experience by using a DK Eyewitness guide.
---
Disclaimer: This article was sponsored by DK Travel