Samoa is the place to go to fly and flop on powdery, blindingly white beaches with towering palm trees dripping into mirror calm turquoise tropical seas (your quintessential childhood image of the South Pacific) but also to discover a traditional way of life called Fa'a Samoa (The Samoan Way).
Understanding Fa'a Samoa (The Samoan Way)
Fa'a Samoa (The Samoan Way) is a 3,000 year old custom not found anywhere else in the South Pacific and plays a vital role in village and community life. It's a guideline for every Samoan on how to lead their lives, celebrating and embracing traditional values, culture and visitors.
Fa'a Samoa has three key elements to it, the matai (chiefs), aiga (the extended family) and the church. There are over 362 nu'u or villages in Samoa with a total of 18,000 matais (chiefs).
Matai are the heads of the extended family unit and their complex role covers family, civic and political duties in the villages.
Go to church
Sunday is observed as a day of rest with families visiting church and enjoying toonai (Sunday lunch) – be sure to catch a service. You can celebrate mass in the cathedral even if you are not religious. Think of it as a chance to sit down for an hour and be charmed by the angelic voices of the Samoan choir.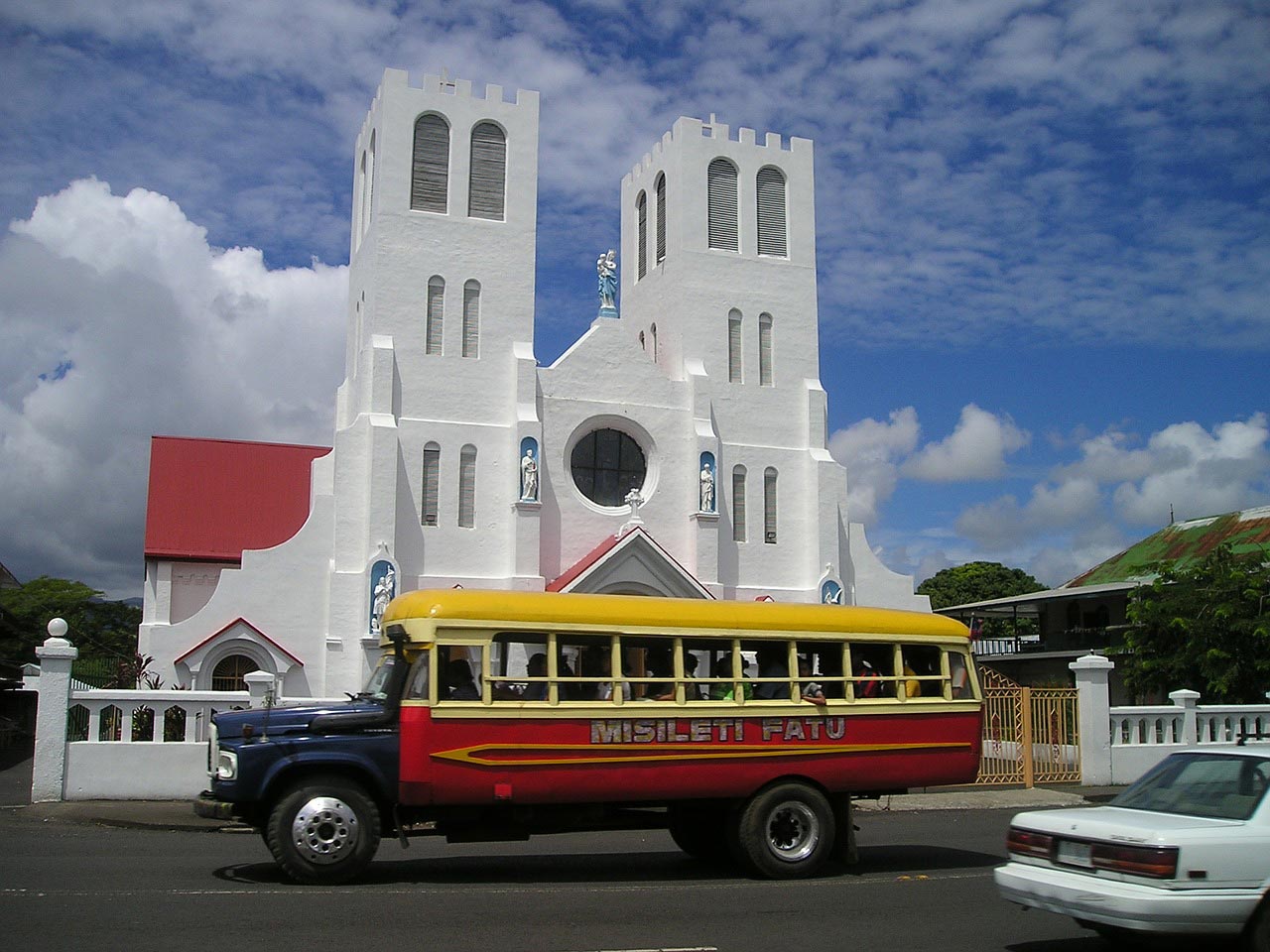 Samoans believe it's good for people to slow down, if only for one day of the week and exude natural, heart felt hospitality. You'll even be greeted at the airport by smiling passport officials with flowers in their hair, men in skirts and even a welcoming group of musicians.
The Samoa Cultural Village and Fia Fia show
The communal way of life is easy to observe but Samoa's rich cultural heritage can also be explored through the Samoa Cultural Village. The main islands of Samoa are Upolu (home to over two thirds of the population and the thriving capital Apia) and Savaii (the largest island in Polynesia).
It's on Apia that you'll find the Samoa Cultural Village, a place to discover Samoa's age-old culture and traditions in a fun and interactive way. There are workshops on woodworking and siapo cloth making, lunch from the umu (hot-stone oven) and traditional dances.
Food and dance are central to Samoan culture and every hotel and many restaurants will host a Fia Fia night, showcasing Samoan dances and songs along with Samoan cuisine.
Fia Fia means "happy" an appropriate name as  the singing, dancing, slapping, enthusiasm and energy within the dances is both contagious and joyous. The Siva performed by females is more graceful, all elegant hand movements whilst the Siva Afi, a fire knife dance performed by males and not without danger makes for a spectacular finale.
Head to the beach
Almost everyone comes to the region to get wet. The lagoons and reefs around the islands are home to some 900 species of fish and over 200 varieties of coral.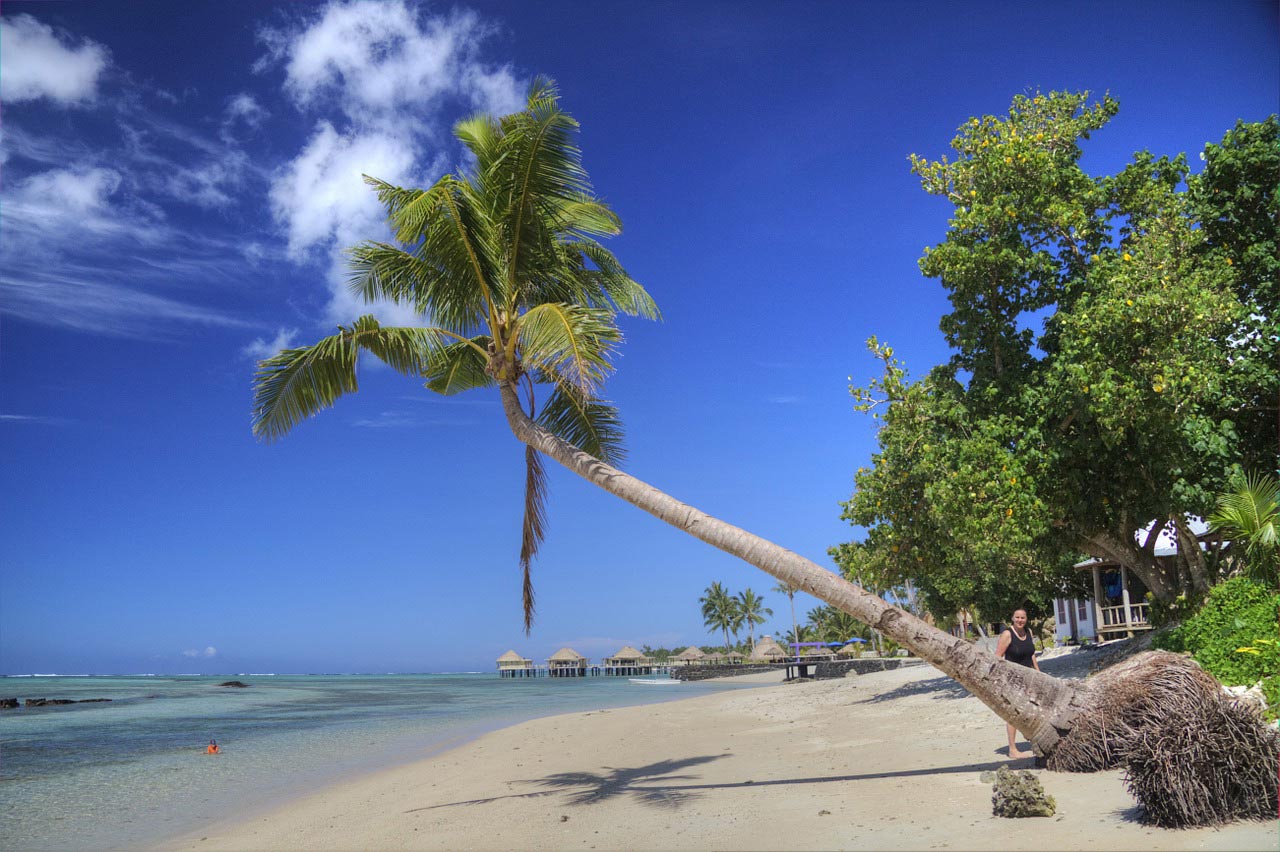 Turtles are regular visitors to Samoa's warm waters and you can share a memorable experience by swimming with them. There's basically a choice of diving or do nothing with one beach particularly standing out. Pristine Lalomanu Beach on the South Coast (pretty much a paradise on earth) is the place to laze on a hammock soaking up the sun whilst admiring the views of the pacific and scenic mountains of Upolu, not a high rise resort in site.
Other popular beaches include Return to Paradise Beach, made famous by the 1951 Gary Cooper film of the same name and Aganoa Black Sand Beach offering safe, sheltered swimming.
The slowest highway in the world
Samoans live in harmony with nature, ensuring the environment remains pristine, unspoiled, safe and clean. Not only no rubbish but no sign posts, no traffic lights, no bus stops and the slowest highway in the world with a speed limit of 40 mph.
Getting around Upolo is easy either in your own vehicle or on one of the multi-coloured buses that just need flagging down to stop. The rugged, lush interior reveals yet more water based fun with plunging waterfalls and inland waterholes including To Sua Ocean Trench, an idyllic 30 metre deep crater filled with sea water accessible down a steep ladder.
There are in fact two deep trenches, one of which can only be reached through a cave and is not for the feint hearted.  Meanwhile Papasee'a Sliding Rock, a five metre rock face slide into a jungle pool is an adrenaline pumping daredevil activity that involves a 200 step climb to its top before plunging down the slide into the cool water.  The rock is best visited between December and June when the water levels below are high.
Savaii
Not to be outdone, remote Savaii provides its own natural wonders to explore. Afu Aau Falls waterfall with a natural swimming pool at its base and the Alofaaga Blowholes demonstrating the sheer power of nature as sea water rockets hundreds of feet upwards. Watch what happens when locals throw a coconut husk in to the hole.
In the early twentieth century, the volcano Mt Matavanu erupted leaving five villages destroyed by its wake. The Saleaula Lava Fields are a fascinating, geological site including half buried churches and lava mounds.
Upolu and Savaii are linked by an inter-island ferry service with the crossing taking approximately 1 hour.
Robert Louis Stevenson
Finally, the famous Scottish author Robert Louis Stevenson, known as Tusitala (Samoan for 'teller of tales') spent his final years in Samoa where he wrote most of his books including Treasure Island.
His home Vailima has been converted into a museum set within lush gardens and is well worth a visit.  Visitors can also visit his grave at the top of Mt Vaea, along a trail named by the locals as "The Road of the Loving Heart".
Stevenson in return referred to the locals as 'Easy-going, merry and leisure-loving' and it's good to see that not much has changed since.
---
Fact File
More info: Samoa Tourism Authority
Hotels in Samoa
Taumeasina Island Resort – New luxury resort, 5 minutes from the capital Apia with views of the Pacific Ocean
Saletoga Sands Resort & Spa – Family friendly resort on South East Coast of Upolu.
READ ALSO: Hotel Review: Saletoga Sands Resort, Samoa
Sinalei Reef Resort – Secluded fales and suites within a tropical setting on Upolu.
Tanoa Tusitala Hotel – located in central Apia
Amoa Resort – boutique hotel on the island of Savaii
Le Lagoto Beach Resort – Samoan style bungalows on Savaii
Sheraton Samoa Beach Resort – luxury resort near the airport