Cool, contemporary yet with a hint of traditional chalet style, this new resort has a perfect setting, close to the restaurants and posh shops yet next to the Cry d'Er gondola, with the home run swishing past the rooms' big balconies.
This a spectacular year-round retreat, with a cave-like reception, an extravagant indoor pool, enticing outdoor infinity pool, an evocative spa filled with saunas, rooftop sun terrace and rooms big enough to live in.
Who for
Those who want serious style in a modern fashion. It's so big and comfy that you feel you could live here – and, indeed, that's possible, at least in the splendid apartments that are for sale. If you're a skier there's nowhere better; with one run to the side, another weaving between the bar terrace and the apartments, it's ski-in ski-out with ease. In summer, hikers, bikers and those who simply like the good life – children too – lap up the ambiance.
Accommodation
Even the corridors are sleek and modern. The rooms, 78 of them, are near-identical in style, a mix of stone, local wood – larch and oak – and subtle shades with a sliding glass wall on to a super-deep balcony with sofas.
The living and sleeping area features a large bathroom; it can be closed off with sliding doors in weathered timber but the temptation is to keep it open to appreciate the free-standing bath framed by pale stone floor and walls. T
here are several sizes for the double rooms, then a suite for three and a three-bedroom suite for six. The pinnacle is the three-bedroom Prestige Apartment, on a mountain-view fifth-floor corner with kitchen, sauna – and a balcony with loungers, sofas and dining table on three aspects with a telescope for star-gazing. A further 17 apartments, three- to five-bedroom, could be available depending on owners' wishes.
Food & Drink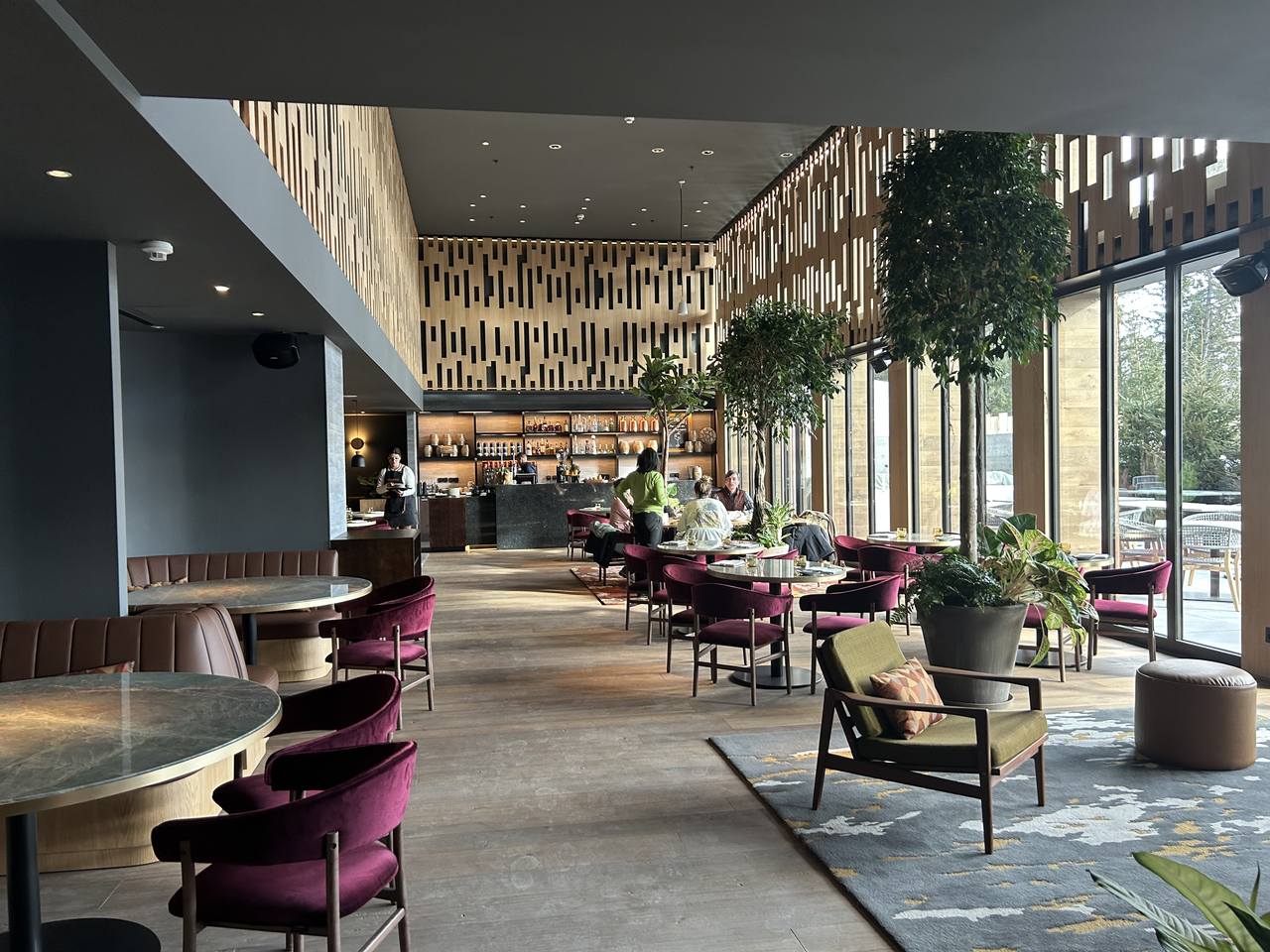 There are two restaurants. The main space is Wild Cabin, a relaxed all-day brasserie in a double-height room with glass walls letting the light flood in. Food is rich in local flavours – milk, cheese, cured meat, bread, eggs, even fish come from named local producers, mostly family-run farms. Dishes include pike-perch from a nearby lake with broad a green beans.
Or there's Swiss wagyu entrecote – and imaginative vegetable options such as grilled courgette with beetroot cream and hazelnuts. Barbecue evenings see chefs out on the patio (with its own dining tables) sizzling suckling pig, homemade sausage, duck and more.
Breakfast is an impressive buffet – start with a shot of rocket fuel, an infusion of vinegar, herbs and vitamin-rich veg, then dash between favourites – bacon, croissants et al – and specials… kale salad, or egg tortilla.
A darker, cosier dinner option (Wednesday-Sunday) is Byakko, named after a mythical white tiger living in the Japanese Alps. The food is Japanese but hearty mountain fare – think ramen and such, accompanied by sake-based cocktails.
The Ora bar and lounge looks through a glass wall – and doors – at the outdoor pool. It serves bar bites as well as cakes and nibbles at lunchtime and into the early evening. Off to one side is the library, dark walls, display cabinets and bookshelves, with the feel of a contemporary gentlemen's club.
Facilities
The hotel is traffic free – cars arrive down a road to the side that disappears underground and emerges in The Cave, the hippest underground car park you'll ever find yourself in, all mood lighting and sculptures.
That leads to an enormous welcome room, more art and sculpture along with a front desk – and an enormous mountain horn on display.
The outdoor infinity pool is big, like a sheet of gently rippling glass in the mountain sunlight. It will, we're told, be heated and open all year. They call it a rooftop pool and, indeed it is, but you wouldn't know it what with the bar and building entrances making it look at ground level.
But the hotel works on many levels and to one side the tops of birch trees rise up while on the other more birch peek from the enclosed garden with its suspension bridge.
There's a world of saunas – Finnish, rock, bio salt – plus steam room, icy plunge pool and more. A gym, too, along with yoga studio and nine treatment rooms. There's a smart clothes shop and ski rental.
How much is a room?
Double rooms (all with balcony) start from £665, B&B. sixsenses.com
What's nearby?
Plenty! The town's posh shops – Hermes, Montcler, Louis Vuitton, Prada – are a five-minute walk. In winter it takes only a minute to swish from the Six Senses ski room door to the Cry d'Er gondola, the resort's longest and the best way into the ski area, almost 90 miles of piste.
In summer there's plenty of hiking. Unmissable and spectacular is the Bisse du Ro, a seven-mile upward hike that starts in town but can be joined from the hotel. A dizzying, narrow boardwalk clinging to vertical cliffs follows the route of an ancient irrigation channel, then the path crosses an equally dizzying 2020 metal suspension footbridge before narrow trails cut into steep, deep scree slopes (one slip and you'd hope to bump into a deer or mountain goat to slow you down) take you upward.
The main route reaches Lake Tseuzier, a peak-fringed reservoir but we turned away, clambering up through forest, using rope handrails to help scramble up rocky outcrops. On a grassy expanse at almost 7,000ft (some 2,000ft higher than where we started) we rested at Chetzeron, another fabulous hotel, contemporary chic in a former gondola station with rooftop pool. We'd started out after breakfast and now it was time for terrace lunch and then a downward stroll to the Cry d'Er gondola. Having started just above the hotel we
Six Senses also works with ebike guide Julien Paganelli and his Bike VS company. The expert mountain biker has bikes delivered to the hotel for a four to five hour exploration, sometime along roads, more often on dirt paths, more often heading upwards, the sound of tinkling cow bells growing closer until you pass a herd in idyllic unspoilt scenery.
Less mountain-centric is the town-centre public Crans-sur-Sierre Golf Club, open to all, with its splendid views. Alongside is Etang Long, a lake with wakeboard towing apparatus – and a sandy beach bar. Laze and enjoy a drink – it's a simple stroll back to Six Senses
VERDICT
Mountain style translated into the modern world, a world of its own, a resort rather than simply a hotel yet comfortingly cosy. And away from the crowds yet in a perfect position for both winter and summer. It does, however, come at a price…