When it comes to ski resort credentials, Val Gardena in northern Italy, has several. If you are old enough you may remember that the region hosted the FIS Alpine World Ski Championships in 1970 which shone a sunny light on their 500km of groomed slopes. And with 300 days of sunshine that's easy to do.
If you get there in December you can catch the annual Saslong Classic, a men's World Cup downhill race been taking place every year since 1968.
This might all sound high-brow but the real beauty of Val Gardena is that anyone can ski there.
READ ALSO: Ski Guide: The Dolomites, South Tyrol (Alto Adige), Italy
About Val Gardena
Set against the imposing drop of the 3,181m high Sassolungo mountain, the Val Gardena valley lies in the Dolomites mountain range, the region scooped a UNESCO World Heritage Site award in 2009. Culturally it has a trio of influences, obviously it is Italian but its position in the South Tyrol/Alto Adige region and its close proximity to Austria means that there is distinctive Ladin tradition and the Ladin dialect is spoken by the locals, as well as a huge dollop of Austrian heritage in the mix.
The region comprises three villages; Ortisei, Santa Cristina and Selva Gardena. Ortisei is the busiest and has been a holiday resort for some 200 years. Santa Cristina is Val Gardena's smallest village and its most peaceful with an impressive 12th century Romanesque church and a buzzy quarter along the main street with shops and cafes. Selva Gardena is Val Gardena's highest village and serves as a direct gateway to the area's famous Sellaronda circuit.
Ski areas
Val Gardena/Alpe di Sussi is part of the Dolomiti Superski, the world's largest ski carousel with a network of 12 ski areas in the Dolomites and all are accessible with just one ski pass. A one-day pass in high season (3 February – 16 March 2019) costs €61 per adult per day or €304 for 6 days. It may sound pricey but it gives you access to 1,200 km of slopes, 450 ski lifts and 30 snow parks.
There's a good spread of blue, red and black slopes which means everyone can enjoy a ski holiday here. The majority – around 60 per cent/720km – are reds and suitable for intermediate skiers, 10 per cent/120km are blacks and beginners can learn at the leisure on a generous 30 per cent/360km of slopes. Some of the most popular ski tracks in Val Gardena include the famous Sellaronda, Saslong and Col Raiser.
Sellaronda
The world-famous Sellaronda is a ski circuit around the Sella massif, nestled between four Ladin valleys and crossing three Italian provinces (South Tyrol, Trentino and Belluno). It is 40km long, 24km of which is accessible by the ski lift carousel.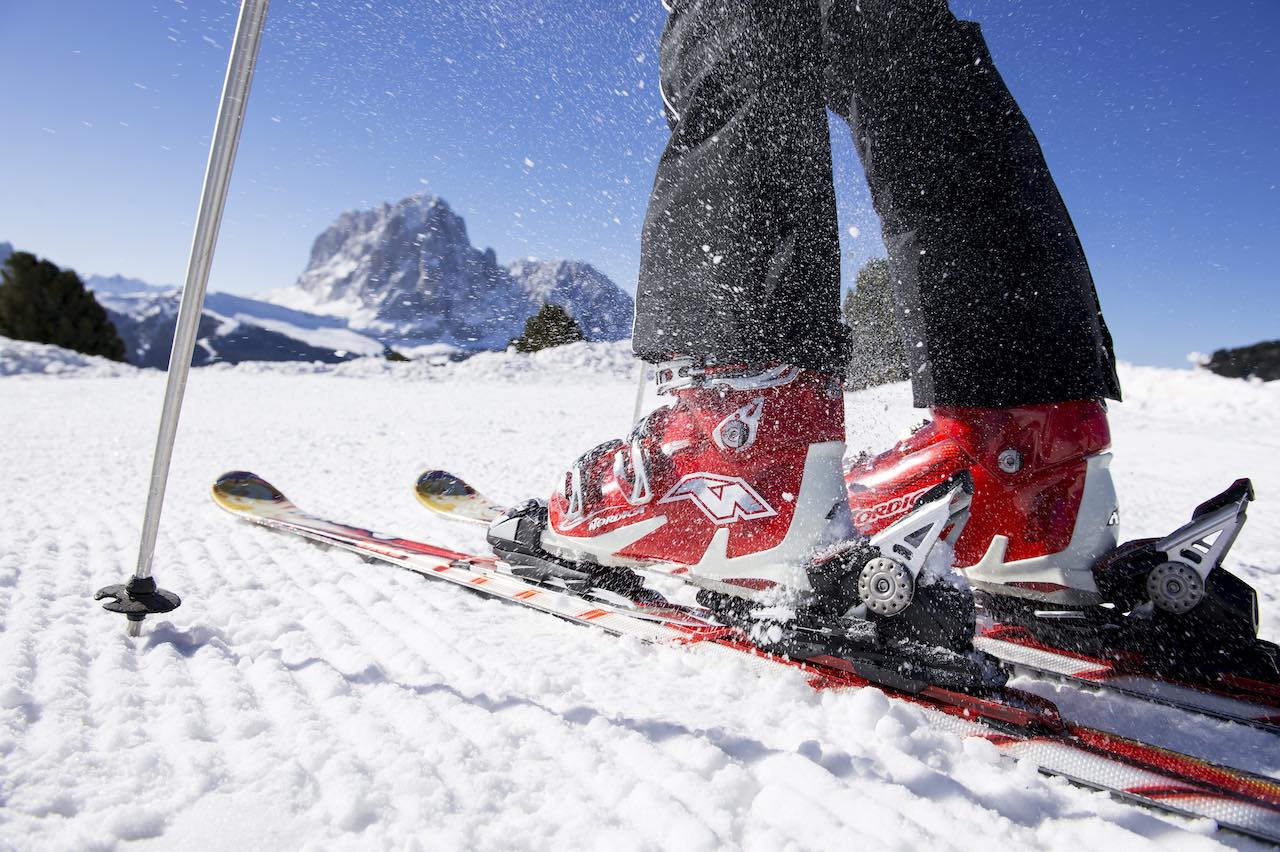 Skiers can either complete the circuit clockwise (orange route) or anticlockwise (green route). It can take up to six hours to complete the circuit, depending on the weather and skill level, so get onto the slopes before 10am. Sellaronda is ideal for a skier with average ski level.
Saslong
Built in 1968 for one of the most important downhill races in the international Ski World Cup circuit, Saslong still hosts the FIS Alpine World Ski Championships every year.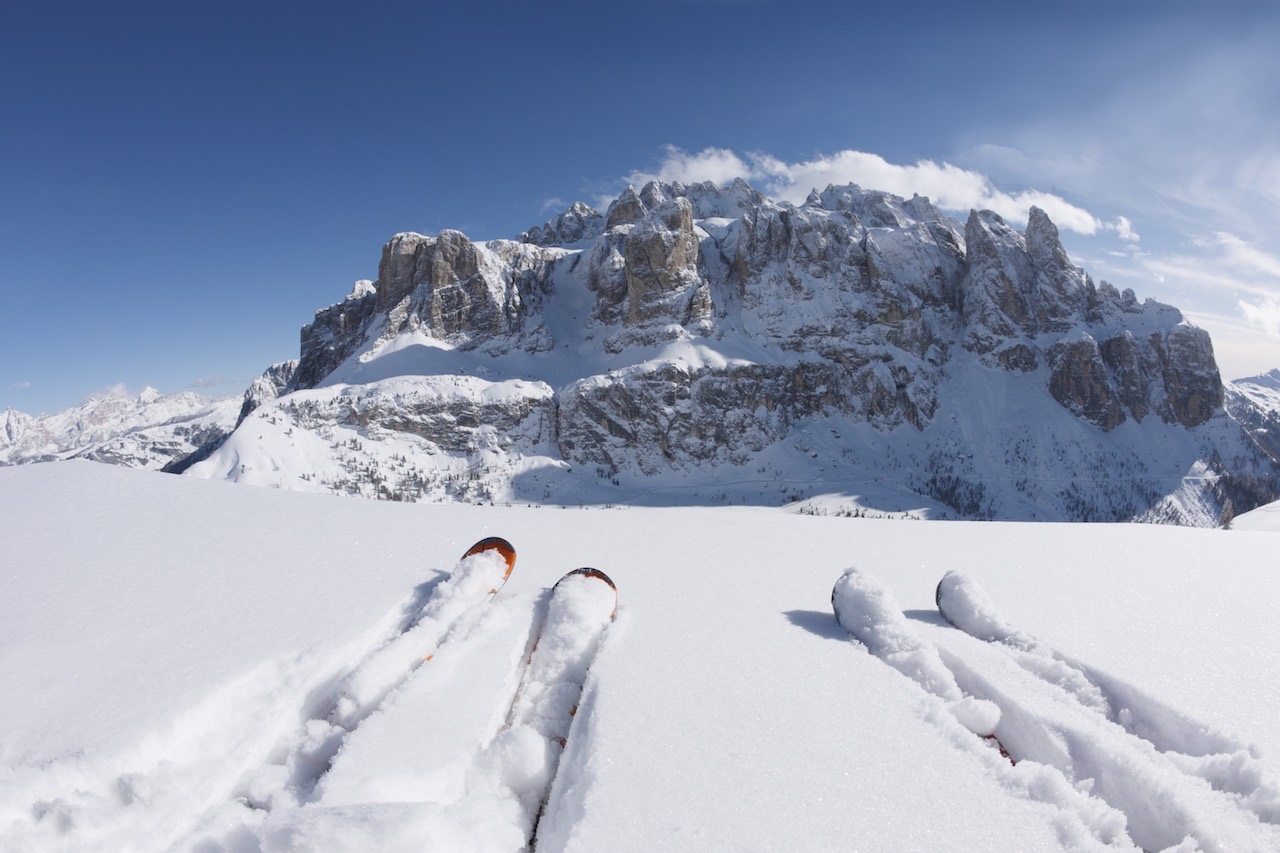 The 3.5 kilometre long ski track starts at 2,249 meters in the Ciampinoi area and ends at 1,410 meters in Santa Cristina. From the top there are impressive views of the Gardena Pass.
The wide open slopes of Col Raiser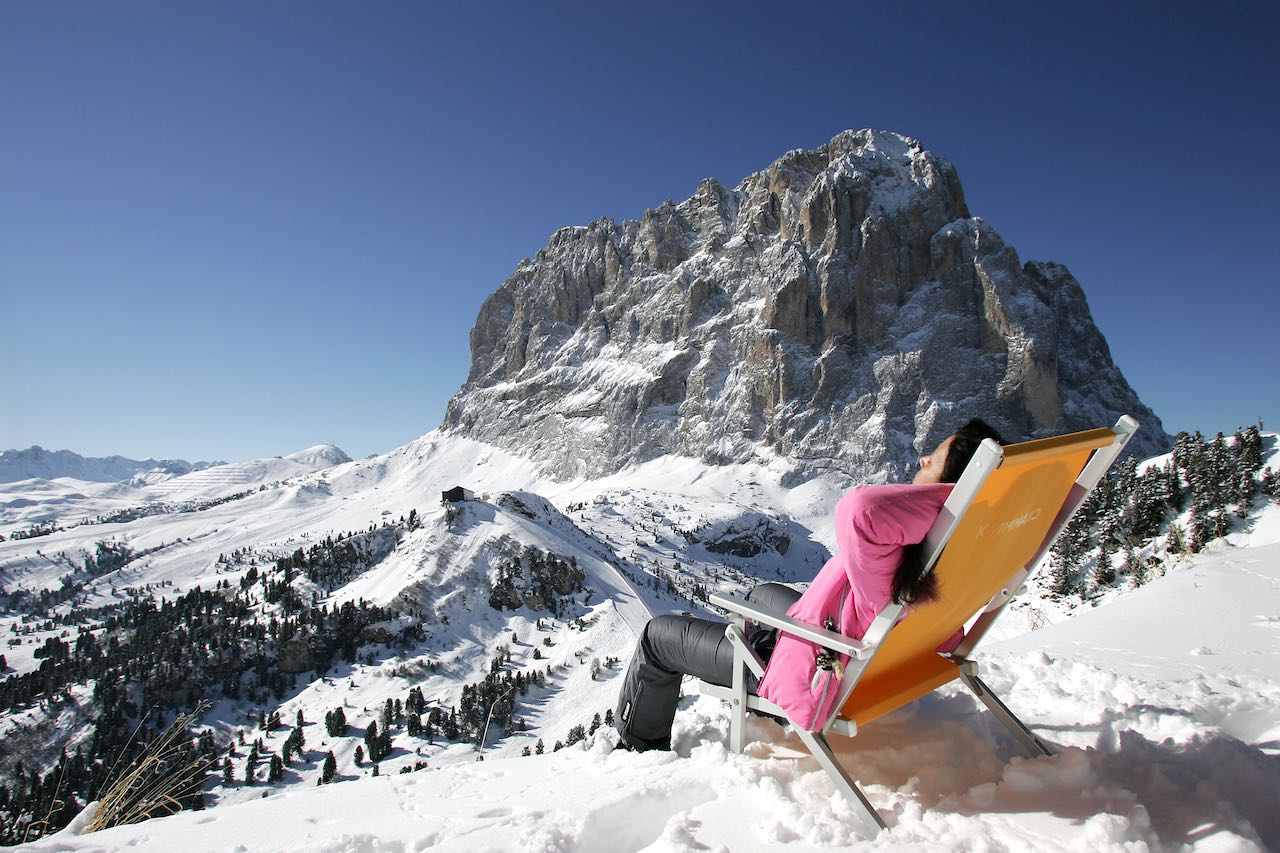 For skiers looking for more leisurely skiing, Col Raiser/Seceda offers spacious, wide, open slopes on south-facing hills. For a well deserved break skiers have a choice of 16 mountain huts offering a range of gastronomic delights.
Why go there
The variety: with 500km of slopes (1,200 km including the Dolomiti Superski area), Val Gardena has a range of slopes for all levels and skiers can stay on the slopes all day without ever skiing down the same route.
The scenery: the imposing Sella massif, the gigantic Sassolungo dominating at 3,181 meters, as well as the Cir summits on Gardena Pass provide for a stunning scenery. At almost every peak as the skiers get off the ski lift and before reengaging the slopes they stop and admire panoramic views of snow covered peaks and plateaux.
Guaranteed snow: thanks to technically programmed snowmaking, 98 per cent of the slopes can be covered with artificial snow.
Gastronomy: Val Gardena offers more than 60 rustic mountain huts offering local delicacies. Having been part of the Austro-Hungarian Empire until 1918 when it was annexed to the Kingdom of Italy, South Tyrol has a unique combination of Italian and Austrian gastronomy such as spinach dumplings, pretzel, krapfen, rollen or apple strudel. Our favourites are Lisa Alm, Curona Hut and Villa Frainella.
Unique heritage: Val Gardena, together with four other Ladin-speaking valleys in Northern Italy, has a distinct ethnic identity. Ladin, a Rhaeto-Romance language, is taught in schools next to Italian and German. Woodcarving has been a flourishing industry since the 17th century and numerous shops selling wood statues can be found across the valley.
Fact File
STAY: The 5* Alpin Garden Wellness Resort in Ortisei. This adult-only luxury hotel has a free shuttle to Ortisei and the ski slopes, as well as a 2-level wellness center including an indoor and a heated outdoor pool, hot tubs, saunas and Turkish baths. 7 nights' half board in March from €1332 pp.
WHEN TO GO: In 2019, the skiing season starts on 6 December 2018 and ends on 7 April 2019.
GETTING THERE:
By car: Val Gardena is about 1h30 taxi journey/airport transfer from Innsbruck, 2h15 from Verona, 3h from Munich and 3h30 from Milan.
By plane: Nearest airports are Innsbruck or Verona. easyJet and British Airways have direct flights from the UK.
By train: Train to Bressanone, Ponte Gardena or Bolzano and bus or taxi to Val Gardena.
Package: Inghams and Crystal Ski are the main UK tour operators to Val Gardena
More information: Val Gardena at www.valgardena.it/en