Tucked away in a small, dark, dimly lit corner of the Sofitel Hotel in London's St James is the St James bar.
An inviting aura beckons you to enter into its subdued, cosy space to exchange secret whispers on comfy, mohair banquettes curved around reflective tables that absorb the orange hues of the brass notes and the lighting. It's just as intimate on the high chairs around the bar.
The backlit bar offers a beautiful centrepiece, a cavalcade of handmade syrups and liqueurs in colourful perfume style bottles straddled by 60 gins and 100 whiskeys, and unusually 35 tequilas.
However, the pièce de résistance is their new Imagination Cocktail Menu. The theme, of course, is Imagination, and indeed, the new cocktail menu is a joyous expression of theatrics with a touch of creative wizardry.
The cocktail menu is presented on an eye-catching 3D 'molecule' model of the chemical serotonin – the hormone that provides feelings of well-being and happiness. The cocktails appear on both sides – one side contains dark and intense cocktails, and the other has light and delicate cocktails.
In all, there are 22 to choose from, including a couple of virgin offerings (no alcohol) such as #NoHashtag (£14), whose ingredients include Everleaf mountain, lychee juice, butterfly pea, Champagne solution, apple, and marshmallow foam. Perfect for those with a sweet tooth.
Here are the four cocktail creations I tried:
E=m(t+6.712)
One of the most bizarre items on their Imagination menus is an edible cocktail called E=m(t+6.712) – yes, really. You pop it in your mouth as you would a chocolate liqueur, and when the vegan gelatine skin bursts, the cocktail is released into your mouth, offering waves of flavours of Lakes Orange Wine Cask Whisky, verjus (made with pressed unripened grapes), osmanthus (a plant from East-Asia), peach, pistachio and fino sherry. It's a lot to get your tongue around and three of these balls.
Say Cheese!
Say Cheese! (£23) looks gorgeous and tastes as sweet as it looks. It is made with Schrodinger's Katzen Gin, shies & hibiscus, mango, husk liqueur, and marshmallow foam.
It is topped with a circle of edible rice people with the most iconic image of the physicist Einstein poking out his tongue.
Dreaming Mexico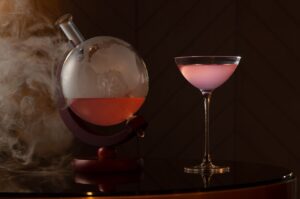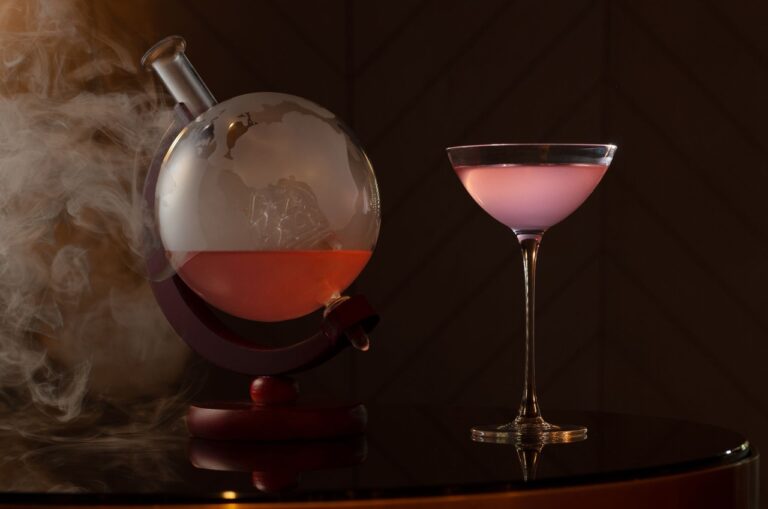 Dreaming Mexico (£20) invokes a little of the mystical and theatrical in its making. Ingredients are Casamigos Caso tequila, agave & Aloe, pear, Martino Ambreto, yuzu cordial and Peychaud's bitters. The ingredients are combined and created in a globe of the world and turned to Mexico before being poured into your glass. Their story is that this drink has its roots in dreams.
Iron Man
Perhaps the most eye-brow razing is Iron Man. It is made with Macallan Double Cask 12years whisky, Merlet Creme de Poire, orchard mix, citrus and China Baliva. It is named var the Marvel comic hero because of the distinct presence of iron within its mix. Watch this being made:
View this post on Instagram
VERDICT: You are paying big bucks for these drinks, but they are theatrical, creative and absolutely imaginative. So pucker up and head over to St James Bar at the Sofitel soonest for cocktail shenanigans for hour or two.
Opening Hours: Sunday & Monday 11am–midnight, Thursday–Saturday 5pm–midnight. Tuesdays & Wednesdays closed.
St James Bar, Sofitel London St James, 6 Waterloo Place, London, SW1Y