Part of the charm of Puglia is its slow approach to everyday life. Southern Italy's rising star has ancient farmland hemmed by a sun-bleached sandy coast and is where travellers come to escape the frenetic vibe of nearby Tuscany.
More info: Best time to visit Puglia
So what does this beautiful region have to offer? Here are our top ten suggestions:
Valle d'Itria
Valle d'Itria, also called "Trulli valley", has a unique fairytale landscape dotted with former peasant homes known as Trulli (plural of Trullo). These traditional Apulian structures look quaint with their beehive-shaped roofs and are resourcefully made from stones that peasants cleared from their rocky fields. These structures were easy to erect and just as easy to knock down if necessary and offer warmth in the winter and coolness in the summer months.
These fanciful Trulli, set in the peaceful Puglia countryside, have been restored as holiday homes with private pools.
For example, Corte Bianca in Valle d'Itria has been carefully renovated to bring together traditional features and contemporary style.
In the heart of Martina Franca is Trullo Febe, a charming Trullo in a secluded spot with a shaded pergola for alfresco dining surrounded by countryside and olive trees.
While its interiors are charmingly rustic it offers modern luxury, including air-conditioning and a large saltwater pool with Jacuzzi. The accommodation is arranged in separate units which means a family or group of friends can holiday together yet still have privacy. Trullo Febe comes with a concierge service too.
The sea and the region's beautiful beaches are nearby.
Gargano
In the spur of Italy, Gargano is replete with beautiful fishing villages, dark and ancient forests inland, fine sandy beaches hemmed by rugged cliffs, secret caves and picturesque coves. It is ideal as a hub for eco-tourism and to relax.
The most popular and fashionable town in Gargano is the medieval village of Vieste. It's a joy to saunter through its narrow streets, passing whitewashed houses all the while being overlooked by the stunning 13th-century castle.
The Mattinata beach along the coastal area of Baia delle Zagare is among its most beautiful beaches with its famous stacks a few metres from the shore.
If you like fresh fish you have to try a dinner at a trabucco, a traditional wooden fishing platform that protrudes out to sea from on the coast. You can watch the fishing process, help out if you want, enjoy a fish dinner leaving you with a very memorable experience.
---
Where to Stay
For a selection of the best properties with authentic and exclusive design and comfort, visit our sponsor, Puglia Paradise.
---
Salento
The southernmost area of Puglia is defined by stony olive groves that extend between dry-stone walls bordered with oleander. It has a strong identity with its own cuisine, traditions and music, influenced by its Greek past.
Along with some of Italy's best beaches such as Porto Cesareo with the Punta Prosciutto dunes, Pescoluse beach (also called Maldives of Salento) and Torre Lapillo beach, there are some fascinating towns to explore such as Otranto, Specchia and Presicce (awarded as three of the most beautiful Italian villages).
Get there in the summer for a chance to witness a sagra di paese (a village festival) where you can eat traditional street food while listening to traditional music such as pizzica or tarantella.
Ostuni
The city of Ostuni is a beautiful maze-like white city on a hilltop just 8km from the Adriatic Sea. It is packed with narrow streets and alleys you can spend ages getting lost in, climbing staircases and falling in love with the stunning views.
The historic centre inside its ancient walls is home to traditional craftsmanship shops, cosy cafes and aperitivo spots, and lovely restaurants to experience a perfect Apulian dinner. Then wash it down with a drink in one of the trendy bars where you can enjoy the lively Italian nightlife in an international environment.
Set amid the olive trees, Villa Rosara styled as a traditional Puglia farmhouse amid landscaped grounds, has a terrace and private pool. The villa is just a 700m walk to Ostuni and a short drive to some of Puglia's most beautiful beaches.
Created in the style of a traditional farmhouse, Villa Margareta is only five minutes from Ostuni. The terrace and saltwater pool overlooks stunning sea views with plenty of spacious areas where you can relax in the shade or sunshine or prepare an alfresco rustic meal in the outdoor wood-fired barbecue and pizza oven.
The surrounding area around Ostuni is well worth visiting, particularly the quaint and slightly out of the way town of Carovigno famous for its production of olive oil.
Carovigno is just a 12-minute drive from Ostuni, and if you would like to have your base here you can book a stay at Villa Skyler, which is located just 5km from the sea. The villa is equipped with a spectacular saltwater infinity pool with views of the sea and surrounding countryside.
Brindisi
The safe harbour port of Brindisi is a UNESCO heritage site for the culture of Peace. The city hosts the United Nations Logistics Base – the hub for peacekeeping operations.
For many years, the port was a stop point for the Indian Mail from London to Bombay, and it hosted the likes of Virgil and Gandhi.
Its beautiful waterfront is packed with restaurants that serve local and fresh food. The old town nicknamed "Brindeasy" for its slow and relaxed lifestyle has an old-school traditional charm where people are friendly and welcoming.
Bari, the capital of the region, is buzzing and busy and has a lovely old town. Bari Vecchia (the old town of Bari) is a walled city built on a peninsula jutting into the sea. It is so intimate that walking down the narrow alleyways feel like being in someone's living room. The streets here are places to socialise, and each morning women sit at tables making orecchiette (little ears), the typical Apulian pasta made by rolling the dough into thin logs, cutting off a chunk and shaping it by hand at an impressively rapid pace.
TIP: Be sure to try the focaccia! It is a flatbread typical of this area with roasted cherry tomatoes, olives and glistening with local olive oil.
---
Polignano A Mare
Polignano a Mare is one of Puglia's most picturesque seaside towns, and one of the most important ancient settlements in Puglia. Spectacularly positioned on the Adriatic coast, it is built on the edge of a craggy ravine pockmarked with caves.
TIP: For a once in a lifetime experience, visit Grotta Palazzese, a luxury restaurant with a view over a magnificent blue-green sea, carved out of magnificent limestone rocks that lies in an unparalleled location. It has been enchanting visitors for centuries.
Set in the countryside close to Polignano a Mare there is Villa Incanto a Mare, the ultimate in modern Italian style and luxury outdoor living. A stylish and exclusive holiday villa, its most striking feature is the spacious party area, which comes complete with a chef's kitchen, pizza oven and barbecue.
---
READ ALSO: When is the best time to visit Puglia
ALSO READ: What to eat in Puglia: 10 unmissable typical dishes
---
Alberobello
Alberobello is a fairytale UNESCO World Heritage town made of 1,500 Trulli (typical Apulian conical stone huts). It is both a unique and enchanting place and though a little touristy it is definitely worth a visit.
Most of the Trulli here have been transformed into souvenir shops, cafes, and restaurants, but some of them (in less crowded areas of the town) are real homes where people still live.
You can stay in one of the authentic Trulli, such as Trullo Atena, a hidden gem that combines the tradition of a historic Trullo with the comforts of modern living.
Although it feels secluded this Trullo lies within an easy walk or drive of Alberobello. Enjoy soaking up the sunshine beside your private pool and relaxing in the shady gazebo.
Lecce
Called the Florence of the south, Lecce is one of Puglia's largest cities. It is known for its baroque architecture with more than 40 churches and at least as many noble palazzi built or renovated between 17th and 18th century. The magnificent result is that it has one of the most unified urban landscapes in Italy.
The streets are always alive with young people drinking in cafes, families out for a stroll and groups of friends enjoying gelato or street food.
TIP: Don't miss the Pasticciotto (typical cake of Lecce) at Pasticceria Alvino in piazza Sant'Oronzo, and Caffè in ghiaccio con latte di mandorla (ice coffee with almond syrup).
Otranto
Otranto is Italy's easternmost town. It offers a mix of history, architecture, beautiful views, sea-front restaurants and white sandy beaches.
Sitting right on the Adriatic sea, in front of the Balkans and Greece, its strategic position has profoundly influenced its history. The imposing castle and towers dominate much of the town, surrounded by thick perimeter walls that give way to a small port and lovely sea-front promenades dotted with excellent fish restaurants.
The delightful Romanesque cathedral, dating back to 1088 with unique 12th-century floor mosaics, is another highlight not to be missed.
TIP: Though the town has its own beautiful white sandy beach with turquoise waters, make a little time to find the Alimini beach, part of a marine protected area. This is a long beach with white sand dunes and rich Mediterranean vegetation.
More about Puglia Paradise
Puglia Paradis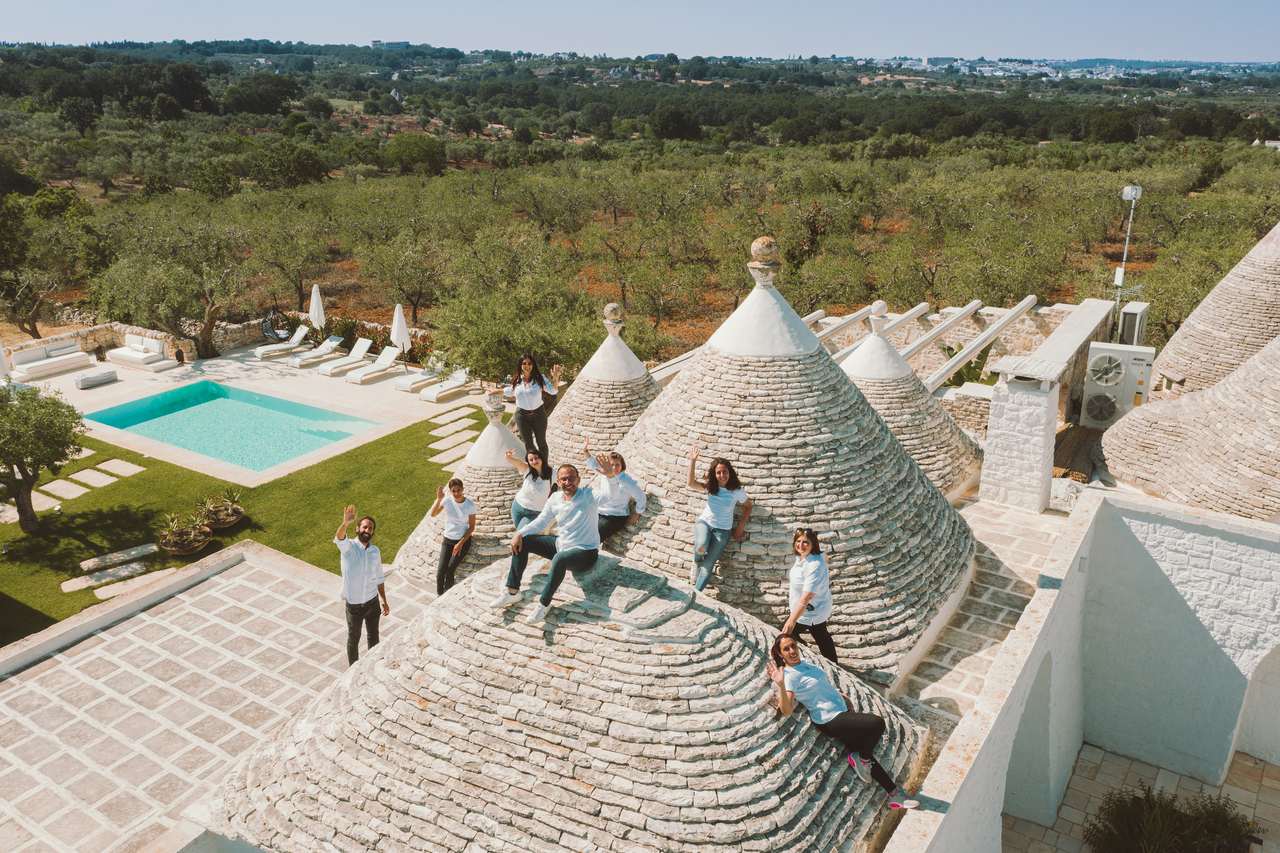 is a leading villa rental company in Puglia, highly rated on Trustpilot UK , providing villas and Trulli with private pools for rent. Villas are managed exclusively by Puglia Paradise. Guests enjoy a warm and personal concierge service, or "Guest Angel", to welcome you and assist with practical issues and offer tips on things to see and do, where to eat, local markets and the best local products shops.
The selection of the best villas can optionally be provided with a full staff.
Villas will be available to rent from April to October, and prices start from € 200 per night for long stays. Minimum stay varies from 2 to 7 nights, depending on the period.
---
This article is sponsored by Puglia Paradise. It was updated on January 9th, 2022, and first published on April 21st, 2017.