Jaffna is Sri Lanka's most northern city, with India just over the water. So it's not surprising that the food and culture here reflect that of the largely Tamil population. As you might expect it's spicy and rice with curry is what's normally consumed at lunch.

The city suffered badly during the civil war but is now enjoying something of a revival. The massive fort is undergoing restoration, the 1930s Public Library has been rebuilt and Sri Lanka's northernmost city is thriving again. Nearby are pristine beaches and many Hindu temples. But my focus is on the cuisine and I want to see how the locals cook.
I meet my guide, Gihan, at my hotel and he's clutching a shopping list of ingredients. The sprawling covered market is conveniently nearby and I watch as he barters with the stall holders for fresh vegetables and that essential staple, coconuts. These are not the big green ones, just from the tree, but the older brown matted specimens used for making coconut milk. A quick visit to the spice vendors and then we are all set.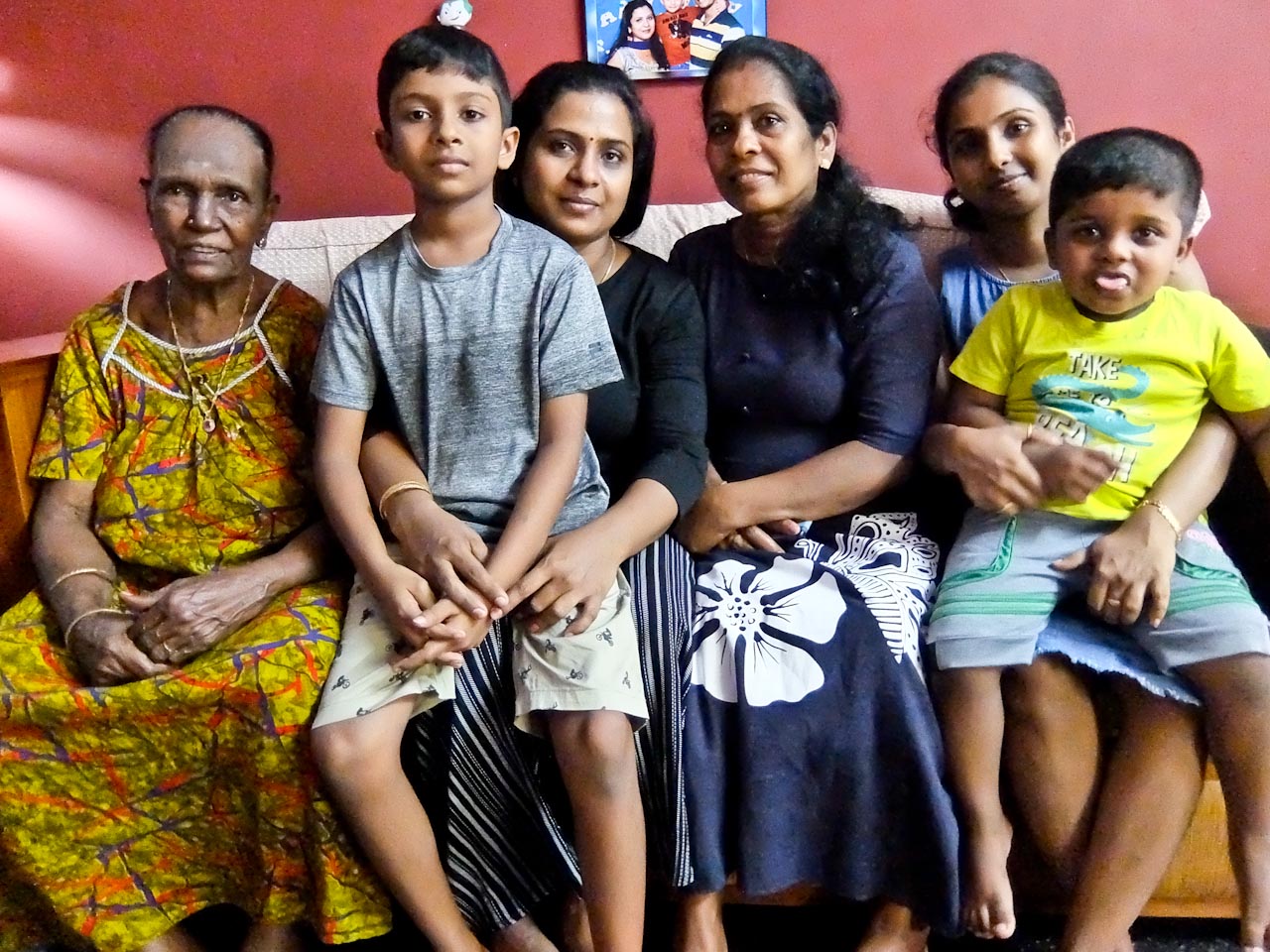 We're welcomed by the family at their house just outside the centre. There's Grandma Neelaawathi Sukakaran, daughter in law Morine, her sister Felicia and mother Amudha. There are also a couple of kids running around whose names I can never remember. The kitchen is at the back of the house, filled with all mod cons, including fridge, blender, oven etc. What's different is a charcoal stove, positioned close to the open window, to let out the smoke.
Sambaru Curry (Vegetable Curry)
First up is vegetarian Sambaru Curry and I watch as Neelaawathi cuts beans, carrots, pumpkin, potato and aubergine into small dice. She puts them into a pan with lentils, turmeric, salt and water and sets them boiling. Meanwhile Morine has chopped a coconut into two, scraped out the flesh and put it into the blender. She squeezes out the first pressing of coconut milk, then adds water and blends again to get the second.

After 15 minutes Neelaawathi adds the coconut milk to the pot along with sambar powder, pandan and Curry leaves plus tamarind juice. Now comes the most important of the process called Tempering – mustard and fenugreek seeds, dried chilli, curry and pandan leaves are all fried together and added to the curry when it's almost done. This gives it a final rush of flavour.
Beef Curry
Neelaawathi chops the beef into bite-sized pieces and leaves it to marinate with turmeric and salt. Then she toasts chillies, cinnamon sticks, cardamoms, coriander, cumin and fennel seeds with a dash of water in a thick pan. This is the basis for her homemade curry powder and she crushes the spices lightly in a mortar.

While the beef is browning she fries mustard and fenugreek seeds with ginger and garlic paste, then adds onions, pandan and curry leaves. When the onion is soft her curry powder is added, then the browned beef. Finally, she chops two tomatoes and adds thin coconut milk. The curry is then simmered for about 30 minutes and for the last five she adds thick coconut milk.
Pittu
The most difficult part of this coconut side dish is smashing the nut in half. I've never seen a granny wielding a machete but Neelaawathi accomplishes the task in seconds. She then grates the coconut flesh and mixes it with rice flour, salt and slowly adds warm water. All the time she's kneading it with her fingers until the mixture resembles bread crumbs. There's a special string basket for steaming and it's ready in ten minutes.
Thosai
This is the Sri Lankan version of the South Indian Dosa, basically a pancake. The day before she'd soaked Urad Dhal and rice for 12 hours before grinding it to a smooth paste with fenugreek and poha seeds with a little water. Overnight it was left to ferment and that's what I see bubbling away in the kitchen.

Of course, there's a special pan to fry these and Morine is the expert here. She takes a ladle of the batter and drops it into the hot pan, with a small amount of oil. Now the tricky part – she starts from the centre, gently using the back of a ladle to spread the batter in a circular motion. After a few minutes, she flips it over to brown the other side then deftly slides it out onto a serving dish. I get to try but I'm never able to replicate the thinness the Morine achieves.
Lime Pickle
This is definitely something she made earlier, in fact, 12 months ago. Apart from the waiting, it's so easy – just boil limes for five minutes and then cool. Chop them up and add salt, chilly pieces and some vinegar and let the flavours develop – for a year.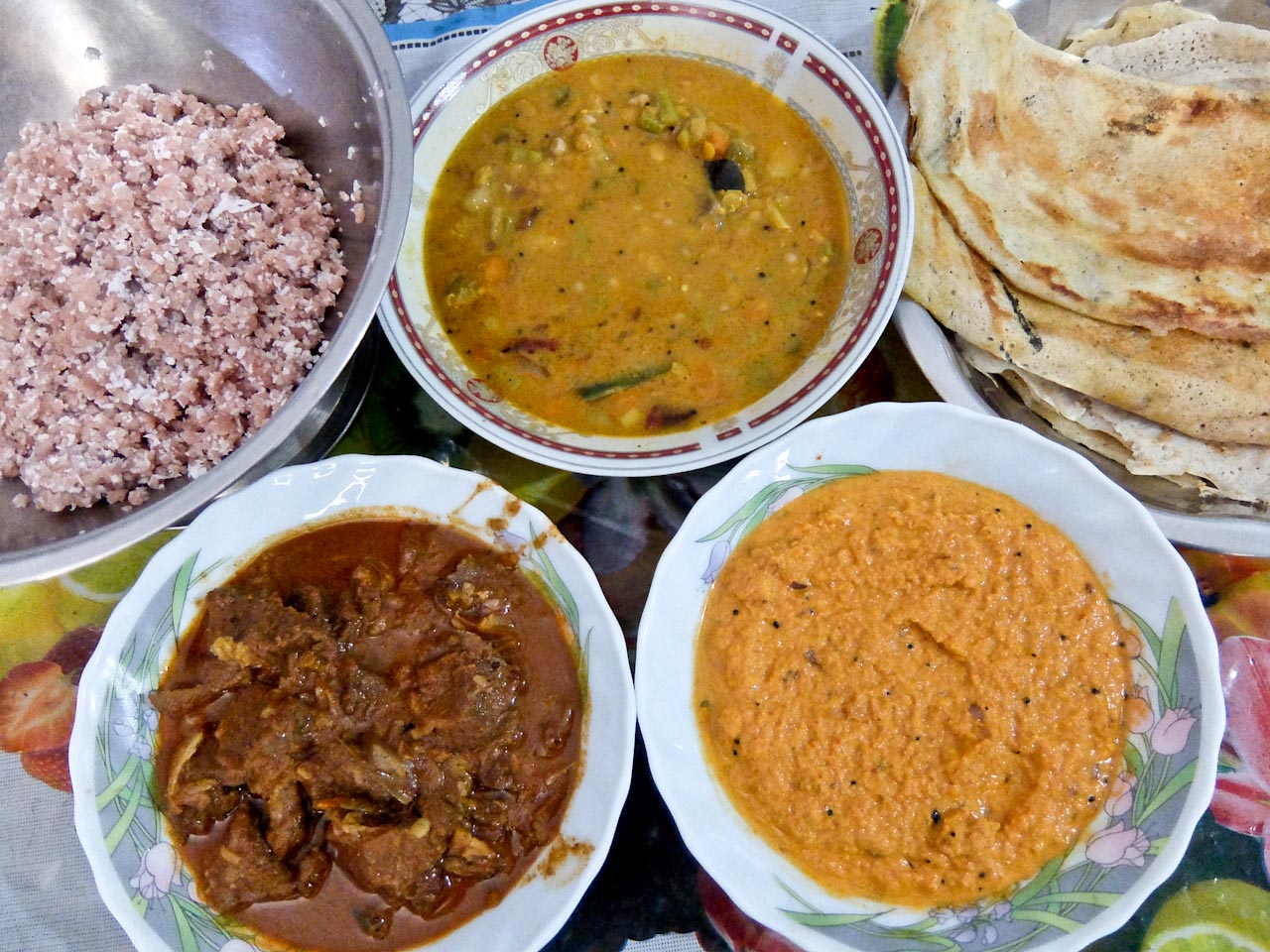 After spending all morning in the kitchen with the family it's now time to eat. What's impressed me is that cooking here is a family affair, just like a well-trained chef's brigade. One will toast spices, while the other is chopping and grinding coconut milk while the third is cutting up vegetables and meat. In terms of taste, obviously cooking on charcoal adds a smoky flavour and freshly prepared coconut milk, rather than out of tin, is key. I loved it.
Factfile
INFO: Sri Lanka Bespoke arranges cooking classes in local homes all over Sri Lanka, including this one in Jaffna.
Sri Lanka Travel has information about the country.
GO: Sri Lanka Airlines flies to Colombo from London Heathrow.
STAY: Jetwing Jaffna makes a comfortable base in the city.