Introduction
Before the collapse of communism, Poland's image was of a rather dull, dour country where people turned to vodka to brighten up their lives and sported large moustaches. Of course, now all that has changed, and the fairy-tale towns and cities, many rebuilt after the war, are bright and colourful, and there's a surprisingly vibrant food scene.
Rupert Parker gives a round-up of his three favourite Polish cities: Warsaw, Wroclaw and Poznan.
For more general information about Poland, visit the Polish tourism website.
Warsaw
The centre of the city, on Warsaw's left bank, was completely destroyed during WW2 but Praga, on the other side, remained intact and after decades of neglect is making a comeback.
It was the unsuccessful Warsaw uprising of 1944 that saw the Germans raze the city to the ground, not long before they surrendered to the Russians. After the war, the old town was rebuilt, not that you'd know it, and today it's a major tourist attraction. Nevertheless, it does feel slightly sterile with its mix of souvenir shops, restaurants and bars. If you really want to feel the old Warsaw you have to cross the Vistula River to the district of Praga, now undergoing something of a renaissance.
Until 1791 the area was a separate town, and in recent years it was off limits to tourists because of high crime rates. Nowadays it's much safer and it does feel like a completely different city, more like New York's lower east side, with bullet scarred tenements surrounding dark courtyards. The oldest surviving residential building on Targowa St dates back to 1814 and still bears a Hebrew inscription from 1934. Catholic shrines pop up in the backs of the courtyards and modern street art adorns some of the buildings.
The Rozyckiego Bazar was once Warsaw's premier market, a home for black market goods and culinary delights. Nowadays its stalls sell wedding dresses next to flick knives and air guns, and you really do feel that you've stepped back into history. Elsewhere in Praga, there's an Orthodox church, a building which housed a Mikvah, or Jewish ritual bath and a Buddhist temple. The real joy is exploring the streets and gazing up at the crumbling buildings, although renovation has already started.
It's probably 5 years away from becoming the trendy part of Warsaw but already clubs with names like Gorilla in the Mist, A Rabbit in Cabbage, Bee's Dream and Water Guess are springing up in factories and warehouses. Koneser, a 100 year old vodka distillery is home to theatres and exhibition spaces including the Klima Bochenska Gallery which promotes modern art. Things are changing quickly so check the local listings magazines before venturing out at night. This is the happening area of Warsaw so get there before the tourists discover it.
Warsaw Tour has information about the city and the Praga district.
Where to Stay in Warsaw
What to Do in Warsaw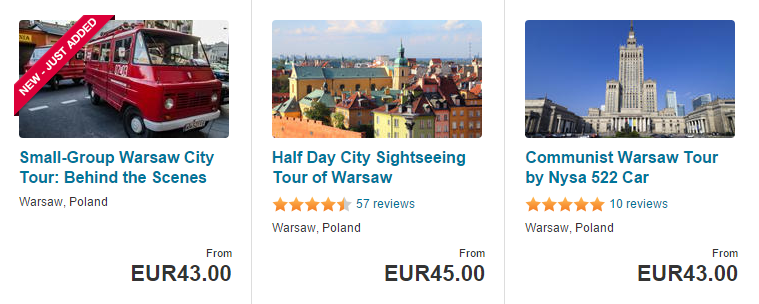 Wroclaw
Poland's 4th largest city is Wroclaw, known as the Venice of the North, and it makes a great weekend destination with its myriad bars, restaurants, clubs all situated in a delightful historic old town surrounded by waterways.
Chosen as 2016 European Capital of Culture and one of the venues for Euro 2012, it seems that Wroclaw is about to enter a new phase in its long and chequered history. Long a major trading town because of its location between East and West, it was known as Breslau up to the end of the war, and was the 2nd Prussian city after Berlin. In the dark days of 1945 the Germans, trying to stave off the Russian advance, designated it as a fortress and of course it was completely flattened. Fortunately the historic sector has been largely rebuilt and you'd never know it wasn't original.
The city is home to around 200,000 students and this is reflected in its lively arts and culture scene, as well as the number of bars and clubs dotted around the centre. It's still not part of the Euro zone so prices are very reasonable and there's a high standard of food and drink on offer. You can eat traditional Polish food in restaurants like Pod Fredra or sit in the main square, with a glass of vodka and a plate of herrings, and watch the world go by. And there are plenty of hotels to choose from including the innovative Hotel Puro, which uses state-of-the-art technology to enhance your stay.
There's no shortage of museums and one of the most extraordinary sights is the Panorama of the Battle of Racławice, painted in 1894 to commemorate a famous episode of the Kościuszko Insurrection. In an era of 4D and IMAX it's surprising how the simple can astound. Measuring 15m high and 114m long, it's now housed in its own special building. You climb the stairs and suddenly you're surrounded by a 360 degree painting with sand and trees added in the foreground to intensify the perspective. A commentary draws your attention to the details in the picture and soon you're an expert on the uprising. A shame, then, that the Russians ultimately reaffirmed their iron grip, but a great example of dogged Polish resistance.
Like other Eastern European cities, Wroclaw is also making it name on the stag and hen circuit. Cheap direct flights, coupled with one of the warmest climates in Poland, make it an idea destination for final flings. Staid, it certainly isn't and as well as the usual diet of bars and clubs, special activities programmes are blossoming. Most interesting of these is the Active Poland list which includes paint balling, go-carting, river rafting, sky diving and shooting. A two hour session includes Glock 17 pistols, pump action shot guns, and, best of all, AK-47 Kalashnikovs. It's best to avoid too much vodka the night before, as an unsteady hand could spell disaster for someone.
Where to Stay in Wroclaw
What to Do in Wroclaw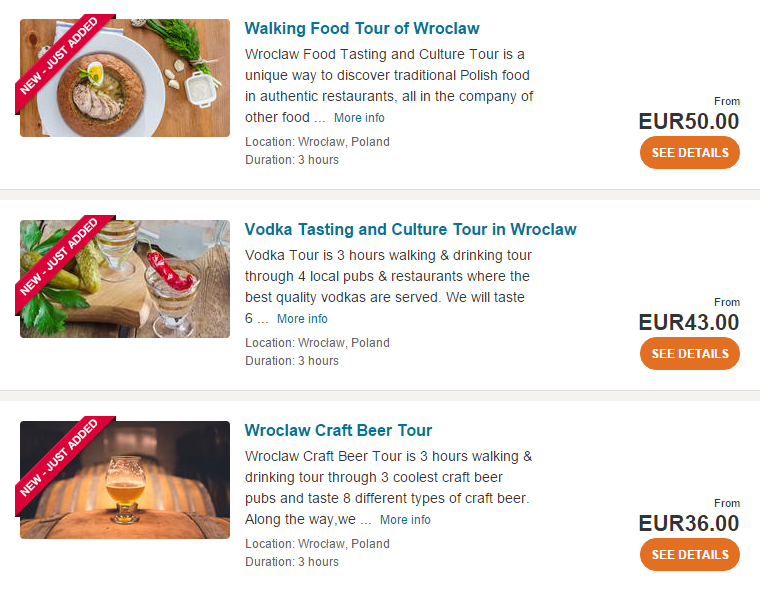 Poznan
Wielkopolska, Greater Poland, occupies around ten per cent of the country and its capital, Poznan, is ideally located to explore this historic region.
Poznan was one of the last stops on the road from Moscow to Berlin and suffered particularly badly at the end of WW2 but much of its heritage has been restored. The Cathedral on the island of Ostrow Tumski is the oldest in Poland and in 966 Prince Mieszko I was baptised here, starting Christianity as the official religion. Unfortunately, its baroque towers were destroyed during target practice by invading Russian troops but now the modern Gothic reconstruction stands proud.
In fact, the Soviets are loathed even more than the Germans here, not surprising when you consider Poznan was part of Prussia from the end of the 18th century until WW1. Their most imposing monument is the Imperial Castle, although Emperor Wilhelm II only stayed here twice, after it was finished in 1910. Post war plans to demolish it were resisted and today it houses the vibrant Zmek Culture Centre. Other buildings from Poznan's Prussian past are the Opera and the Polish Theatre and, in this part of town, it's easy to feel that you're in turn-of-the-century Germany.
The old market square is the heart of the city, dominated by the Renaissance Town Hall and full of cafés, pubs and restaurants. Most of the multi-coloured houses were meticulously rebuilt in baroque and renaissance styles in the 1950's and today it's a place where everyone comes for a drink or something to eat. Just off the square is the Basilica of St. Stanislaus, built by the Jesuits in the 17th century. You have to go inside to adore the ornate sculpted stucco and painting and it's one of the most beautiful baroque churches in Poland.
One of the city's great assets is the huge 2.2 km artificial Lake Malta, a short walk from the centre. This is the great lung of the city and is a centre for sailing, canoeing and rowing and other outdoor activities. There's also a zoo and an ice rink here and I get the chance to try the Adrenaline ride, a sort of do it yourself roller coaster, built on an artificial ski slope. They pull you up and then you coast down, trying not to apply the brake, hurtling round corners at terrific speed.
Around Poznan
50 km away, Gniezno played a major role in the history of Poland and was where the first kings were crowned. The star attraction here is the Cathedral with its 12th century double bronze doors decorated with scenes of the life of St. Adalbert and his bones are preserved in a 17th century ornate silver coffin inside. It's still a place of pilgrimage and there's a vial of blood from Polish Pope John Paul II in one of the chapels.
Between Gniezno and Poznan is a Prince Mieszko's 10th century fortified royal settlement on an island on Lake Lednica. You cross by ferry to see the remains of a palace, a chapel, and a church, the oldest and best preserved remains of stone buildings in Poland. Well worth a visit is the Wielkopolska Ethnographic Park, just nearby, which has over 50 examples of traditional buildings brought from all over the region. As well as houses, there's a smithy, church and different types of windmills – guides dress in period costume and show you around.
A few km west, near the town of Pobiedziska, is a medieval siege engine theme park, sporting hands-on replicas of these weapons. They're enclosed by a high wooden palisade and the display includes a battering ram, siege hook, heavy crossbow, siege tower, Perierre and a Trebuchet. Once you've primed the giant catapult, you get the chance to fire massive boulders over the wall into the surrounding countryside. If that's too much, there's archery practise for the faint of heart.
The award for the candidate for the most bizarre tourist attraction is in the town of Nowy Tomyśl, 70 km west of Poznan. Here they have a long tradition of wickerwork so what could be more natural than weaving the world's largest wicker basket? Finished in 2006, it's 17 metres long, 9 m wide and 7.7 m high and proudly sits in a park in the centre of town. I begin to think they should be creating a giant to pick up the basket – now that would be a real Wicker Man…
Where to Stay in Poznan