As the year comes to a close, I stopped to reflect on Sharron's (our Managing Editor) and my travels in 2016. With me in Nice (South of France) and Sharron in London, we covered thousands of miles and three continents. Zoom in on the map:
Some of Sharron's adventures took her to:
Antalaya, Turkey
Bangkok, Thailand (read Villa Review: Samujana Villa Estate, Koh Samui, Thailand)
Frankfurt, Germany
Bari, Italy (read Italy: Matera – from shame to chic in 50 years)
Iceland (read Iceland Ring Road – Iceland's road to natural phenomena)
Los Angeles, USA (read Hotel Review: Ace Hotel, Palm Springs, California)
New York, USA (read Why New York is a great winter destination)
Miami, USA
Athens, Greece (read Hotel Review: Grecotel Cape Sounio, Greece)
Amsterdam, Netherlands (read Hotel Review: The Dylan, Amsterdam)
…while I covered several trade fairs, conferences and social media assignments:
London, UK
Toulouse, France
Brussels, Belgium
Paris, France
Istria, Croatia (flying into Venice, Italy)
Dubrovnik, Croatia
Zagreb, Croatia
Malaga, Spain (further exploring Granada and Cordoba)
And you, where did you go in 2016? Leave a comment
In 2017, I am planning a trip to Amsterdam, London (for the Business Travel Show), Berlin (for the ITB) and Saint-Malo (for the Salon des Blogueurs de Voyage), while Sharron is travelling to Eilat, Japan, Lille and speaking at the World Tourism Forum in Istanbul. You can follow our whereabouts on the little map on the homepage, which we will continue updating as new destinations are announced.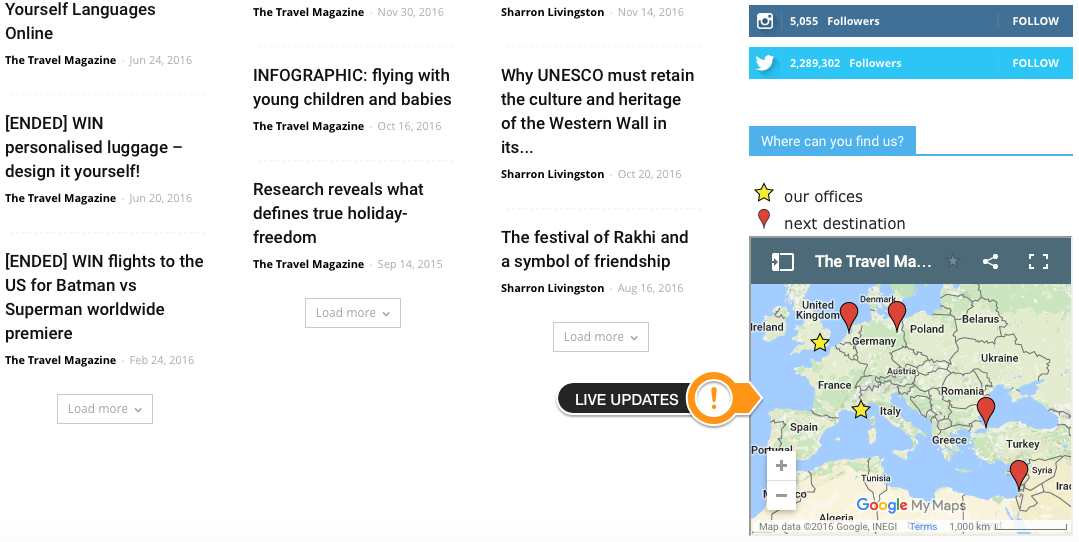 Want to meet up? Get in touch