From Spring 2018, Virgin Atlantic customers will be able to choose to fly "Economy Delight", "Economy Classic" or "Economy Light". All of these fares include food and drink and inflight entertainment and each seat will have a USB charger.
Economy Light – hand luggage only but meals included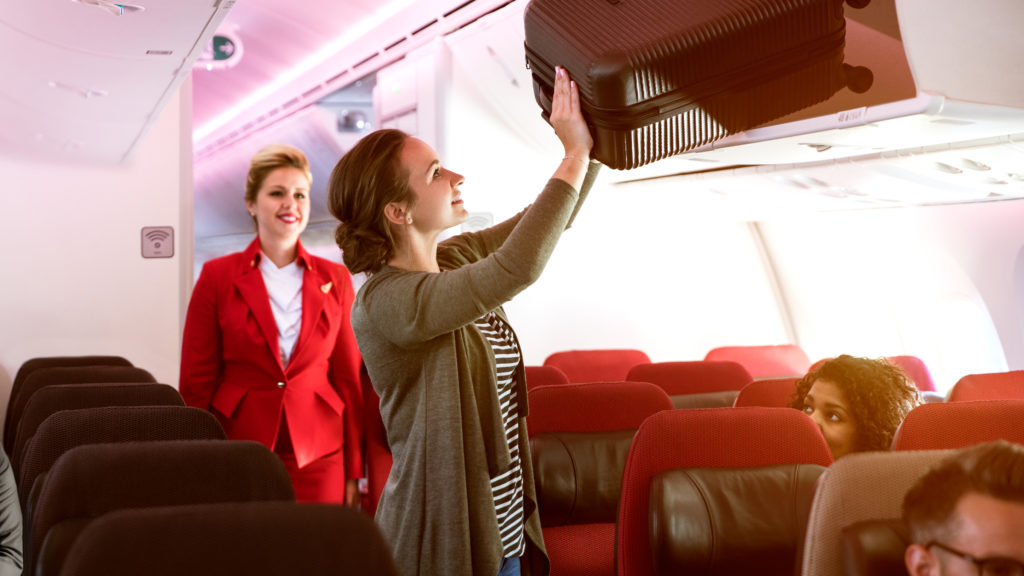 This ticket makes long haul travel affordable and accessible for millennials, and customers jetting off on city breaks. In essence, you pack light and pay less. Choose your seat for free at check in, then sail through security with hand luggage only. All meals, drinks and snacks are included in the fare.
Economy Classic – offers free seat assignment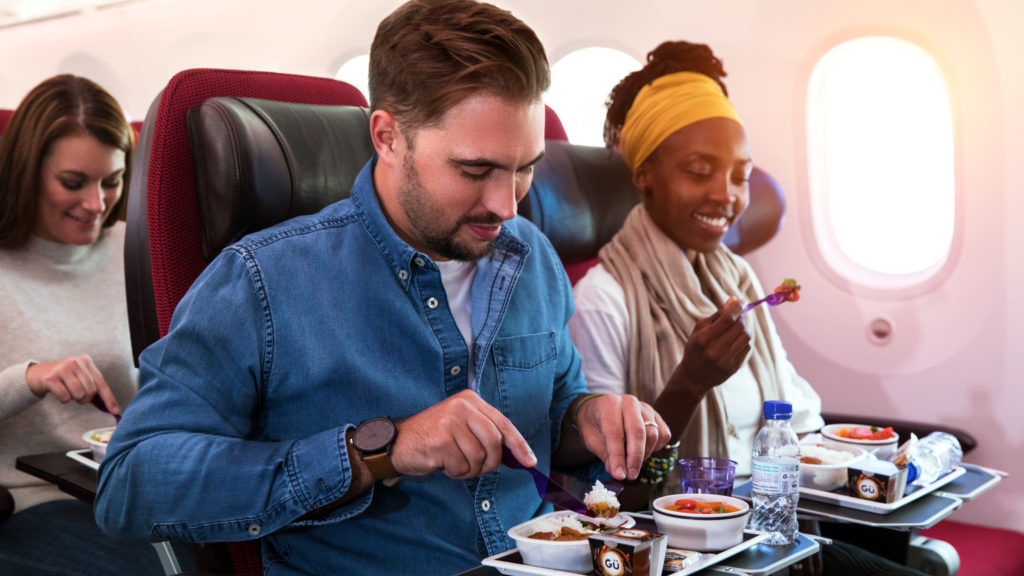 Economy Classic provides extra reassurance for families and groups that they can sit together. Choose your seats in advance for free and each passenger will have an allowance of one 23kg bag to check-in and enjoy free meals, drinks and snacks. Incidentally, if you have miles, you can upgrade using them.
Economy Delight – plenty of legroom
At a time when most airlines are packing seats onto planes, Virgin Atlantic is investing in extra leg room. The airline is retrofitting its fleet to provide up to 36 Economy Delight seats on every flight – offering customers an even comfier journey with a delightfully spacious 34 inch legroom.
This ticket comes with priority check in and boarding so you get settled in sooner, as well as advanced seat assignment. It comes with an allowance of one 23kg checked bag, and meals, drinks and snacks included.
How do the new fares compare?
| | Economy Delight | Economy Classic | Economy Light |
| --- | --- | --- | --- |
| Seat pitch | 34" | 31" | 31" |
| Free seat selection at any time | ✔ | ✔ | Assigned at check in |
| Meals and drinks | ✔ | ✔ | ✔ |
| Inflight entertainment | ✔ | ✔ | ✔ |
| Checked luggage | 1x23kg | 1x23kg | x |
| Hand luggage | ✔ | ✔ | ✔ |
| Priority check in/ boarding | Via Premium | x | x |
| Blanket, pillow and headphones | ✔ | ✔ | ✔ |
| USB charger in seat | ✔ | ✔ | ✔ |
Craig Kreeger, Chief Executive of Virgin Atlantic, said:
We're unveiling the biggest change to our Economy cabin in over a decade – launching three new ways to fly, and a host of innovations on the ground and in the air as part of a wider £300 million investment in our customers. We know that one size doesn't fit all, and from spring our customers can afford to be choosy and still travel in the UK's leading economy cabin.

We always want flying with Virgin Atlantic to be more special than other airlines, and we'll never compromise on excellent service, industry leading food and drink and cutting edge inflight entertainment – regardless of which Economy ticket our customers are travelling on, they'll be able to enjoy all this onboard.
Sir Richard Branson, founder of Virgin Atlantic, said:
When I started Virgin Atlantic I wanted to challenge the status quo and make flying amazing – regardless of which cabin you're in – and that's still true today. We're unveiling a multimillion pound investment to make Virgin Atlantic's Economy cabin the best of any UK airline and setting the bar for others to follow.
The three new ways to travel are part of a wider investment in Virgin Atlantic's Economy cabin – delivering innovations on the ground, and in the air:
Serving up the best Economy meals in the sky
All customers travelling in Economy will continue to enjoy a three course meal plus complimentary drinks and snacks – with a focus on supporting independent suppliers such as UK based Fairfield Farm Crisps, and the Grown Up Chocolate Company.
More personalised service at the airport
For the first time Virgin Atlantic is introducing automated bag drop at London airports, freeing up employees to provide a more personalised service where customers need it most. Four kiosks will open at London Gatwick this summer, followed by a further 18 kiosks at London Heathrow from winter 2018.
Stay connected
Every single seat in Economy now offers a personal USB charging point, and every route offers access to high speed Wi-Fi (available at an additional cost) to help customers work and play on the go.
New aircraft to be added in 2019
Virgin Atlantic are adding 12 new Airbus A350-1000 aircraft to the fleet from spring 2019 – offering unrivalled levels of comfort and reliability for customers, and a brand new Economy cabin designed with Virgin Atlantic's customers in mind.
"Air" – Signature scent
There is definitely something in the air and that's because Virgin Atlantic has partnered with leading British candle maker Rachel Vosper to create a new scent called "Air." Designed to evoke wellbeing and inspire future travel it will be available across check in, the gate and upon boarding the aircraft.
Seamless partnership with Delta
Virgin Atlantic and Delta offer the leading transatlantic partnership, and the new Economy products will offer a seamless experience for customers travelling with the airlines. Economy Delight, Economy Classic and Economy Light will complement Delta's Comfort +, Main Cabin and Basic Economy products – always offering a three course meal, Wi-Fi, hundreds of hours of inflight entertainment and excellent service regardless of the ticket type.