DK Eyewitness have published their beautiful highly inspirational coffee table book – Where To Go When. Its 256 pages are full of the most spectacular photography covering more than 100 destinations. Images such as the warm splendour of the majestic Borobudur in Indonesia and the multi-coloured sawdust mosaics of Antigua during Holy Week draw you in.
Where To Go When is packed with recommended destinations for each month of the year with a map and information on unique experiences and events alongside practical travel advice including getting around and weather conditions.
In effect, Where To Go When is both a holiday planner and a testament to the beauty of our planet and its people.
If you haven't got a travel bucket list yet, you surely will do after reading this book. And if you're struggling for gift ideas, any travel or photography lover would be thrilled to receive this.
Where To Go When is available from all good retailers RRP £18.99.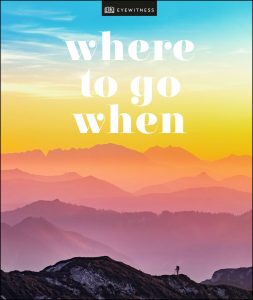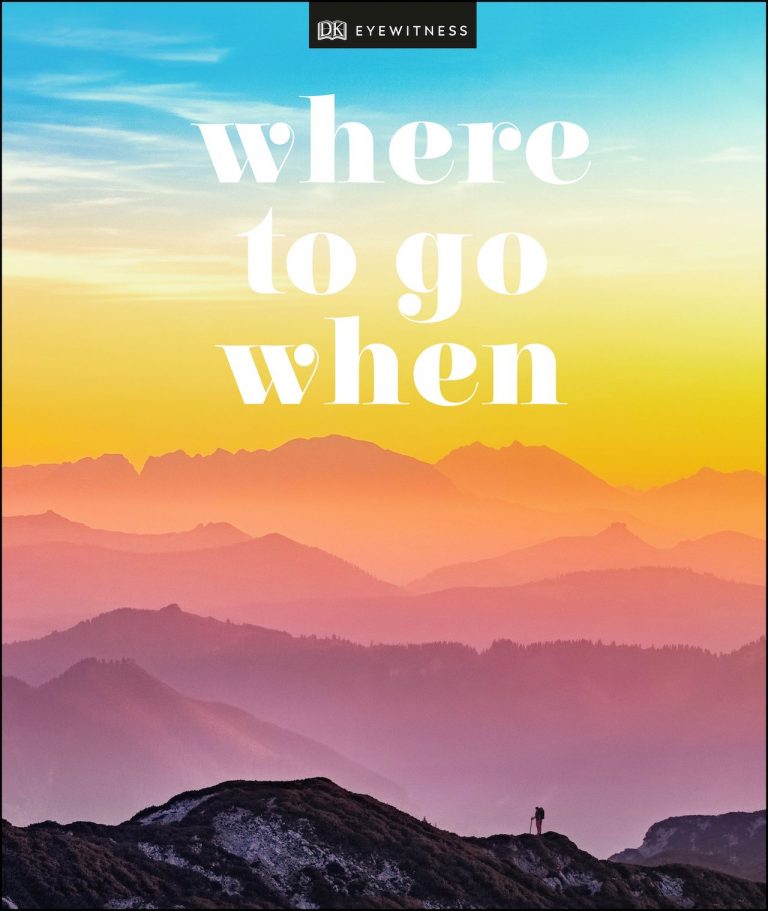 To inspire you, we have included some examples of fabulous travel destinations to explore throughout the year, as recommended by Where To Go When.
Miami in February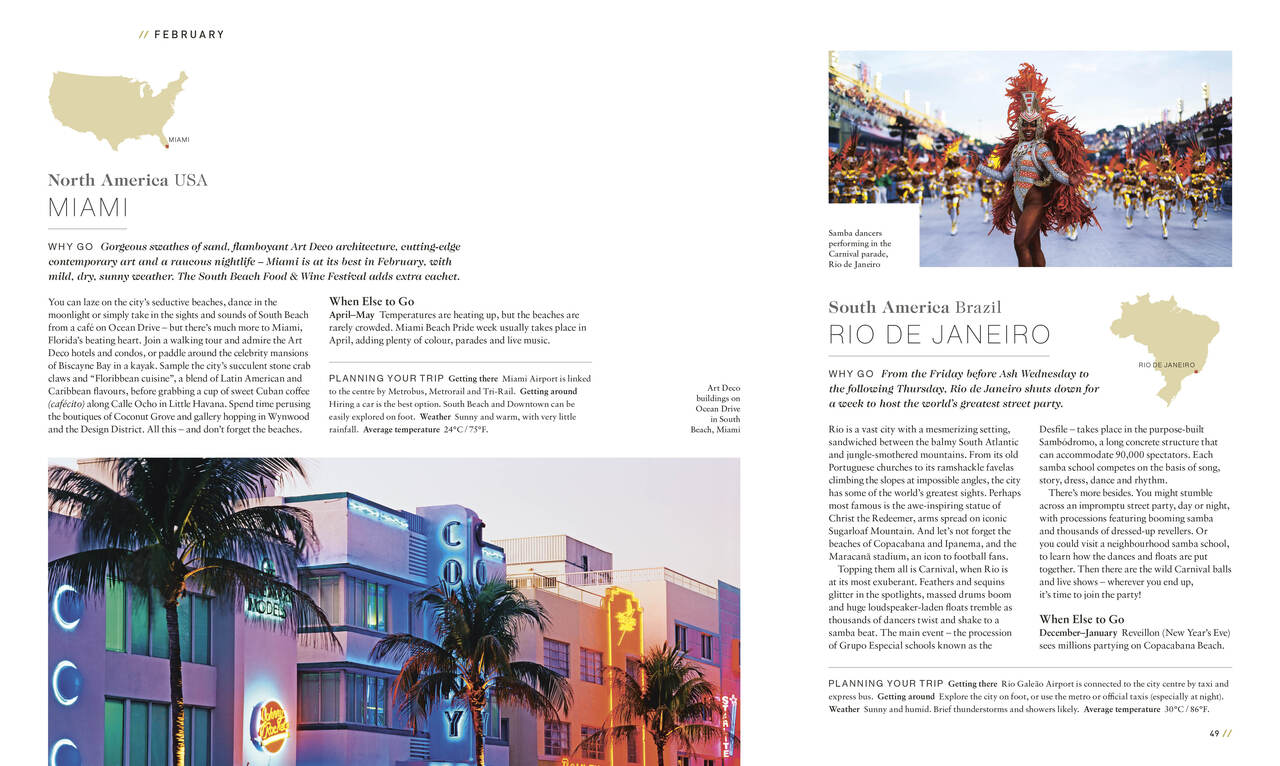 Why go: Gorgeous swathes of sand, flamboyant Art Deco architecture, cutting-edge contemporary art and raucous nightlife – Miami is at its best in February, with mild, dry, sunny weather. The South Beach Food & Wine Festival adds extra cachet.
You can laze on the city's seductive beaches, dance in the moonlight or simply take in the sights and sounds of South Beach from a café on Ocean Drive – but there's much more to Miami, Florida's beating heart. Join a walking tour and admire the Art Deco hotels and condos, or paddle around the celebrity mansions of Biscayne Bay in a kayak. Sample the city's succulent stone crab claws and "Floribbean Cuisine", a blend of Latin and Caribbean flavours, before grabbing a cup of sweet Cuban coffee Calle Ocho in Little Havana.
CLICK HERE TO PURCHASE WHERE TO GO WHEN
China in June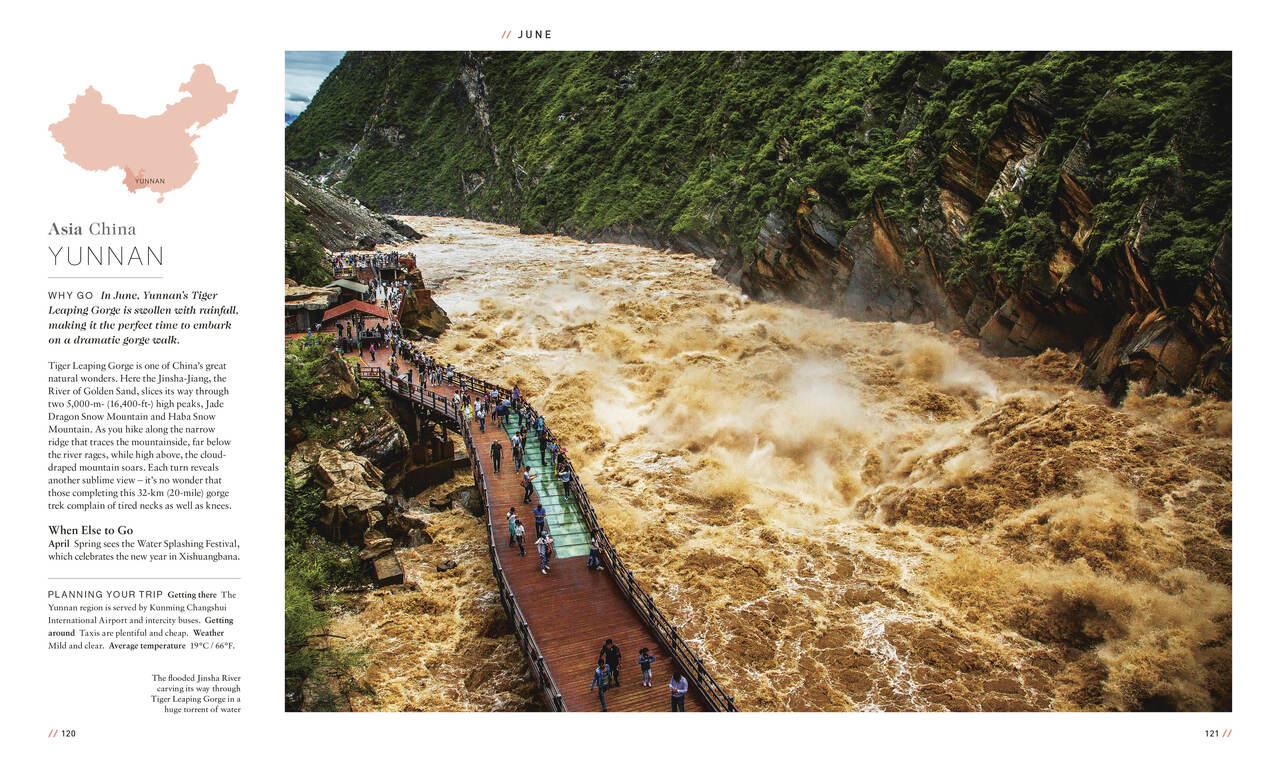 Why go: In June, Yunnan's Tiger Leaping Gorge is swollen with rainfall, making it the perfect time to embark on a dramatic gorge walk.
Tiger Leaping Gorge is one of China's great natural wonders. Here the Jinsha-Jiang, the river of Golden Sand, slices its way through two 5,000-m- (16,400 ft-) high peaks, Jade Dragon Show Mountain and Haba Snow Mountain. As you hike along the narrow ridge that traces the mountainside, far below the river rages, while high above, the cloud-draped mountain soars. Each turn reveals another sublime view – it's no wonder that those completing this 32-km (20-mile) gorge trek complain of tired necks and tired knees.
CLICK HERE TO PURCHASE WHERE TO GO WHEN
Slovenia in August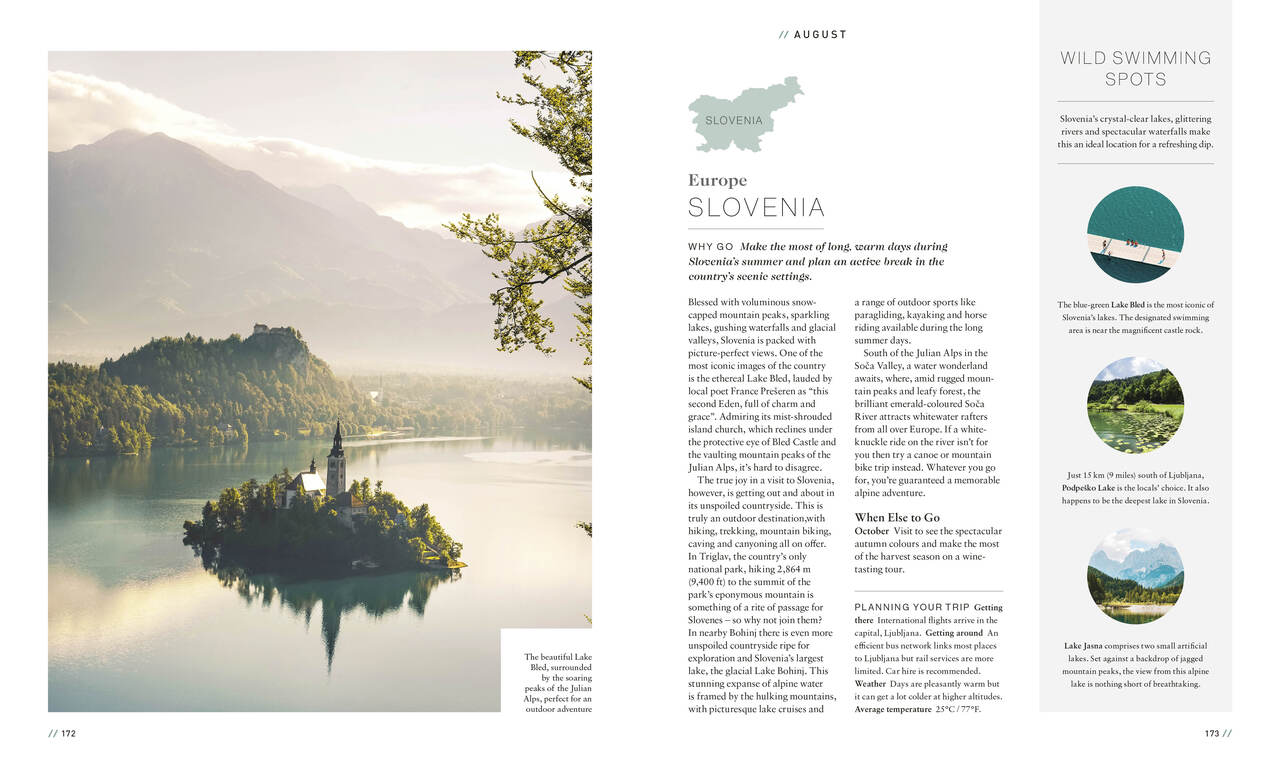 Why go: Make the most of the long, warm days during Slovenia's summer and plan an active break in the country's scenic settings.
Blessed with voluminous snow-capped mountain peaks, sparkling lakes, gushing waterfalls and glacial valleys, Slovenia is packed with picture-perfect views. One of the country's most iconic images of the country is the ethereal Lake Bled, lauded by local poet France Preseren as 'this second Eden, full of charm and grace". Admiring its mist-shrouded island church, which reclines under the protective eye of Bled Castle and the vaulting mountain peaks of the Julian Alps, it's hard to disagree.
CLICK HERE TO PURCHASE WHERE TO GO WHEN
Oaxaca, Mexico in October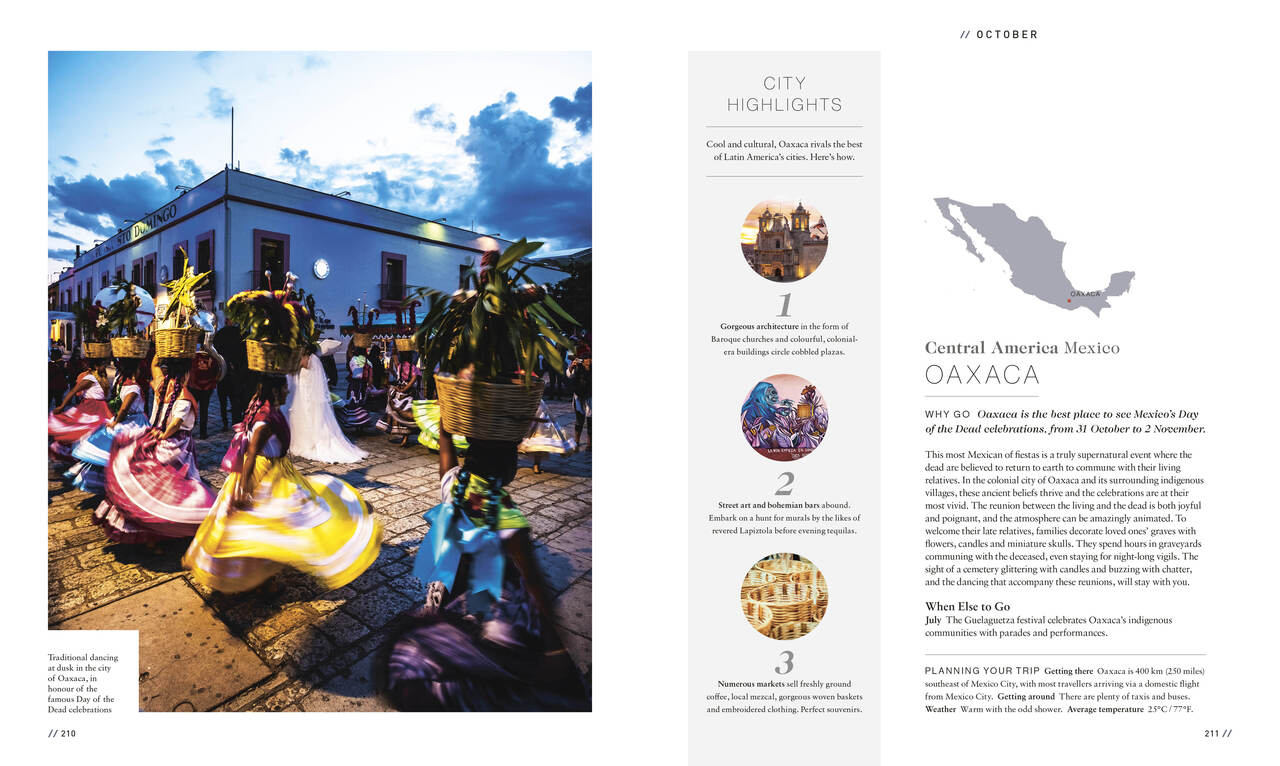 Why go: Oaxaca is the best place to see Mexico's Day of the Dead celebrations, from 31 October to 02 November.
This most Mexican of fiestas is a truly supernatural event where the dead are believed to return to earth to commune with their living relatives. In the colonial city of Oaxaca and its surrounding indigenous villages, these ancient beliefs thrive and the celebrations are at their most vivid. The reunion between the living and the dead is both joyful and poignant, and the atmosphere can be amazingly animated.
CLICK HERE TO PURCHASE WHERE TO GO WHEN
More about DK Eyewitness Travel Guides
Filled with expert advice, beautiful photographs and detailed illustrations, DK's highly visual guides show you what others only tell you. DK Eyewitness Travel publish guides to more than 200 destinations, from handy pocket-sized city guides to comprehensive country guides.
---
Disclaimer: This article was sponsored by DK Travel