If the iconic Seven Dials Sundial monument could talk, you no doubt would be listening late into the night to a slew of stories about nefarious goings-on. Its history starts in the 1690s when Thomas Neale, a Member of Parliament and property developer, originally laid out the area to create a fashionable address.
But his best-laid plans took on a life of their own, and the junction of seven roads that fan out from the Seven Dials monument became populated with unsavoury characters, gin joints, brothels and a generally insalubrious lifestyle.
Novelist, Charles Dickens said:
The stranger who finds himself in "The Dials" for the first time, and stands Belzoni-like, at the entrance of seven obscure passages, uncertain which to take, will see enough around him to keep his curiosity and attention awake for no inconsiderable time.
Though Dickens was referring to a time of debauchery the words still ring true, but now the words can refer to creativity, small independent curio shops, fantastic eateries and high-end colourful enclaves like the nearby Neals Yard, to explore.
Seven Dials has now evolved into the kind of place Thomas Neale had hoped for and the kind worth spending a day or two enjoying.
Where to Stay
The obvious place to stay is the Radisson blu Edwardian on Mercer street, whose entrance faces the Seven Dials monument. It's an elegant hotel and steps away from everything Seven Dials offers.
Where to eat
The Monmouth Kitchen serves up an impressive collection of Peruvian and Italian plates in a bright and airy restaurant. At night the lights go dim, and the ambience is both jovial and romantic and offers a lovely night out as a destination restaurant. For a quick pre-theatre bite St Martin's House is a pleasant restaurant and offers a fast turnaround offering pasta, burgers and Lancashire hotpots.
There's an interesting eatery called Apple Butter on Monmouth Street that caught my eye to take breakfast or brunch but a constant long queue meant I couldn't easily get a table. I asked someone who had been queueing for a while what the draw was and she said she just loved that they use cinnamon in most of their dishes.
The food highlight of Seven Dials has to be its sensational food market for its sheer variety.
Seven Dials Food Market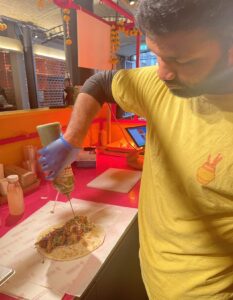 The Seven Dials food market has had many lives, including being used as stables, storage for cucumbers, a skate mall and a banana warehouse. Sections of this immense space are named the Banana Warehouse and Cucumber Alley where an eclectic mix of eateries for every taste are available.
There are all styles of Asian food, pizza, and even a carousel of cheeses as well as pancakes and all sorts of desserts.
Looking for something a bit spicy I went to the Naan Stop in the Banana Warehouse and got my hands on a Mumbai Frankie wrap with pepper chicken (£8). The coriander and mango sauces gave my wrap sublime flavours.
Where to get great coffee
So I headed for the bright and airy Watchhouse coffee shop and restaurant located on the corner of Monmouth Street and Upper St Martin's Lane. They have their own roastery at 36 Maltby Street, SE1 and so I was looking forward to a great roast. I chose the Espresso with El Robles, Costa Rica, as I was drawn to their tasting note which spoke of black honey, blueberry, pomegranate and almond cream. I paired it with a chocolate chip cookie – it was £6.00 well spent.
Catch a show
On Seven Dials is the Cambridge Theatre where the musical Mathilda has been showing for ages.
Probably a better bet for something more emotive and intellectually stimulating is a visit to whatever is showing at the smaller and more rustic Donmar Warehouse on 41 Earlham Street. This small not-for-profit theatre is a bit of a gem and with just 251 seats is cosy and intimate too; so much so that some will be able to see every muscle movement on the actors' faces.
It opened its doors on 18th July 1977 and is still going strong and worth supporting. At the time of writing the excellent and provocative play Trouble in Butetown was showing and you can expect under the leadership of Artistic Director Josie Rourke, other great plays going forward.
Shopping
There's nothing usual within the stores of Seven Dials. Many are owned by those on a mission of equality, community and sometimes just different.
I liked the unusual and colourful designs of fun statement jewellery created by Tatty Devine at 44 Monmouth street. Standing for women's power, there's nothing subtle about their often bold and sometimes brash, jewellery. They team up with several charities and foundations and most recently have partnered with Equality Now to create a range of jewellery.
I fell in love with Adorn the Common at 42 Monmouth Street. Behind its royal blue facade is a range of unique artwork, cushions, sweet-smelling candles and perfumes curated by the infinitely affable Trevor Read.
Although he spent many years as an executive in the hairdressing world it was always art that he held in his heart. He set up shop featuring 12 artists at first, growing to an eclectic mix of 40 artists from various ethnicities, genders, pronouns and an autistic artist too – people who might not have had an opportunity to showcase their talent.
I came away with the poster you see in the image, a wonderful candle, a jar of oversized matches and some very cheeky cards and placemats for friends with a sense of humour. This outlet is an endeavour well worth supporting.
In contrast, is the highly practical outdoor attire of Meander Apparel on 18 Earlham Street. Owned by an adventurous, sustainable aware husband and wife team, Jill and Steve Henry. They love to "meander" whether cycling or hiking, hence the name of their brand. They designed a range that they wanted to wear. Their stylish outerwear is made from recycled plastic bottles with a warm fleece inside and in-built anti-odour technology. A clever design means the coat can be folded away into its own pocket.
Where to grab a drink speakeasy style
The Escapologist on 35 Earlham Street, stands out in its red facia and gives off an enticing speakeasy vibe. It is a self-styled part 'modern day Victorian men's club' and 'part Masonic lodge'. Its interior is dark and very red with some unusual cocktails on its menu. It's a good place to party.
Nearest Tube Station to Seven Dials
The nearest Tube Stations to Seven Dials are Leicester Square, Covent Garden or Holborn.
Tip: Spend a moment at the Seven Dials monument and see if it really does have seven dials.