The golden leaves are still on the trees but Gurgl is the first non-glacier ski area in the Tirol – and one of the first across the Alps – to open daily.
The lift switch was thrown on Thursday, November 17, and by the weekend the party was in full swing. A Christmas market with trumpeters, a gala dinner at the angular Gurgl Carat convention centre (the resort calls itself Diamond of the Alps) with a multi-course menu dreamt up by young chefs from local hotels and surrounded by an exhibition of modern art and sculpture by Austrian Alpine creators.
There was new snow and temperatures across Saturday and Sunday didn't get above zero, allowing cannons to pump out extra non-stop. Saturday there wasn't a cloud in the sky all day while we awoke Sunday to snow pouring down and Monday has an impressive cover and more sun – with a forecast of plenty of snow to come.
Here's why an early season ski break (or one later in the season) would be special at Gurgl, one of Austria's most snowsure destinations.
The region
Gurgl, in the Ötztal valley, is one of Austria's highest ski areas with base level at 5,900ft and a top point of 9,940ft. The main village is Obergurgl while the purpose-built Hochgurgl, a commune of half a dozen ski-in ski-out hotels, sits at 7,000ft; their respective slopes are connected by the horizontal Top Express gondola.
The skiing
There are 70 miles of joyous pistes that, due to the altitude, are largely above the treeline (unusual for Austria). Red runs twist down the mountain face along the valley, often offering a challenge but equally giving a way down for the less confident.
Two lifts head out of one building in the centre of Obergurgl; the Hohe Mut Bahn 1 gondola has a lateral slant to the base of Hohe Mut Bahn 2 for varied reds and blues and a couple of off-piste itineraries plus, safely to one side, a family-friendly area features a freestyle park, ski-cross track and beginner slopes.
The other lift, the Rosskarbahn, a big, smooth gondola new for to 21/22 season, glides straight up to another section of runs. Halfway up, the Top Express leapfrogs two valleys (one of them the King's Valley, an off-piste adventure) to Hochgurgl. Lots more blue and red runs here, even a handful of short blacks, the best from the resort top point where the space-age Top Mountain Star restaurant sits on a ridge overlooking Italy.
Lift passes of three days or more include all six valley resorts including pretty little Hochoetz and impressive Sölden with its twin glaciers.
Why go there
There's plenty of skiing and yet the region isn't exhaustingly big. Obergurgl is a small, upmarket village of nice hotels. Hochgurgl is even smaller but the hotels are equally good. The Diamond of the Alps shines with gems. Top Mountain Star, a circular glass-walled haven for coffee, hot chocolate (with rum!) and drinks with an entrance staircase shaped like the tail of a shooting star sits at Hochgurgl's peak, on a sharp ridge with views across Italy. Views constantly change in the haze, clouds and sun.
That and much else in Hochgurgl is part of the family empire of amiable, motorbike-loving 50-something identical twins Alban and Atilla Scheiber. The jewel in their crown is Top Mountain Crosspoint, a wildly contemporary on-mountain lift station, restaurant and museum at the entrance to the Timmelsjoch High Alpine Road, a snaking, summer-only pass to Italy that's a favourite with bikers and drivers of open-top sports cars. Top Mountain Motorcycle Museum opened in 2016, displaying its 200-strong collection of bikes. It was almost completely destroyed by fire in January 2021 but by December it had been rebuilt, bigger and better, with a new collection courtesy of fans and friends.
Not just for motorcycle fans, it recalls the giant Henry Ford museum near Detroit, a window on history, 400 motorbikes from extravagant Harley-Davidsons to 1920s products of Wolverhampton and Ruislip, panoramas celebrating Austrian adventurer Max Reisch (he rode to India in 1933), a collection of historic snowmobiles (including a Harley) and cars. There's even a simulator so you can sit astride a motorcycle and ride to Italy. All free (as well as the 007 Elements James Bond experience in Sölden) with a six-day lift pass.
In Obergurgl there's the Piccard Memorial, commemorating the 1931 emergency landing of balloon adventurer Auguste Piccard on the Gurgler Ferner glacier.
And the fun goes on and on… there's five miles of floodlit night skiing in Obergurgl (each Monday) and Hoghgurgl (Friday until Christmas then Thursday) – unlike many resorts it's included on the liftpass. The latter is also toboggan night.
Eating and drinking
Top Mountain Crosspoint is the biggest and best for daytime, with a sweeping terrace for sunny days, a large contemporary timber interior with motorbikes hanging, memorabilia and historic resort photos. Tiroler Groestl, the classic griddle dish of potatoes, beef and a fried egg, €16, and a sizeable pork Wiener schnitzel, €18.
Wurmkoglhutte is self-service while Festkogl Alm has Tirolean specialities with glacier views – and is a warm spot during night skiing. Nederhütte at the top of Hohe Mut Bahn 1, a swift ski whizz from town, serves up food, drink and lively apres-ski with live music.
There are gourmet restaurants for the evening although many are in hotels. Hotel Enzian has its cosy Sud-Tiroler Fondue Stube while Hotel Edelweiss & Gurgl has a fondue room with glass-domed ceiling over an open fire while the wood-panelled main dining room offers contemporary five-course menus with an Austrian slant – barley soup, lake fish and local beef. In Hochgurgl, See You is dramatically modern, all concrete arches and sleek timber, serving 'Alpine tapas'.
Where to stay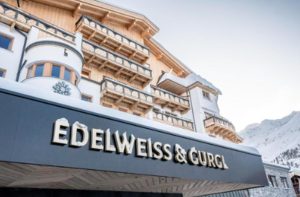 Hotel Edelweiss & Gurgl
The family-run Hotel Edelweiss & Gurgl hotel opened in 1889 and is the heart of Obergurgl, from the large bar area to the impressive restaurant to the spa with an outdoor pool overlooking the slopes. They don't come any more convenient than this, with its own sports rental shop, and a dramatic ski room with an escalator up the door in the same building as the twin lifts.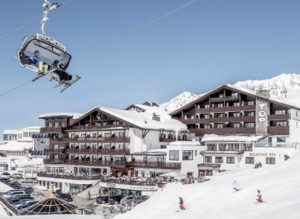 In Hochgurgl, Top Hotel is another impressive ski in/ ski out property coming together of Tirolean feel and cool. I
t has a modern décor with stylishly-timbered rooms, an elegantly traditional restaurant and a spa with several saunas with an indoor pool and a heated outdoor pool with views over the mountains.
It has a great location adjacent to two lifts and with its own ski shop close to the ski room it's convenient to get your skis.
FACT FILE
FLY: Only 60 miles from Innsbruck airport, there are flights with British Airways and easyJet.
MORE: Oetztal.com and the Austrian National Tourist Office.
SKI PASS: A six-day Ötztal Super Skipass starts at €359.50 (about £310) and includes all six ski areas in the Ötztal valley, all connected by free bus.