Peru is an astonishingly diverse country ranging from the arid plains of the Pacific to the peaks of the Andes Mountains and the tropical Amazon rainforest. It certainly requires more than one visit to do it justice. First time around you might visit Lima, Cuzco and Machu Picchu, but where to go on your next trip? The riches of the colonial city of Arequipa, nestling below snow-capped volcanoes, and the Colca Canyon, twice as deep as the Grand Canyon, are definitely must-sees.
International flights land in Lima, so it's worth breaking your journey here to recover from any jet lag. Miraflores is an upmarket suburb and makes a good base. It's home to some of city's flashiest restaurants and shops. Lima's beaches, prime surfer hangouts, sit beneath its cliffs, and above is the new development of Larco Mar. It's a good place to watch the sunset with several bars and restaurants choose from. Next door is Parque Salazar, with a statue of Paddington Bear, one of the most famous Peruvians.

ChocoMuseo

If you want to find out how to make chocolate than this store offers a bean to bar workshop and you get to take away the fruit of your labours at the end. A model of a cacao tree, plus sacks of the beans helps to explain the process and there's a variety of products on sale. These include all varieties of chocolate bars, chocolate tea, liqueurs, and even chocolate soap.

Huaca Pucllana

Rising out of the centre of flat Miraflores is a huge incongruous mound, actually an ancient adobe and clay pyramid, dating from around 500 AD. It consists of seven staggered platforms and was an important ceremonial and administrative centre for the Lima Culture. It's surrounded by a central square and is divided into two sections by a large wall. In one of these, offerings of fish have been found in deep pits, presumably to placate the gods.

Museo Larco
This museum houses the world's largest collection of Peruvian artefacts. It's in three sections, the warehouse museum with shelves of over 30,000 ceramics, the main museum with textiles, ornaments, jewellery and more ceramics. The third is the most intriguing, dedicated to the erotic art of pre-Inca civilizations. The Mochica culture provides some of the more explicit artefacts and presents an interesting perspective on ancient Peruvian sexuality. https://www.museolarco.org/en/
Arequipa
Direct internal flights from Lima take around 90 minutes and are frequent. Sitting at over 2000m above sea level, Arequipa is Peru's second most populous city. It was founded in 1540 and its large historical centre is packed with colonial churches and mansions and is a UNESCO World Heritage Site. On the skyline above the city are a series of volcanoes, the snow-capped Misti, still active, and the extinct Pichu and Chachani.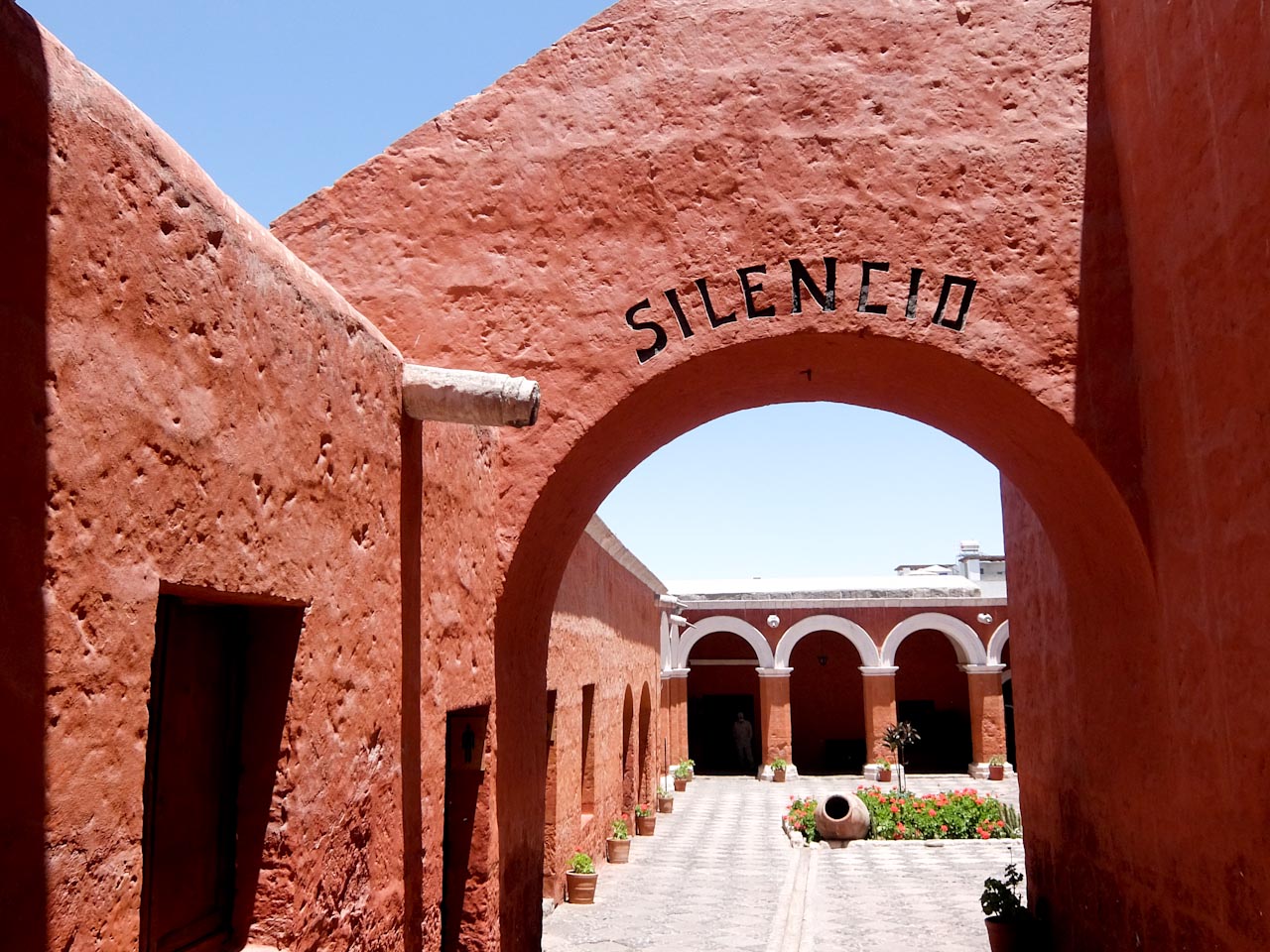 Close to the main square, the vast Monasterio de Santa Catalina was home around 200 nuns and 300 servants from the late 16th century. Today only around twenty live here, and the enormous complex has opened some of its rooms, cloisters and plazas to the public. It can take a whole morning to explore, although you won't see any nuns, as they're cloistered away in a new convent.
Colca Canyon
A breathtaking four-hour car journey from Arequipa takes you up to 5000m over high passes and it's worth stopping for a rejuvenating cup of coca leaf tea to avert altitude sickness. It's then downhill to the small town of Chivay, still at 3600m, in El Cañón del Colca. It's nearly twice as deep as the Grand Canyon, 70km long, and the upper edges are covered in rows of pre-inca terracing, many of them still cultivated. It was only rediscovered in 1931 during an aerial photography survey.

Peruvian novelist Maria Vargos Llosa called it the Valley of Marvels and it's not hard to see why. Chivay makes a good base for exploring the canyon and there's an extensive market here. More interesting is the village of Yanque, with one of the most impressive churches in the region and a bustling plaza, around 7km away. You can get here by bus, but it's more fun to do it on horseback.
A 30-minute downhill walk brings you to the Baños Termales de Chacapi, a number of hot spring pools by the side of the river. The water comes out of the ground at, 85°C, but in the pools, it's a reasonable 38°C. Kayak trips are offered here so, after a hard morning paddling, this is the perfect way to relax.

Small villages are scattered throughout the valley, all with colonial churches and surrounded by hillsides of terraces. In the squares, women sit with their llamas for photos and children put on displays of traditional dancing. There are two distinct ethnic groups in the canyon, the Aymara-speaking Collaguas and the Quechua-speaking Cabanas. You can identify them by their distinctive headgear, taller for the Collaguas and round, flat ones for the Cabanas.
The canyon is also home to the Andean Condor, with the males having a wingspan of almost 3m, and they're a protected species. The best place to see them is the Mirador Cruz del Cóndor, around an hour's drive from Chivay. The canyon floor is over a kilometre deep here and you have to get there just after sunrise. It's an extraordinary sight to see them soaring on thermals, circling close by, undeterred by the crowds that gather. On the morning I was there, I spotted ten.

There are many hiking trails around the Canyon and tour companies offer guides and mules to carry your packs. The altitude can make it feel like tough going, so it's wise not to overestimate your fitness. If you're not feeling up to it, then it's easy to rent horses and sit back and enjoy the scenery.
Factfile
GO: Latam flies to Lima from Heathrow via Madrid. They also fly direct to Arequipa from Lima.
STAY: The Casa Andina Premium makes a comfortable base in Miraflores.
The Casa Andina Premium makes a comfortable base in Arequipa.
Las Casitas is a luxury retreat in Colca Canyon with excellent food.
EAT: Costanera 700 serves gourmet ceviche in Miraflores.
The Huaca Pucllana Restaurant is next to the archaeological site, perfect for viewing at night.
Osaka serves Nikkei dishes in Miraflores.
Panchita in Miraflores serves hearty Peruvian food.
La Nuevo Palomino in Arequipa serves traditional food.
La Benita de Characato has local delicacies including Guinea Pig
Wititi Restaurante Turístico, just outside Chivay, has a sumptuous local buffet.
INFO: Peru Travel has information about the country.