I never imagined that I would ever follow in the footsteps of Laurence of Arabia in any way shape or form to the world's 12th largest country and the largest in the Middle East.
This, after all, is Saudi Arabia, a young country of 13 provinces, whose people have been living nomadically on this land for thousands of years. Yet from its inception as an absolute monarchy in 1947, the borders have been closed to non-Muslim tourists jealously guarding its Islamic culture, effectively keeping its UNESCO sites, such as the ruins of the Nabatean Kingdom in Al-'Ula, away from Western eyes.
Clerics bolstered the power of the royal family ensuring religiosity paved the way for secrecy while religious police (mutawa) ensured women were hidden behind an abaya and certainly not seen working or walking with members of the opposite sex in public.
For 75 years the only stories heard by the west were of controversial human rights issues, capital punishment and the headline news of the alleged assassination of dissident journalist Jamal Ahmad Khashoggi at the Saudi consulate in Istanbul.
Yet here I was, a blond-haired woman from London doing the unthinkable; travelling in Western attire passing freely through the ultra-modern King Khalid International Airport in the capital Riyadh having my passport stamped by a female whose face was not obscured by a niqab.
For the longest time, there were no cinemas screening western films and now I see billboards advertising them. As for music, even hotel lifts were banned from broadcasting any music. Yet, Andrea Bocelli had a concert at the Maraya Stadium in the Alula desert while Bruno Mars, Post Malone, Marshmello, Carl Cox and were part of MDL Beast's Soundstorm mega festival in Riyadh. This is good news for a young population, of whom 70 per cent are under the age of 35 years of age.
How has this happened? And is Saudi Arabia ready for global tourism?
Crown Prince Mohammed bin Salman, former minister of defence (2015–22) and the newly appointed prime minister, knows that significant oil revenues cannot last forever. He considers high-end tourism to be a viable source of revenue for the future and that means welcoming tourists from wherever they hail. Vision 2030 is a wide-ranging tourism project with $800 billion to be invested by 2030 on everything from transportation infrastructure to entirely new cities. There's no homelessness, education is free for Saudis and there's no debt.
In September 2019 the Crown Prince launched a visa/evisa regime for 49 countries for a fee of $80 and relaxed dress codes for female visitors on the proviso that women remain modest by covering their arms and legs. Tourism Minister Ahmad al-Khateeb described this moment as "historic".
Riyadh's main roads are modern and wide, even if the flow is slow due to the sheer weight of traffic. A local I was chatting to quipped that "traffic will only get worse now that women are allowed to drive" but pointed out that a high-tech metro will be ready soon which should ease the load in this sand-hued city where nobody cycles or walks.
There are still some restrictions; alcohol is still illegal and tourists are banned from visiting Mecca and Medina, the holiest cities for Muslims who visit for the Umrah and Hajj pilgrimages. Gender segregation persists – at the Shangri-la in Jeddah I was refused entry to their swimming pool because it is "for men only". Another traveller told me they do the same at the Ritz Carlton.
If your interest has been piqued then what can you expect from a trip to Saudi Arabia?
Riyadh – The Boulevard
Staying a night at the five-star Fairmont hotel I take the opportunity to visit Riyadh's newly completed and expanding entertainment centre – The Boulevard.
Part of the festive series of events called Riyadh Seasons, nine zones burst with flashing advertisements crammed with high-end shopping, restaurants, live music and colourful fountains that sway to the music. Imagine Times Square in New York, Las Vegas in Nevada and Piccadilly Circus in London rolled into one. Overhead cable cars are bringing in Saudis from the surrounding area.
Iman, my guide was clad in an abaya that covers her body to the ground, and though no longer compulsory, a niqab. When distracted it was tricky to find her again as many Saudi women choose to wear the same. Thankfully we find our way to the Al Nakheel Boulevard restaurant, one of many, for a delicious alcohol-free Middle Eastern dinner.
Riyadh – Kingdom Centre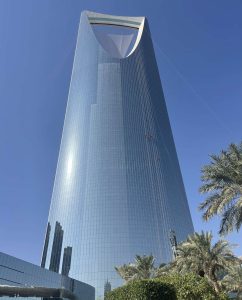 Amid the yellow colours of the land, are modern towering buildings that reflect the sun and the sky. The tallest is Kingdom Centre, a 41-story skyscraper stretching 303 metres/992 ft into the sky.
It's home to the luxury Four Seasons hotel, restaurants, offices and a vast shopping centre replete with luxury brands.
The reason I mention it here is to highlight the superb views over Riyadh seen from its inverted catenary arch at its zenith – a glass sky bridge observatory.
I take two lifts to the top; the first takes 50 seconds to reach the height of 180 meters to the Transfer level, and the second takes less than 40 seconds to reach the Sky Bridge.
Riyadh – Al Dirah Market
Later visiting the souq (market) is a grounding and far more authentic experience. I enjoyed browsing the market. I want to buy everything but come away with just a scarf for which I barter.
Riyadh – Masmak Fort – UNESCO site
The country has plenty of historical sites that are being restored and opened to attract archaeology-conscious tourists. One such place is the 19th-century Masmak Fort – the word means a high strong and thick building – looked pretty robust in the morning sun considering it is 157 years old.
It was captured by King Abdulaziz bin Abdurrahman Al-Saud in 1902 when he returned from exile in Kuwait, to retake Riyadh. He changed the history of Arabia forever by putting into motion the unification of most parts of the Arabian peninsula thereby forming the foundation of the Kingdom of Saudi Arabia.
It's a museum now with maps and images of Saudi Arabia during 1912-1937 and a demo of coffee etiquette traditionally made with the Khoulani bean. It's been part of the country's legacy for 3,000 years.
Riyadh – At-Turaif district in the ad-Dir'iyah – UNESCO site
Just a few miles northwest of Riyadh is Di'iyah, the historical birthplace of the Arabian Peninsula where the Saudi State planted its roots some 300 years ago. It was destroyed in 1818 when the Ottomans invaded Arabia.
At its height, 30,000 people were living here in mud houses on the famous oasis of the verdant Wadi Hanifa. It has been restored mud brick by mud brick just as the Najdi (the name of the people of the time) would have built it.
Incidentally, the Italian SuperCup and Formula E racing will take place in Dir'iyah in January.
Alula
I arrive at Alula international when a meditative Dhuhr, the noon-time Muslim prayer, was playing over the tannoy. I was heading for Alula city a gentrified desert, where two million palm trees have grown up dutifully supplying the nation's dates. The desert has been tamed while maintaining nature's artfully carved rocks standing tall and beautiful.
Alula – Hegra
Hegra, an ancient 52-acre city, once belonged to the Nabatean Kingdom and later it was used by the Roman Empire. Excavations have revealed 110 well-preserved tombs from 1st millennium BCE into the 1st millennium CE and I visit the noblest.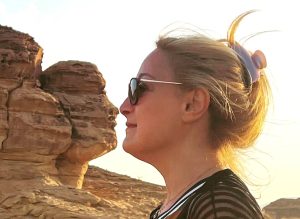 There are several really beautiful rock formations all over Alula and amid the monumental tombs of Hegra, near Jabal AlAhmar tomb to be precise, is an incredible rock called Face Rock.
To my amazement this Face Rock has taken on the form of my profile; so I had to take this image, corny as it is.
Alula – Jabal Alfil – Elephant rock
Another incredible rock formation thankfully has no resemblance to me is the 52-meter-high Elephant Rock, located 11km northeast of Alula . Walking up three levels of carefully placed wooden stairs is so worth it to both see it.
There is comfy seating submerged in the sand from where I watch the nightfall and enjoy some star gazing while ambient music was playing. There are coffee shops nearby and best of all entry is free.
Alula – Dadan
For more archaeology, there's the Dadan, the ancient kingdoms of Dadan and Lihyan of the 9th and 8th century BCE. who ruled over the incense trade. The 10 tombs carved out of red rock mountains are remarkably well-preserved. Close by, a ten-minute ride is Jabal Ikmah mountain and the surrounding stunning desert canyon.
Alula – Maraya Concert Hall
My head was turned by the Maraya concert hall – no ordinary building. This mirrored building is considered architectural art that both reflects and dazzles in the Ashar Valley of the Alula desert.
At first glance, it could so easily be dismissed as a mirage but it is very real and its entry in the Guinness Book of Records as the biggest mirrored building (9740 square metres of mirrors) in the world is a testament to that. I blink a few times in the afternoon sun to really focus on the image.
It has won so many awards far too many to be listed here, but if you can get tickets to one of the varied concerts, you will be in good company.
Jeddah
My final destination is the coastal city of Jeddah. More humid than elsewhere thanks to the sea, the city has some interesting buildings. I am intrigued by Raswashin. These wooden protrusions are almost windows and not quite balconies designed with intricate carvings in wood and dark glass to let in light and to see out but remain opaque to voyeurs.
Alleyways lead to squares where people meet and chat and bustling markets where I shop alone and feel welcomed.
The future
For sure, Saudi Arabia is turning high-tech, with audacious plans for the fully sustainable 28-thousand-kilometre Red Sea Development. It will be totally powered by renewable energy, and contain a coral farm. With its attractive pristine waters and various islands, you can think of it as Saudi's answer to the Maldives. It will be ready for tourism in 2024.