Think Norway and the land of midnight sun comes to mind – and those stunning views of steep mountains rising up out of deep fjords. Of course they are still there in the winter, but will be clothed in snow and often obscured by mist. There are compensations, however, not least almost guaranteed sightings of the spectacular northern lights. Snow snowing, reindeer racing are all on the agenda, not forgetting those stimulating dips straight out of the sauna into icy water of fjord or sea.
BERGEN
The waterfront of Bergen is overlooked by the beautifully restored wooden houses of Bryggen, now UNESCO listed. The fish market sits right by the harbour where you can watch ferry boats leaving for the fjords. Multi-coloured houses climb up the surrounding hillsides with a funicular and a cable car whisking you upwards for glorious views.
Swim
For brave Bergen folk, an early morning swim at Nordnes Sjøbad is an appointment not to miss. Although there's a 25m heated swimming pool, steam rising in the gloomy morning light, a leap into the chilly sea is the start of proceedings. On the morning I was there, the water was around 7°C, warmer than the air at 5°C. Still it was a relief to soak in the swimming pool afterwards, before a spell in the sauna before repeating the process.
Food Tour
Cold water certainly swimming works up an appetite and Bergen has been designated as a UNESCO City of Gastronomy. There's a food festival in September and seaweed festival earlier. But a three-hour food tour led by a local guide takes you through the history of Bergen and local food traditions. You also get to taste typical dishes including a hearty soup and fishcakes and you're rewarded with a local beer at the end.
KODE Art Museums
The country's second-largest art gallery is in fact housed in four separate buildings with different themes. KODE 3 is all about Norwegian. Works by artists such as J. C. Dahl, Hans Gude, Harriet Backer, Christian Krohg, Kitty Kielland, Nikolai Astrup and Erik Werenskiold are arranged over two floors. The highlights are the works of Edvard Munch including several pieces from his Frieze of Life series. It makes you realize that, although he's known for The Scream, his other artworks are just as impressive.
FJÆRLAND
Around 250km from Bergen is Fjærland, easily accessible by flight from Bergen to Sogndal and then a short drive. It's a one street town running along the edge of Fjærlandsfjorden, nestled below the steep slopes rising up from the water. On offer in the winter are fishing and a floating sauna. Incredibly it's also famous as the Book Town of Norway with 10 bookshops and an annual literary festival. Further up the valley is the Jostedalsbreen glacier, the largest in mainland Europe.
Glacier Museum
Two life-size models of woolly mammoths stand guard outside this distinctive modern building. The emphasis inside is on the interactive, all designed to teach about glacier geology and the process of fjord formation. There's a simulated ice tunnel and tusk of a Siberian mammoth but perhaps the highlight is in their cinema. A huge screen shows a specially shot epic film, taking you on a stunning trip to the heart of the Jostedalsbreen glacier.
FLÅM
A two-hour drive south brings you to Flåm in a spectacular setting at the end of Aurlandsfjord, a branch of the vast Sognefjord. Winter activities here include a snow shoe tour above the fjord and a cruise in an open Rib on Aurlandsfjord and into the head of Nærøyfjord. There's a stop at the village of Undredal to taste the local cheese, but it can be an ordeal unless you wrap up well. Also not to be recommended when visibility is poor
Flåm Railway
This is steepest railway journey in the world without cable or cogs and, although only 20km long, gains 864m through 20 tunnels. The gradient is 1:18 and it takes 45 minutes to climb up to the mountains. Construction of the railway started in 1923 and was finally completed in 1940 by the Nazis. In winter there's often a complete whiteout as you reach the station at Myrdal on the Hardangervidda plateau. From here you can connect with mainline trains to Oslo or Bergen.


TROMSØ
350Km north of the Arctic Circle, Tromsø sits on an island, connected to the mainland by bridge and tunnels, with a lively port. It started life as a base for hunting, trapping and fishing but nowadays is most tourists' gateway to the Arctic. Surrounded by snow-capped peaks, there's really a sense that you've made it to the top of the world and it's one of the best places in Norway to see the Northern Lights.
Polar Museum
Right on the harbour, this museum is delightfully old fashioned with stuffed animals, black and white photos and memorabilia from the Nansen and Amundsen exhibitions. It tells the history of trapping, whaling and sealing, even walrus and polar bear hunting. A room each is dedicated to the polar explorers, Amundsen first to the South Pole in 1911, and Nansen who failed to reach the north but pointed the way for others.
Reindeer Racing
Sami is the name of the indigenous people of Sápmi, inhabiting the Arctic regions of Scandinavia. Sami Week in Tromsø is an annual festival held around the Sami National Day on February 6th and includes a spirited reindeer race, run since 2004. The course of just over 200m runs through the main street and involves jockeys on skis pulled by reindeers at speeds of up to 60kmh. In a series of heats, two reindeers race against each other, with the world record of 14.936 seconds set in 2005. It's an incredible sight.
Northern Lights
Although they say you're almost guaranteed sightings of the Northern Lights in Tromsø, the weather is overcast and there's zero chance on my visit. That doesn't mean you can't see them elsewhere so a flotilla of mini-buses set off on a chase to find them. It reminds me of a game safari where you're looking for that elusive lion, with drivers communicating information between them.
Eventually, after a 200km drive to the border with Finland, we stop and get out. All I can see is a vague ring of white cloud, but once cameras are activated and set on long exposures, we realise that they're there after all. It's not the best sighting but at least I can tick it off my bucket list.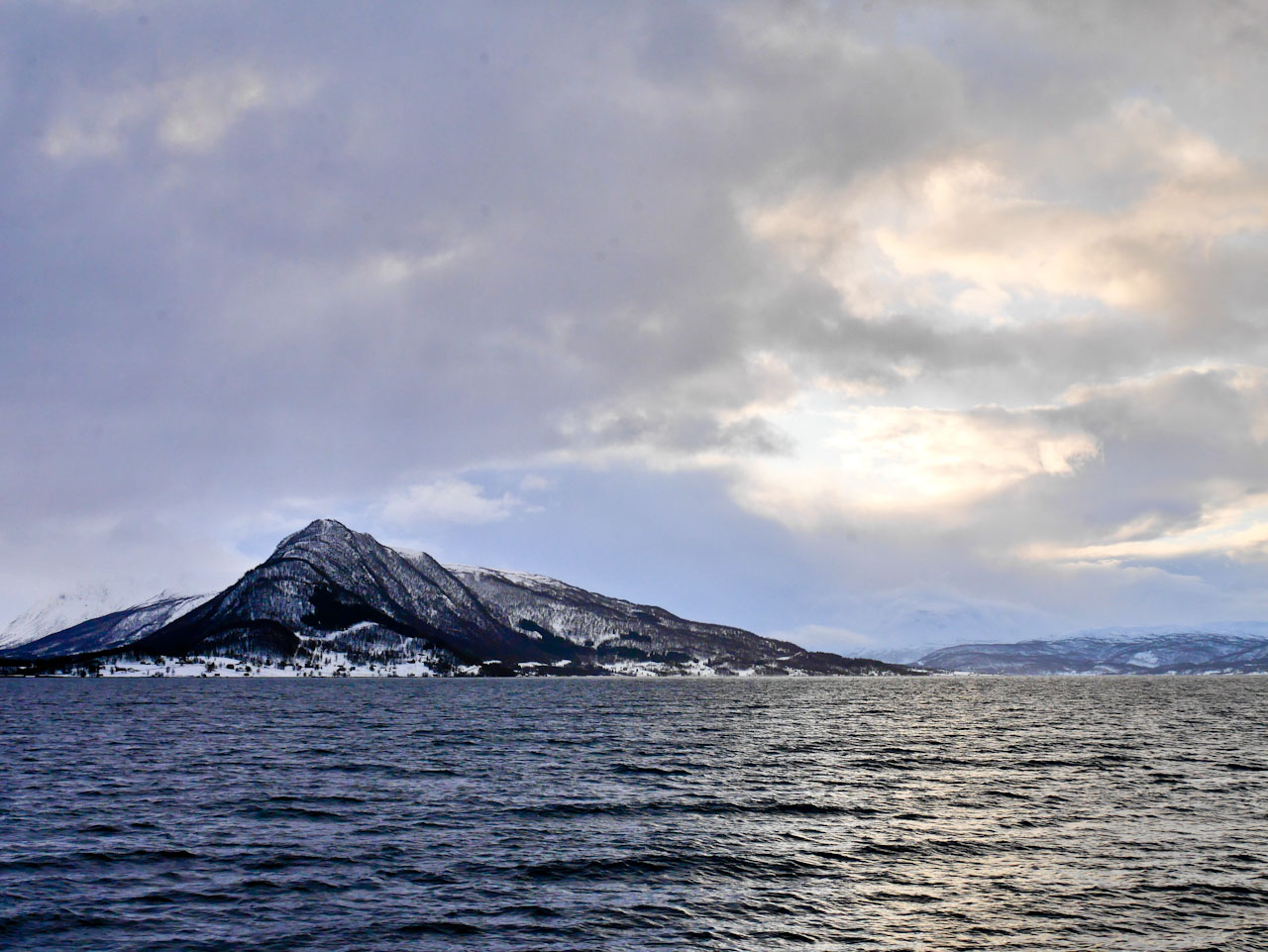 FACT FILE
GO: Norwegian airline Widerøe flies daily from London to Bergen and Aberdeen to Bergen. Single fares start from just £62. It operates several daily direct internal flights between Bergen and Sogndal and Tromsø so you can easily visit the Fjords and Arctic north.
NOTE: Norwegian airline Widerøe flies daily from London Heathrow to its hub at Bergen. From Bergen there are frequent onward connections to a number of other destinations in Norway, making it possible to enjoy a two-centre holiday in both Bergen and, for example, Tromsø.
Food Tour takes you to tasty bites around Bergen.
Snowshoe Hike takes you above the fjord.
Winter Fjordsafari takes you on a RIB around the fjord.
The Flåm Railway is world famous.
Tromsø Friluftsenter organises Northern Lights trips.
STAY: Scandic Torget overlooks Bergen's waterfront.
Fjærland Fjordstove hotel is on the shores of the fjord and serves excellent food.
Fretheim Hotel makes a comfortable base in Flåm.
Thon Hotel Tromsø is right in the centre of the town.
EAT: The Fish Me restaurant at the Fish Market in Bergen has excellent seafood.
The Skyskraperen Restaurant is at the top of the gondola and has wonderful views over Bergen.
Bardus Bistro serves good food in Tromsø.
SIGHTS:
INFO: