Over a third of Swiss Wine comes from the vineyards of Valais, stretching for a hundred kilometres along the river Rhône. Sion, the region's capital straddles the river, and two 13th-century castles, Valere and Tourbillon, overlook the town. Vineyards, typical of the area, run up the steep slopes and along the terraces of the southeast-facing hillsides.
In 2019, after the harvest in October, they started staging what they call a Marathon Des Saveurs. This annual event involves an all-day 22km hike through the vineyards, with five pit stops to sample two wines and taste a local dish.
There are two routes, each running in opposite directions through the valley, and both start at the Place de la Planta in Sion. It looks like a lot of fun.
The day dawns bright and sunny but not too hot, perfect for the hike. Being Swiss, everything is extremely efficient, with start times staggered – I've been allocated the 9.20 slot and arrive at the Place de la Planta a few minutes beforehand.
I collect the free water bottle and my wine glass and am all set. On the map, it looks easy but I have a sneaking feeling that we'll be walking up and down the steep vineyard slopes.
Stage One – Cave du Mont d'Orge
And I'm not wrong. First, it's uphill on the road, before turning off and completing a half circuit around the scenic Lac du Mont d'Orge. Red signs ensure we can't get lost and they lead to the first stop at Cave du Mont d'Orge. There's already quite a crowd but wine and food are efficiently doled out at separate stalls. An Assiette Valaisanne, local cheese and sausage, works well with the two wines – a white Fendant Gran Cru Ville de Sion and a red Dôle.
Stage Two – Tour Lombarde
I linger for about thirty minutes before getting going again. After a couple of glasses of wine, there's now a general air of celebration. Some have even purchased extra bottles and are refilling their glasses and toasting as they walk. The views down the valley, back to Sion are spectacular, and the route takes us up and down and then up again.
The next stop is at Tour Lombarde in the village of Saint-Severin. Already, there are less people here than at the first halt. The queues for wine are also shorter and I'm served a Chardonnay and Pinot Noir, both grown locally. Cooks are stirring vast vats of Soupe de Courge, pumpkin soup, and with a few pieces of bread, it's enough sustenance to fuel the third stage.
Stage Three – Ardon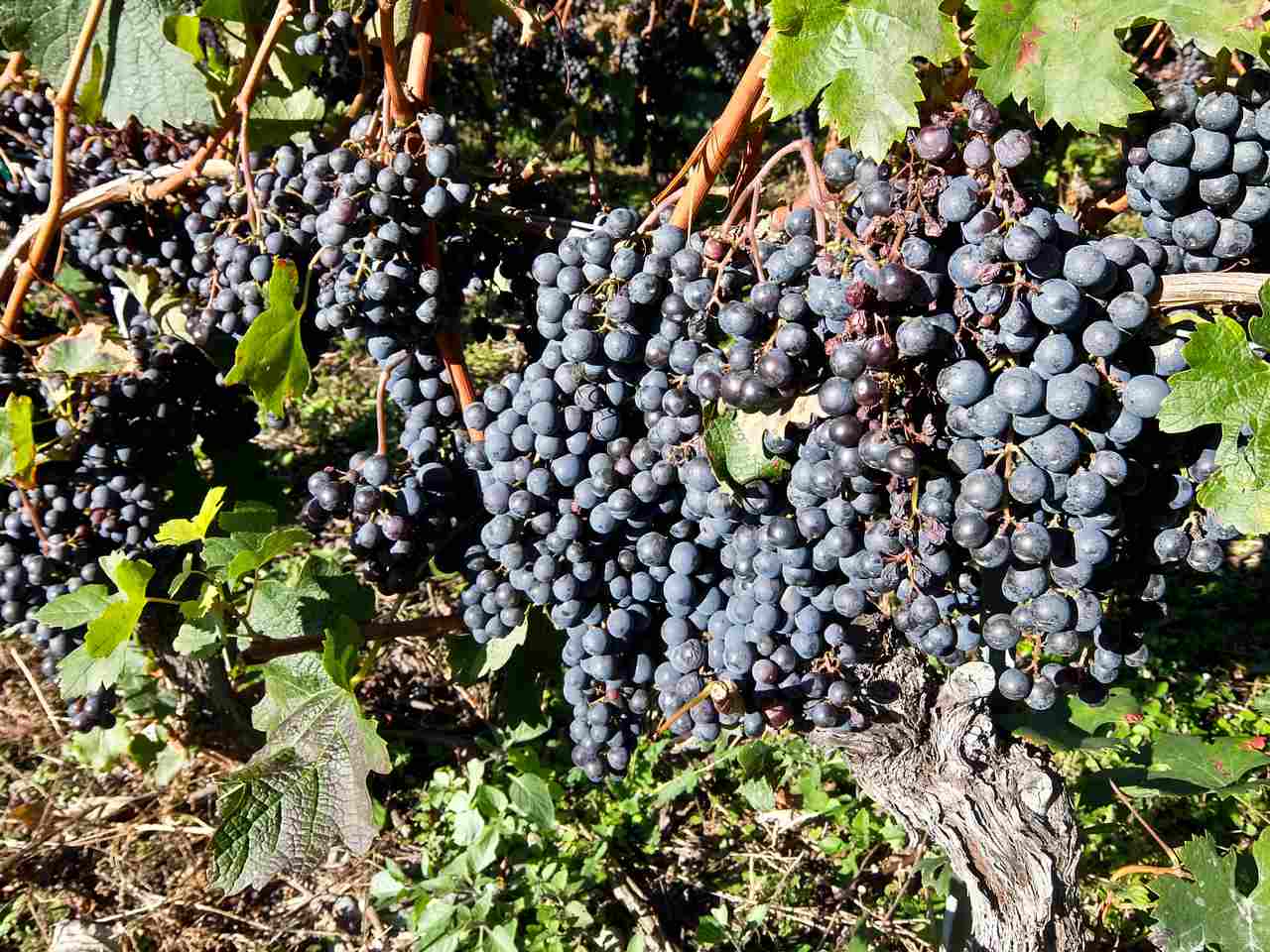 It's an easy climb up through the vineyards. Even though the main harvest is over, there are still grapes on the vines and work is still ongoing.
The signs lead downwards to the village of Ardon. Here they're preparing Raclette, softening up the cheese on gas burners and then peeling hot strips onto paper plates.
Small potatoes and pickled onions complete the dish. The accompanying wines are a white Paien and a red Gamay.
Stage Four – Chamoson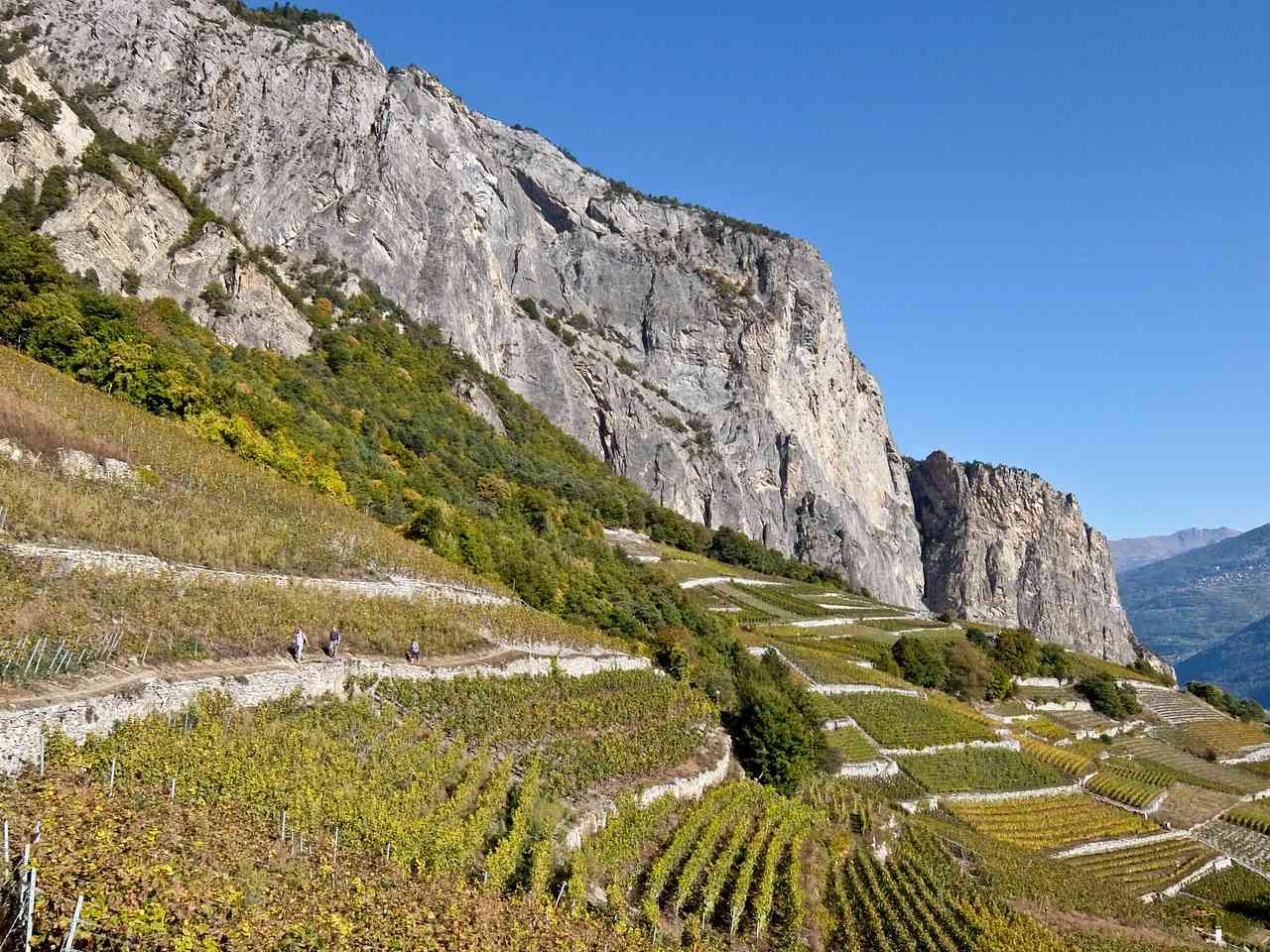 From here it's very serious uphill, right up the side of the valley, then following terraces through the vineyards and more climbing.
I seem to be ahead of the pack as I encounter few hikers, the others perhaps lingering to better enjoy the wines. This is definitely the most strenuous part of the walk but I make it to the fourth stop, just above Chamoson. There's table service here with a hearty Croute aux Champignons, wild mushrooms on toast, almost a full meal. You still have to get your own wine, though, this time a white Johannisberg and a red Cornalin.
Stage Five Saint-Pierre-de-Clages
The end is in sight as the railway line and the station lies below, seemingly not far. It's downhill from here, through the outskirts of Chamoson to Saint-Pierre-de-Clages. I arrive at around 4pm, after around six and half hours of walking. I'm tired but not exhausted and also not the first. Interestingly, even though I've downed eight glasses of wine during the day, it seems to have had no effect on my exertions.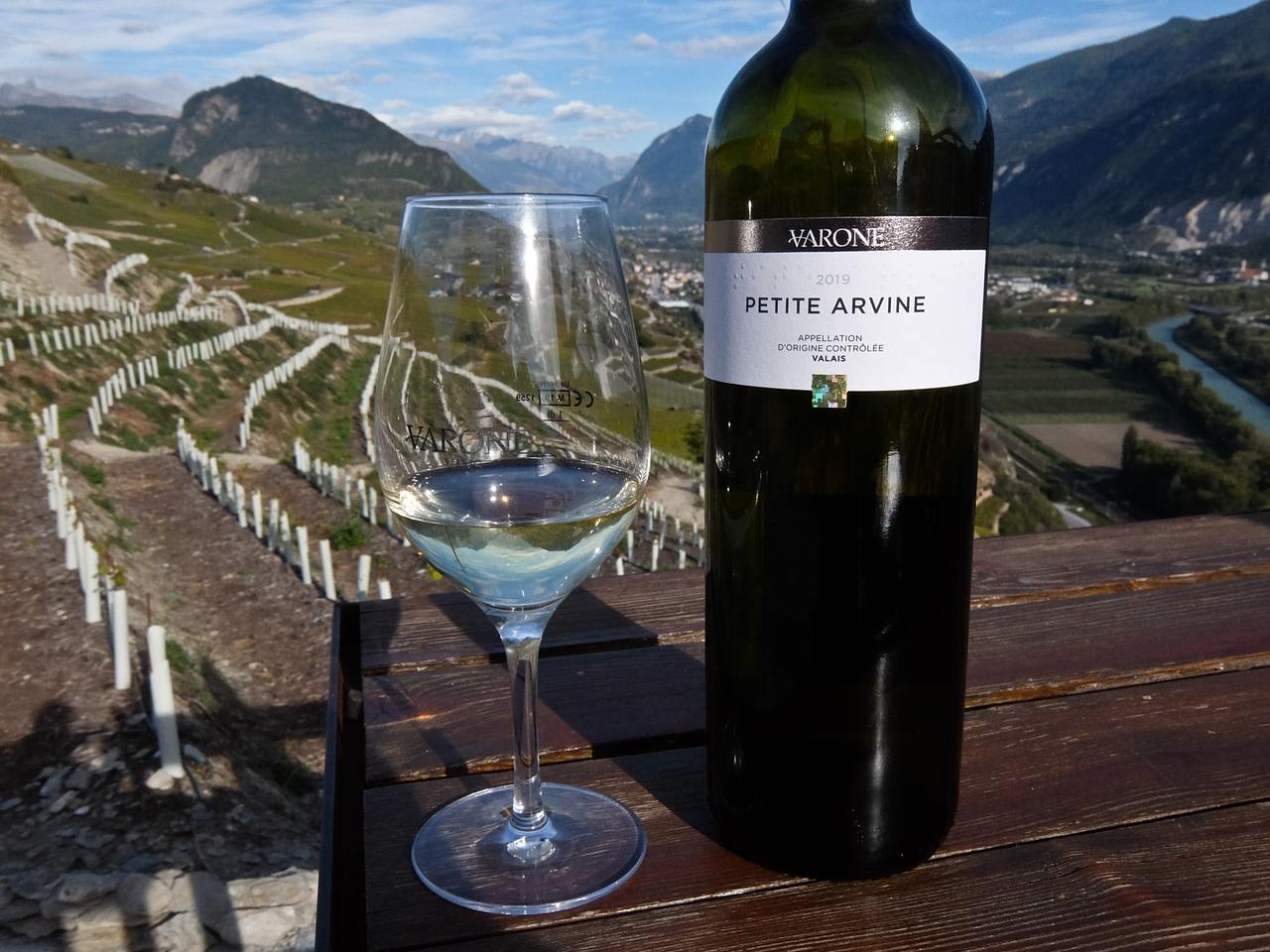 There's no celebration, prize or medal, but just two more excellent wines, Petite Arvine and Humagne Rouge. After the final stage, it's time for dessert – Tarte au Johannis, a sort of baked egg custard with Johannisberg wine. I forgo coffee and amble down to the station and catch the train back to Sion.
Valais wines are little known outside Switzerland, in part because very few are exported. During my hike, I've tasted robust reds, mainly from indigenous grape varieties, and also delicate Pinot Noir wines, the principal variety in the Dôle blend. The whites tend to be light and delicate like Fendant or Petite Arvine. The Marathon Des Saveurs is an excellent way to sample Valais wines, right in the heart of the beautiful vineyards.
Fact File
INFO: The next Marathons des Saveurs will take place on 22/10/2022
My Switzerland has information about the country.
Visit Valais has information about the region.
Sion Tourism has information about the town.
TRAVEL: SWISS offers more than 160 weekly flights from London City, Heathrow, Manchester, Birmingham, Edinburgh and London Gatwick (seasonal) to Zurich or Geneva. One way fares start from £76 to Zurich and £54 to Geneva including all taxes, fees and surcharges, one piece of checked and hand luggage.
The Swiss Travel Pass offers unlimited travel on consecutive days throughout the rail, bus and boat Swiss Travel System network. This pass also covers scenic routes and local trams and buses in around 90 towns and cities. The Swiss Travel Pass also includes the Swiss Museum Pass, allowing you free entrance to 500 museums and exhibitions. Prices from £186 for 3 days in second class.
STAY: Hotel Elite makes a comfortable base in the centre.
EAT: Restaurant La Pinte Contheysanne serves good local food.