Say goodbye to boredom and hello to adventure with these trips from heli-skiing in Canada to hut-to-hut hiking in Colorado for this year will surely be 'Catch-Up' 2022 for the holidaymaker.
Take a look below at 18 inspiring, cultural or adrenaline-inducing experiences to try around the world this year.
Heli-Ski in Whistler, Canada
Whistler is the place for adrenaline junkies to get their hearts pumping. Experience the thrill of jumping out of a helicopter and shredding some world-class backcountry powder. With endless terrain and zero lift lines, heli-skiing is the ultimate ski or snowboard experience. All tours include transportation to and from the Whistler base, lunch, avalanche safety equipment and experienced guides to take skiers and boarders on a once in a lifetime adventure. Skiers and boarders must be strong intermediate, advanced and experts on the snow. www.whistler.com
Ski with an Olympian at Deer Valley, Utah, USA
Frequented by numerous celebrities, Deer Valley in Park City, Utah, is one of the most exclusive ski resorts in the USA. The resort offers a 'Ski with a Champion' programme where skiers can hit the slopes with one of six Olympic athletes based in the area. Guests will spend the day exploring the mountains, picking up pro tips along the way. From $1,400 for a half-day experience and $2,400 for a full day. Visit deervalley.com
Husky sledding in Hokkaido, Japan
Hokkaido is Japan's wild frontier, especially in winter when cars are ditched in favour of snowmobiles and huskies. In the town of Takasu, visitors can experience the joy of being pulled through the winter landscape at 30 km/h by incredible Alaskan and Siberian huskies. The breeds have the best characteristics for sled pulling – quickness, strength and high-energy. This is a unique and unforgettable way to traverse the snowy Japanese landscape. Visit japan.travel/en/uk
Backcountry skiing in Aspen Snowmass, Colorado, USA
As well as great beginner terrain, Aspen Snowmass is home to some epic steep runs and expert slopes, but those looking for an extra rush should explore the Colorado background with an Aspen Mountain Powder Tour. The tour, led by expert guides, takes guests in luxury snowcats to prime untracked glades and runs on the backside of Aspen Mountain. Fresh tracks are guaranteed and a gourmet lunch is included. From $625 per person. Visit aspensnowmass.com
White-water rafting in Sacramento, USA
A short distance from Downtown Sacramento, visitors can embark on a white-water rafting adventure on the American River, at one of the most popular rafting destinations in the US. Whitewater Adventures offer a 1-day rafting excursion from £57 – the Upper Cache Creek – a Class III white-water run through a volcanic canyon. The tour travels eight miles through wilderness, towering canyons and meadows and is available for a range of abilities. visitsacramento.com
Kayak through the centre of Pittsburgh, USA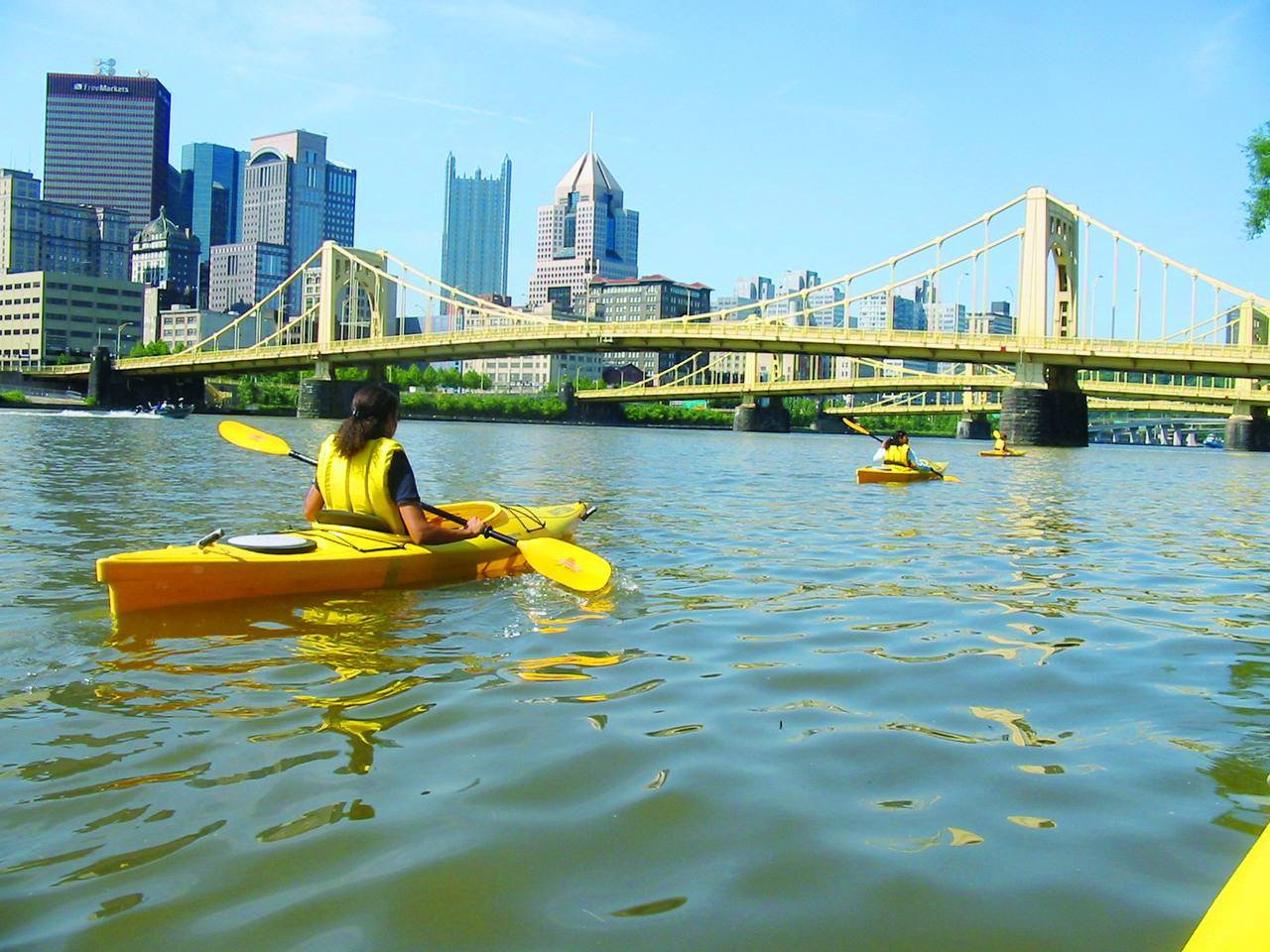 The urban city of Pittsburgh is where three rivers meet – the Monongahela, Allegheny and Ohio – meaning there's plenty of opportunities to hit the water. Travellers can see the city's impressive skyline with a Venture Outdoors kayak adventure. The calm waters make for excellent kayaking conditions so guests can explore, enjoy the scenery, and create lifelong memories. visitpittsburgh.com
Wakeboarding in Hungary
Wakeboarding is becoming an increasingly popular attraction in the natural waters of Hungary as more and more wakeboarding bases have been built in the country. Near Budapest, visitors can take part in the sport at Lake Omszk, Dunaharaszti, Martonvásár or Gyömrő. Additionally, there are wakeboard tracks in Siófok, Balatonfüred and Vonyarcvashegy around Lake Balaton, and at Lake Velence in the city of Velence. Visit visithungary.com
Chasing Maverick in Half Moon Bay, California
California is blessed with some truly epic waves, but those looking for a real challenge should head up the Central Coast to Half Moon Bay, just north of the famous surf town of Santa Cruz. A longtime local secret and now the most famous wave anywhere on the California mainland, Mavericks is a mecca for the pros. Celebrated in books, documentaries, and the feature film Chasing Mavericks, waves here can rise to 80-foot faces when conditions are right. www.visitcalifornia.com
Skydive in Yosemite, USA
Located at the Mariposa-Yosemite Airport, Skydive Yosemite is the only skydiving option with a bird's-eye view of iconic El Capitan and Half Dome. Dives can be reserved from 10k, 12k and 14k feet, and include options such as an aerial tour of Yosemite National Park and professional video as divers tug that ripcord amid the roar and rush of adrenaline. Skydive Yosemite is family-run and staffed with experienced jumpmasters and pilots to help visitors take that big, exhilarating leap. Visit yosemite.com
Cliff camping in Slovenia
Discover Slovenia's beautiful Nadiža river in a unique way with Pangea Adventures' vertical camping experience. Guests can abseil down the Debelo Čelo cliffs to a 180m suspended ledge, where they can enjoy the incredible Alpine views whilst tasting local Slovenian delicacies. At the end of the experience, adventurers can swim in the warm waters of the Nadiža river, which is said to have healing powers. From €389 per person. Visit www.slovenia.info/en
Paragliding in San Diego, California, USA
Torrey Pines Gliderport in San Diego has been getting visitors up in the air for over 100 years. The historic glider port offers tandem flights where guests get to experience incredible birds-eye views of the Torrey Pines neighbourhood, world-famous Torrey Pines Golf Course, and the magical Pacific Ocean. Lasting 20-25 minutes, the flight ends with a gentle landing on Black's Beach for a short hike back to the top of the cliff. From $175 per person. Visit sandiego.org
Swimming with sharks in The Islands of Tahiti
French Polynesia has the distinction of being the largest designated shark sanctuary in the world. There are more than 350 species of sharks known worldwide and 19 of them can be observed in the waters of The Islands of Tahiti. Adventure travellers can swim with sharks in Bora Bora as well as many other islands including Moorea, Rangiroa and Fakarava. The Bora Bora lagoon is home to many coral gardens, shark species and tropical fish. Thrill-seekers can also take part in shark diving to see larger species such as hammerhead sharks and silvertip sharks. Visit tahititourisme.uk
Mountain bike next to the city skyline in Seattle, Washington, USA
Mountain bikers who travel to Seattle are spoiled for choice with several world-class trails just a short drive away from the city centre. The trails offer a variety of riding styles and include everything from singletrack cross country to bike park jump lines with surrounding trees and amazing landscapes. Some of the most popular places to bike in the surrounding Seattle area include Duthie Hill and Tiger Mountain. For those wanting something with fun short loops and skill-building parks, there's many smaller learning tracks closer to the city. Visitseattle.org
Hut-to-hut hiking across Aspen, Leadville and Vail, Colorado, USA
Home to more huts than any other state in the USA, Colorado is the best place to participate in hut-to-hut hiking. During the 80s, members of the 10th Mountain Division of the US Army recreated huts they'd spotted whilst on duty in the Alps and so, the 10th Mountain Division Hut System was born. Spreading across a 350-mile route and located in a triangular area between Aspen, Leadville and Vail, the network of 36 huts are a unique way for travellers to connect with the outdoors. The experience is doable year-round; in winter, travellers can cross country ski from one hut to the next and in the summer, they can hike or mountain bike. For adventure seekers and wilderness lovers, the huts include a bare bed, basic cooking utensils and melted snow for water. Visit www.colorado.com
Horse riding on the Tanesashi Coast, Hachinohe, Japan
Travelling on horseback is an incredible way to experience the world around you. Previously a horse pasture, this slice of the Sanriku Reconstruction National Park and Tanesashi Coast is now a place where visitors can take a tour of the dramatic coast from horseback. www.visithachinohe.com/en
ATV over sand-dunes in SLO CAL, California, USA
For an adrenaline-packed adventure, take an off-road ride on the otherworldly sand dunes of the Oceano Dunes State Vehicular Recreation Area, San Luis Obispo county, known to locals as SLO CAL. The last remaining coastal sand dunes are open to off-highway vehicles in California and provide an outdoor playground of about 1,500 acres (6 sq km) to off-roading enthusiasts. The ever-shifting sand means no two visits to the dunes are ever the same. Off-road vehicles crest the dunes and zip straight down or sideways and, at times, seemingly defy gravity. For a thrill ride, rent an ATV, real dune buggy or other off-road vehicles to help you explore the sand, complete with spectacular views of the Pacific Ocean. Visit www.slocal.com
Hiking and backpacking in Mammoth Lakes, California, USA
The Mammoth Lakes Basin is one of nature's most spectacular playgrounds. Located only minutes from downtown Mammoth Lakes, the basin is a hiker's wonderland of pine forests, jagged mountains, blooming wildflowers and crystal clear water. With over a dozen high alpine lakes and almost 100 miles of designated trails providing access to the John Muir Wilderness Area, and into the heart of the Sierra Nevada, the Mammoth Lakes Basin is the perfect scenic spot for hiking and backpacking through California's Eastern Sierra. Visit www.visitmammoth.com
Culture Vultures – Get your fix in Serbia
The rugged mountains and sweeping plains of Serbia are home to a wealth of culturally significant monastery complexes. In the company of energetic linguist and art historian Dr Alex Koller, delve into the country's rich and varied background as you travel from bustling cities to remote villages.
Explore fortresses, churches, mosques and cathedrals, and view outstanding art such as the 'White Angel' fresco at Mileševa Monastery. Visit Ace Cutureal Tours