Travel should be accessible to everyone. Yet, for travellers with mobility impairments, options are often limited. Being disabled shouldn't stop travellers from seeing the world or enjoying the same hospitality as their non-disabled peers.
There are EU guidelines and US guidelines in place, yet many attractions, hotels, pubs and even public transport are simply not geared-up for easy access for wheelchair users, or just don't offer assistance. It is not unusual for listings to state that they offer barrier-free access on booking sites when this is not the case, in reality, leaving guests with access requirements without the facilities they need and deserve.
It's infuriating to be excluded in this way because of the lack of facilities, or information that warns of these hurdles. It is possible to avoid this frustration thanks to a recently launched app.
iAccess Life was created by CEO and Founder Brandon Winfield, who is a wheelchair user himself.
The App allows users to easily research, rate and review locations based on accessibility, whether this involves parking, seating, bathroom facilities, hotels or indeed any public place where all you want to do is get through the door.
Brandon is determined his app will "revolutionise accessibility for people with mobility impairments" and has been rolling it out since April 2019. To date, more than 3,500 places have been rated across 30 countries.
Listen to our podcast with Brandon Winfield
---
How iAccess Life works
iAccess Life provides users with detailed information around the accessibility of establishments such as restaurants, hotels, concert venues, and sporting arenas so they can easily find wheelchair accessible places and establishments that accommodate their needs. The app will allow users to "know before they go" and feel confident making plans with their friends, colleagues, and loved ones.
At the moment iAccess Life is catered specifically to those with mobility impairments, but they hope in the future to develop the App for a wider range of disabilities.
Getting started with iAccess Life
To get started, simply download the free App on the App Store or Google Play.
CLICK HERE TO DOWNLOAD THE APP
Then create an account and start searching establishments to read reviews on their accessibility. You can choose from various categories such as "Gym" or "Bars" to narrow your search.
If you don't have a particular establishment in mind, but want to see accessible establishments near you, use either the "map view" or "list view" to see accessible establishments that are near your location or ones that meet your category/search criteria.
If you can't see any places with ratings, use the "filter button" and set a minimum accessibility rating and then do a search. That should populate every place within a 25-mile radius that has an accessibility rating.
Click on the establishment (or pin on the "map view") to read the location profile, which contains information such as an address, phone number, and location type. Users can also see an overall accessibility rating, the location's rating from Google places and the specific average ratings around parking, entrance, seating, and bathroom.
Rate and review locations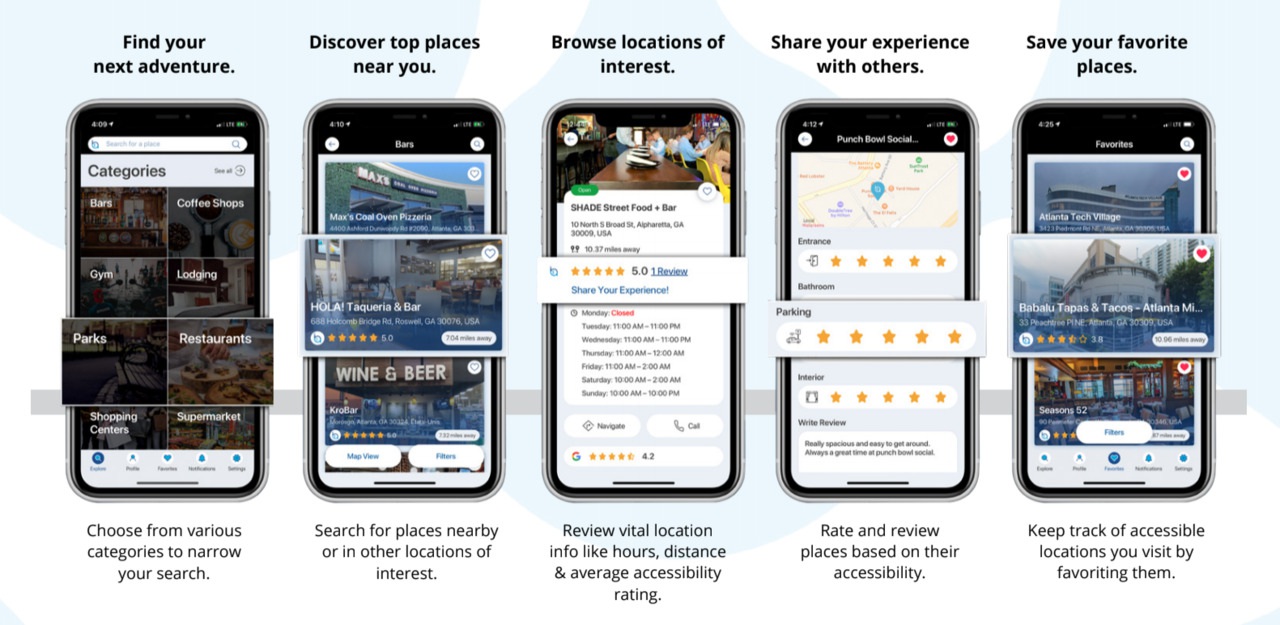 This is a crowdsourcing app, so you can rate and review current locations and add new ones too. On the location profile page, you can give a rating between one and five stars for the entrance, bathroom, parking, and interior seating of the establishment.
You can also write a text review, by clicking "Add a Review."
Brandon's hope is that iAccess Life will help shine a light on accessibility and encourage establishments to improve their inclusive offerings. At the same time, the app empowers wheelchair users and those with mobility impairments to find new accessible activities, accommodations and adventures easily.
For updates on iAccess Life, you can sign up to their newsletter on the iAccess website or follow them on social media (Twitter | Facebook | Instagram).
---
Disclaimer: This article was sponsored by iAccess Life