Leicester Square is pretty much always vibrant with the zesty chatter of young people in the mood for a fun evening out. This is why the location of Mr. White's restaurant right on Leicester Square is ideal.
There's plenty of choice around the square, yet Mr. White's gleaming white-washed building is hard to miss, not to mention its busy terrace.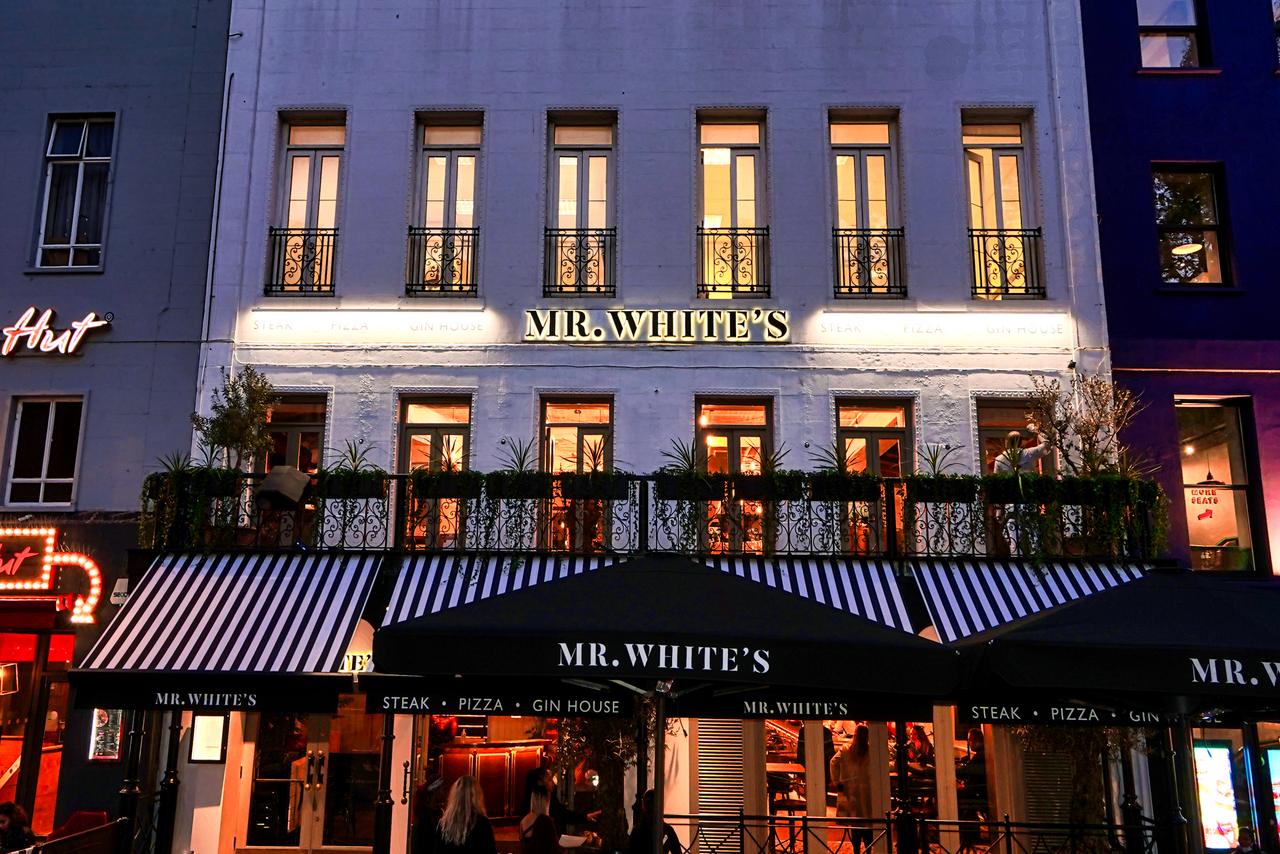 Entrance is heralded by a guard who checks you are at least casually well-groomed, the receptionist asks if you are eating or just here for the booze and then accordingly shows you to the vast dining area to a stool by the very long bar.
Ambience
The restaurant has only been there a few months but already is enjoying a full house every night with plenty of buzz. Hen parties, birthday parties, first dates, or those just wanting a night in the city make their way here.
There is ample seating (around 300 covers on the ground floor alone), with plenty of cushioned leather booths. Lighting is dimmed, music not too loud, just enough to dance in your seat and yet allow for lively conversations.
The Food
British born Marco Pierre White is offering primarily Italian cuisine – plenty of pasta and pizza as well as steaks and fish dishes. This is bistro food worth going out for – not to mention his very own gin, which of course we will mention further down.
We enjoyed the Meatballs al Forno served in tomato sauce and topped with parmesan cheese and the Saffron Arancini for starters. Both were wonderfully executed and delicious. Other options include Beetroot and Goat's Cheese Salad and Marco's Avocado Salad.
Mains were roasted salmon and of course, a steak – the 28-Day Aged Ribeye Steak, served pink. Both came with Koffmann fries (named after his friend) and piccolo tomatoes. People on the next table opted for Frankie Dettori's Margherita pizza and Alex James's Blue Monday pizza which were given a thumbs up, also named after his friends. He rubs shoulders with interesting people.
We didn't get to try the Redefined Meat dishes – made from plant-based ingredients and are free from GMOs, antibiotics, cholesterol, and animal-based products. Perhaps next time.
The Drink
I was drawn to the Rainbow cocktail, a mix of Haiku vodka, Havana rum, strawberry syrup, lime juice and egg white – the latter creates a foam on the top. Some may describe it as 'feminine' with its pink and white colour scheme and a butterfly attached, but a testament to its appeal is the dozens of diners sipping their Rainbows too.
As for Mr White's Gin, this is smooth on the palate while the aromatics are subtle – frankly far too easy drunk. We had it in a Martini which came with a pleasing hint of Vermouth.
We paired the food with a cheeky Rioja – Vina real Reserva 2015 and a fragrant Argentinian Chardonnay.
Verdict:
A lively, fun restaurant and bar, comfy seating, ambient lighting, serving all your favourites – even if you are vegan -in a sensational city location close to the cinemas and hippodrome. Celebrity food at highly accessible prices. Go. Enjoy.
Check out the menu here