Vancouver is a vibrant west coast Canadian city, dominated by glimmering high rise buildings and surrounded by mighty mountains. It's home to the legendary Vancouver Canucks hockey team, is a top location choice for the film industry and was the host for the 2010 Winter Olympics. In spring, the streets are lined with cherry blossom trees and in the summer residents flock to the beaches. The city is transformed into a canvas of colour in the autumn as the leaves change, and during the winter the mountainous backdrop is covered in snow. Vancouver is a year-round destination with a bustling downtown centre for city slickers but with an abundance of nature on its doorstep for adventure seekers.
Must see
Stanley Park is a beautiful, public outdoor space with a seawall path for locals and tourists to admire the view by walking, running or cycling. The beaches dotted along the seawall are packed in the summer months with people sunbathing and playing volleyball. In the winter, the views across to North Vancouver and the Coastal Mountains are stunning. There are also many trails crisscrossing the park which contains countless gardens, First Nations totem poles and the Vancouver Aquarium. Entrance to the park is free and available for everyone to enjoy.
Must visit
Gastown is Vancouver's heritage centre. The downtown area is known as the city's birthplace and is named after British seaman 'Gassy' Jack Deighton who opened Vancouver's first pub in 1867. Take a stroll around the streets to appreciate the history and architecture, pop into one of the districts many eateries and check out Kit and Ace for some local luxury clothing.
The two-ton Gastown Steam Clock on Water Street is powered by an underground steam pipes system provides heat to most of the downtown core. This must see one of a handful of such clocks in operation around the world. The steam provides the clocks whistles and steam shooting every quarter of an hour.
Must explore
Granville Island is not exactly an island, but is a creative hub at the base of Granville Bridge. The easiest and quickest way to get there is with the Aquabus from False Creek which takes about five minutes. Granville Island is a foodie paradise with a huge indoor market selling fresh produce, local cheese, chocolate, fish and delicatessen. The perogies (a type of Eastern European dumpling) with sour cream are exceptionally good and a perfect snack before heading to Granville Island Brewery to sample their vast beer selection. There are also many arts and crafts stores in the neighbouring streets and Granville Island Stage shows regular theatre productions.
Must eat
Asian food is popular in Vancouver, especially Japanese cuisine, and Guu with Garlic on Robson Street offers a creative menu in the Izakaya style. Despite being surrounded by other West End restaurants, Guu retains a steady following with regular waiting lists for tables, reflecting the quality and atmosphere. Once inside, staff shout out to welcome patrons, the service is quick, and they have even collaborated with local Russell Brewing to serve their own Guuud! Ale. Sitting at the bar with a view of the kitchen is a great experience as chefs take orders before preparing sushi with practiced efficiency. The daily special menu is especially worth a read with previous offerings of Japanese style chicken pot pie, yellowfin tuna with wasabi sesame dressing and fresh sea urchin. Be daring and try something new.
Must experience
A Caeser! The classic Canadian cocktail is similar to a Bloody Mary but prepared with clammato juice, a mixture of tomato and clam juice. The description may not be appetizing but it's truly delicious with many establishments serving their Caesers with a garnish of olives, sweet onions, pickled beans, asparagus or bacon. The Caeser is a popular brunch beverage and has become as synonymous with Canada as mountains and grizzly bears. Not to be missed.
Must sample
Yoga. Vancouverites embrace being fit and healthy and yoga is at the top of the list. YYoga is an established chain of studios in Vancouver offering a variety of classes from hot, flow, yin and spin. The instructors are educated and experienced, the studios are modern and most offer an infrared sauna to compliment a solid practice. YYoga's Burrard Street location is within walking distance for visitors staying downtown and they offer drop-in rates for yogis who are just in Vancouver for a short trip. Wake up early, take a flow class then enjoy the rest of your day exploring the city.
Where to Stay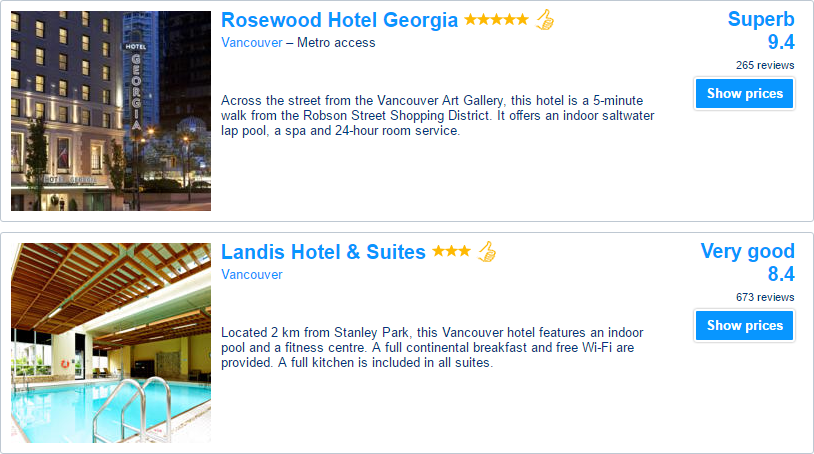 Recommended Tours