If you are interested in this event join the discussion on Facebook
What
Bright Brussels is a light festival consisting of a dozen light installations throughout the city. In 2019, the 4th Festival of Lights will illuminate a number of emblematic venues in the centre of the capital.
For an entire weekend, the Bright Brussels Festival of Light will be shining the spotlight on some of Brussels' most central neighbourhoods in collaboration with a variety of Belgian and international artists. In 2019, an installation by Romain Tardy will be on display in the extraordinary and iconic Citroën garage at Yser and Yannick Jaquet will be presented by Les Garages Numériques at the Halles Saint Géry.
The neighbourhoods of Quais and Sainte-Catherine will be dressed to dazzle with dozens of illuminations and light animations. Altogether, 11 artists and associations from Belgium and beyond will be decking out some of the Belgian capital's most emblematic sites.
The route runs towards the historical heart of the city, passing through the Béguinage  Lepage and Marchés aux grains – Dansaert neighbourhoods, between Sainctelette and Sainte-Catherine. Come and (re)discover the rich heritage of these neighbourhoods through the magic of light!
Bright Brussels, Festival of Light will offer visitors and residents a unique opportunity to see the authentic districts of the capital in a very different light.
Where
Brussels, Belgium
The route takes you around Beguinage – Dixmude and Dansaert neighbourhoods, from Sainctelette to Sainte-Catherine/Sint-Katelijne. See map below: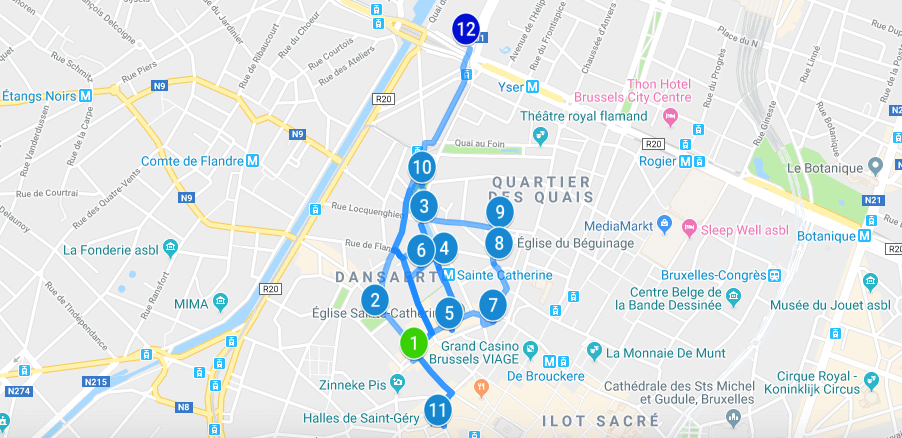 CLICK HERE for Top 10 things to see and do in Brussels
CLICK HERE for 5 of the best hotels in Brussels
When
Every evening (18:30-23:00) between 14 and 17 February 2019.
How Much
Free
What's On
11 artists will be presenting their work around Brussels:
Mandylight (AUS): The areas of Quai à la Chaux, Quai à la Houille, Quai au Bois de Construction and Quai aux Barques
Collectif Coin (FR) : The areas of Bassin de la Fontaine in Quai aux Briques and Quai au Bois à Brûler
COWBOY startup (BE) in collaboration with a Brussels artist: Marché aux Porcs
Allumeurs d'image (FR) : Rue du Grand Hospice opposite Hospice Pacheco
Ad Lib (FR) : Place du Béguinage
Tetro (FR) : Place du Vismet in Quai aux Briques and Quai au Bois à Brûler
Studio Chevalvert (FR) : La Tour Noire
Ocubo (PRT) : Place du nouveau Marché aux Grains
Pierre Debusschere (BE): Place du vieux Marché aux Grains
Gilles Leempoels (BE) : Place Sainte-Catherine
Les Garages Numériques (BE): Halles Saint-Géry
Illuminations will also be lighting up the façade of the church of Sainte-Catherine.