Important update Feb 2021: At the time of this article was published, travel restrictions related to the coronavirus pandemic are still in place for much of the world. Please check the appropriate government guidelines for updates on where and when you can travel.
The Aichi Prefecture in Japan's Chubu Region, home to the Toyota Motor Corporation, is known as a major centre of Japan's automotive industry.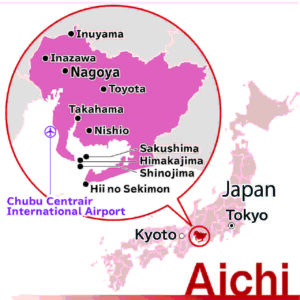 However you won't just find a plethora of cars here – as the midway point along the old Tokaido route that linked Tokyo with Kyoto, the prefecture offers plenty of opportunities to dip into culture, history, and heritage.
The region counts hundreds of castle sites within its borders and is the birthplace of countless samurai heroes, among them three sixteenth-century daimyos (powerful Japanese feudal lords) renowned for unifying the nation.
With the help of Aichi Now, the official site for tourism in the Aichi Prefecture, here's our "Top 10" round-up to inspire your own Japan adventure.